Blue Rhino Propane Tank Cost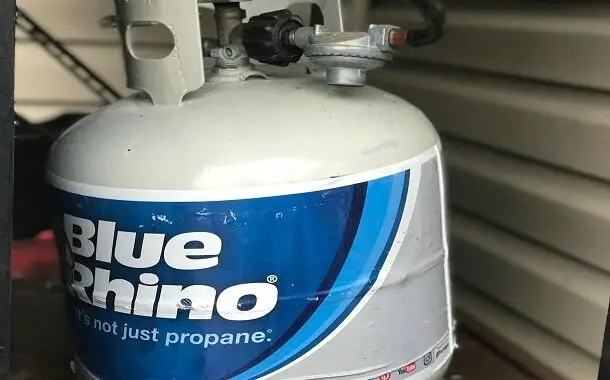 Blue Rhino is known as America's #1 brand of propane tanks and you can find it at most popular retailers such as Walgreens and Lowe's.
According to the Blue Rhino company, this is one of the most famous brands in the industry and here you will find employees with years of experience and state-of-the-art facilities.
How much does a Blue Rhino propane tank cost?
There are several factors that affect the cost of a Blue Rhino propane tank such as the place where you are living, whether you want to exchange an existing propane tank or you want to buy a new one, the retailer you are exchanging/purchasing from, and whether any promotions are held. However, you should be prepared to pay more than $60 for a new tank without exchanging an existing one and if you are willing to exchange it you will spend more than $30.
In the table below you will find the average cost of a Blue Rhino propane tank that you can find at some of the most popular retailers.
Retailer
Price Quoted
Lowe's

$52.99 for brand new
$21.99 for exchange

Walmart

$47.99 for brand new
$16.99 for exchange

Kroger

$52.99 for brand new
$21.99 for exchange

Walgreens

$52.99 for brand new
$21.99 for exchange
Note: Keep in mind that this is just an estimate and the prices are subject to change.
Blue Rhino overview
If you want to exchange an existing propane tank, you will have to take it to the location of the retailer. Keep in mind that if you only want the Blue Rhino brand, you will have to first check whether the retailer you are visiting offers this brand. You can find this information by using the company's official website or by texting FIND to 75653.
Once you arrive at the retailer's location, you will have to inform one of the employees that you want to exchange your tank. After you pay for the tank, you will meet the employee near the display outside of the store. You should never take the propane tank inside the store! As long as your propane tank is in good condition, the retailer will accept it even though it is not the Blue Rhino brand.
The employee who comes to the display outside the store will unlock the cage, so you will be able to take a new Blue Rhino propane tank and replace the empty space with your empty tank.
What comes with a new Blue Rhino propane tank?
Protective cap: Th new Blue Rhino propane tank comes with a unique cap, made to keep the valve clean until you are ready to connect it and use it for cooking.
Inspection: A trained propane expert will inspect all new tanks.
Freshly painted: Before they are offered for buying again, all propane tanks are freshly painted with a new coat of paint.
Washed: All the propane tanks are not only freshly painted, but also very well washed.
Requalified: According to Blue Rhino company, all propane tanks must be requalified every 12 years from the manufacturing date and every five years after that. The company will take care of it.
The right amount of propane: When the propane tanks are manufactured, the company makes sure that they fill the amount of propane that is displayed on the package.
Important things to consider
Old propane tanks can be exchanged for new ones, stored at a municipal waste collection center, or taken to a local hazardous waste disposal center that allows them. Propane tanks should not be disposed of in the garbage.
You might also like our articles on the cost of a propane tank in general, a helium tank, or an acetylene tank.
A propane tank must never be used indoors!
You should never store your propane tank in an enclosed building like a garage or shed.
You don't have to pay any deposit for your propane tank. You own it 100% once you walk away from the store.
Always make sure the valve is turned to the "off" position when you are not using the propane tank.
According to many online reviews, even though the tank does say it has "20 pounds", you will only get 15 pounds of propane. However, this is because of the regulations.
You should always store your propane tank upright and in temperatures lower than 125 degrees Fahrenheit.
Do not try to repair a broken valve or tank as this is not safe.
Propane is an extremely dangerous and flammable chemical. It can be harmful and can lead to explosions if not disposed of or treated properly. For this reason, the propane tank owner should never attempt to disassemble the propane tank because there are often small amounts of propane in the tank, even if the tank feels completely empty.
How can I save money?
Look out for Blue Rhino promotions and rebates/coupons as most retailers commonly have sales for their propane tanks.
https://www.thepricer.org/wp-content/uploads/2022/11/Blue-Rhino-propane-tank-cost.jpg
380
610
Alec Pow
https://www.thepricer.org/wp-content/uploads/2023/04/thepricerlogobig.png
Alec Pow
2022-11-21 06:52:28
2023-09-13 10:23:19
Blue Rhino Propane Tank Cost