Last Updated on February 2, 2021 | Written by CPA Alec Pow
First Published on February 2, 2021 | Content Reviewed by

CFA Alexander Popivker
Hemming a curtain, in many cases, might be needed when the ready-made panels bought over the counter are too long.
With a well-sewn hem, weight is added to the bottom edge of the drape and keeps it hanging straight and even.
You might also like our article about the cost of wedding draping.
Hemming drapes, depending upon how you see it, can either be a Do It Yourself project or it can be done by an expert.
Just how much does it cost to hem curtains?
The expenses of hemming curtains will considerably depend upon the length, if it is lined, the kind of hem, the company/professional you choose to work with, your geographical area, and the kind of curtain. Usually, from what we were able to find out, you should be prepared to spend about $15 to $35 per panel.
| Type of Hem/Alteration | Average Price Reported |
| --- | --- |
| Split Panel in Half Lengthwise (Lined) | $30 |
| Split Panel in Half Lengthwise (Unlined) | $25 |
| Shorten Each Panel (unlined) | $18 per panel |
| Shorten Each Panel (lined) | $25 |
| Extra Width Panel (Double) (Lined) | $40 |
| Extra Width Panel (Double) (unlined) | $34 |
The Tailor Studio, situated in Castle Rock, Colorado, published an official rates list on their site, with the cost of a hem varying from $12 for an unlined panel to $20 for a lined panel.
On a Houzz.com forum thread, several members talked about what they should be paying to have an expert hem the curtains. According to the majority of the replies, it looked as if $10 to $20 per panel was a reasonable price to be paying.
What are the additional expenses?
A lot of curtain hemming services have a basic rate and will cost extra for curtains that surpass their set measurement.
A store might charge a pick-up and/or shipment cost, usually starting at $15. This cost will depend upon the actual distance.
Lined curtains will usually cost more than unlined ones. As you can see from the quotes provided above, unlined drapes can cost approximately half less.
Tips to keep in mind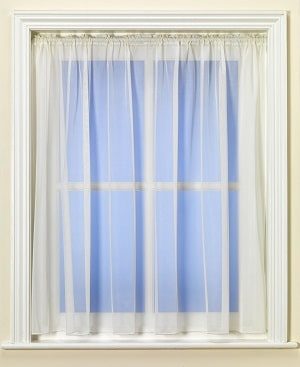 The curtain hem is the material turned under at the bottom, and the way a drape hangs is normally affected by this hem. A lot of curtains depend upon the weight of the hem to drape uniformly. Fabrics that are lighter need more hem than the much heavier types. Large materials might need a five-inch hem or a doubled hem, for instance, whereas a light-weight drape with a narrow hem to fold might need a hemming tape. The preferred length will be determined from the top of the drape to the bottom edge in order to figure out the depth of the needed hem.
The bottom hem is very important in the way a curtain hangs. Lighter curtain materials will require larger hems at the bottom than much heavier ones. The appropriate measurements need to be made to make certain there is enough material for the wanted drape length.
Large curtains might require a double hem at the bottom as more weight can be added by increasing the fold from the edge by a half-inch. This will then add some weight and enable the drapes to hang in an equal way.
How can you save some money?
To save money on these expenses, think about the Do It Yourself path if you have some experience with sewing. There are numerous sources online that give you detailed procedures on how to hem curtains without utilizing expert services. One missbizibee post, for instance, shows you an inexpensive method to hem curtains by yourself. In this case, the author hemmed the curtains they bought at IKEA.
Some seamstresses might provide a discount rate if you need several panels made at the same time. Make sure to ask about any coupons or discounts and/or do not hesitate to bargain before paying the final price.
https://www.thepricer.org/wp-content/uploads/2021/02/curtain-hem-cost.jpg
380
610
Alec Pow
https://www.thepricer.org/wp-content/uploads/2023/04/thepricerlogobig.png
Alec Pow
2021-02-02 08:59:34
2021-02-02 08:59:34
Cost to Hem Curtains