Cost to Install Soffit and Fascia
Last Updated on November 21, 2021 | Written by CPA Alec Pow
First Published on November 21, 2021 | Content Reviewed by

CFA Alexander Popivker
The fascia is the horizontal strip that covers the end of the rafters situated under the home's roofline. To get a better image, the gutters are attached to the fascia. On the other hand, the soffit covers the bottom of this piece to the home's outside walls for protection against water damage (and not only).
How Much Does It Cost to Install Soffit and Fascia?
The cost to install soffit and fascia depends on the configuration of your home, when you are hiring a professional to do this job. For example, fascias made for stone, concrete or brick, would cost anywhere between $13 and $30 per linear foot for a sloped or flat roof. This price is greatly influenced by the precise height and shape of the roof. For instance, for a linear foot of painted wood fascia, you would pay anywhere between $5 and $12, plus $5 to $9 per linear foot if you would like to use an aluminum-based material.
You might also like our articles about the cost of roof trusses, LeafFitter, or MasterShield Gutter Guard.
Depending on the material, one linear foot of soffit would cost anywhere between $7 and $14. For example, painted plywood costs $6 to $11 per linear foot, while aluminum would cost anywhere between $8 and $14 per linear foot.
The average costs for both fascia and soffit would be anywhere between $18 and $55 per linear foot. However, consider asking for multiple price offers from the professional as there are so many variables that affect the cost.
If you want to do this job yourself you should budget around $3 to $8 per linear foot of vinyl materials or wood. On the other hand, if you want a better-quality material such as aluminum, be prepared to spend around $12 per linear foot.
According to HGTV, in case you want to replace your fascia then you would pay anywhere between $18 and $29 per linear foot and another $24 to $35 per linear foot if you want to replace the soffit.
In case you are going to hire a professional to do this job, then the old material removal should be included in the price estimates presented above, along with the installation of the new fascia and soffit. If the chosen material is wood, it has to be painted after installation. Depending on the contractor's billing policy, the cost for painting is or is not included in the quote.
What are the extra costs?
A reputable contractor will inspect the roof, supporting joists, and eaves to make sure they're in good shape before installing new soffits or fascia. There is no point in installing new materials on top of poor foundations as it only causes more trouble than it is worth.
There are situations when it is recommended to replace the gutters as well once the fascia and soffit are replaced. If this is the case, depending on the used materials and the needed amount, be prepared to spend $550 to more than $5,200.
As we already mentioned, if you are choosing wood then you should be prepared to spend on painting as well.
In case you want to do this job yourself, you will need the proper instruments such as a circular saw, a hammer, a ladder, a miter box, screwdrivers, safety glasses, tin strips, a tape measure, and a utility knife.
Important things to consider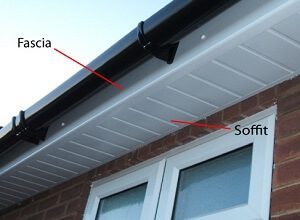 There are many different materials for soffits and fascia. Some of the most popular materials are wood and aluminum, but there are synthetic or composite options as well, like vinyl and UPVC that can be easier to maintain while being durable in harsh weather conditions.  Additionally, some types of recycled products can also be used for these roofing components.
You may be part of a homeowner's association, so you should always make sure to check the documents for your neighborhood's guidelines. Failing to follow the color and style requirements can mean penalties or even losing money on jobs that were not completed correctly by professionals.
Vinyl is a popular material that offers many benefits. The main one is that it's cheaper and more durable than other options. But vinyl does have its drawbacks as well, such as the fact that is highly flammable. Also, if you don't want your soffit and fascia to look like something "cheaper," then this could not work well.
How can I save money?
In order to save money, it is recommended to search for at least three price offers and always look for insured and licensed contractors. Also, if you are not in a hurry with this job consider negotiating. Some contractors might offer discounts if they can perform this service over a longer period of time.
In some situations, you might need only a simple repair and not the whole replacement of the soffit and fascia.
https://www.thepricer.org/wp-content/uploads/2021/11/soffit-and-fascia-cost.jpg
380
610
Alec Pow
https://www.thepricer.org/wp-content/uploads/2023/04/thepricerlogobig.png
Alec Pow
2021-11-21 12:44:15
2021-11-21 12:44:15
Cost to Install Soffit and Fascia