How Much Does LeafFilter Cost per Foot?
Last Updated on February 7, 2023 | Written by CPA Alec Pow
First Published on September 10, 2021 | Content Reviewed by

CFA Alexander Popivker
Leaves, needles, seeds, mosses: only complete coverage of the gutter prevents stubborn dirt. There are different ways to protect the gutter from clogging. The offer varies from stable metal grilles to protective springs.
To ensure a long life for your gutter, you need to maintain it regularly and also protect it from bad weather and various attacks.
One top-rated gutter guard system brand that can help you in this situation is The LeafFilter. It uses stainless steel mesh to protect your gutters. Whether you want it installed for the first time or over an existing setup, this filter will work for all types of gutters and keep them clean from debris so they can perform their best function.
The company is a leader in this industry thanks to the offered services. It is a reliable long-term solution, a great fit for all four seasons, and its warranty doesn't void your roof warranty. The lifetime guarantee is also an advantage of this system along with customer support, patented design features to make installation easier, and multiple five-star reviews from previous customers.
The LeafFilter system ensures that you won't have to deal with many common gutter problems. With this one-of-a-kind solution, there's no need to worry about damaged gutters either.
How much does LeafFilter gutter protection cost?
The costs of the LeafFilter system will vary depending on your gutter type, the number of corners inside and outside, the amount needed (measured in linear feet), the condition if installed to an existing setup, and levels. If you are experiencing any issues with your gutter system, the company recommends contacting them to assess and recommend a course of action. Also, you can fill out a form on their website to get an estimate for your roofing project in less than 15 minutes.
There are very few online quotes that give you an idea of how much this product costs. The prices range from $26 to $33 per foot, but the official company does not provide this information at this time.
You might also like our articles about the cost of the MasterShield gutter system, CertainTeed Siding, or Leaf removal services.
In a thread on City-Data.com, some members discussed the quotes they received for new gutters protection installed in their homes. One member said he was quoted $5,300 to have his 160 feet of gutters replaced while another paid an average of $25 per linear foot just for the system itself.
Reviewers of Roofery.com gave it poor ratings, many citing that they were quoted an exaggerated price for the job and then got a better deal from another company or had to pay more themselves. One user said he was initially quoted $18,000 before the price decreased to $9,000 very quickly while another member revealed that he paid $7,000 for their job. Neither of them could say how long or big the gutters were at all.
Quotes gathered online
$3,100 for 130 feet but haggled to $2,600 in the end
$6,000 for 119 feet
$20 per linear foot for the system alone
$2,200 for 2 gutters
$5,100 for 160 feet
When it comes to materials, LeafFilter doesn't sell to you directly. But at this time of writing, we found five feet of premium gutter guard for about $9 on eBay.
How does it work?
The award-winning technology of the company's gutter system is made of three parts. It has a micromesh filter that filters out even sand particles, so you won't have to worry about debris clogging up your gutters. The vinyl frame on the LeafFilter gutter guard is designed to divert debris over the drip edge and keep your gutters clean all year long. This is almost invisible when standing on the ground. Finally, the reinforced hangers make sure that your new gutter guards stay fixed in place in case of bad weather.
Is LeafFilter Worth The Cost?
LeafFilter is considered a top product so it will be worth your money regardless of how many feet of gutters you will replace or cover. Keep in mind that regardless of LeafFilter's gutter guard system you end up installing, debris buildup or gutter clogs are still possible.
LeafFilter actually does a great job minimizing any potential for this to happen, which is why it is one of the best home improvement systems you could purchase. If you install these, you will be able to keep debris away from the gutter system, which in turn will minimize cleaning and maintenance, protecting your foundation and roof from water damage.
The installation process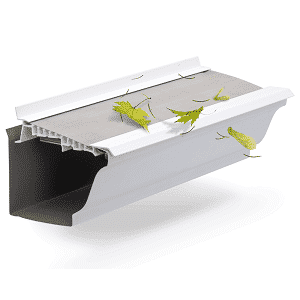 The first step of getting your LeafFilter system installed is the inspection. This process involves a professional coming to your home and measuring your gutters in order to make recommendations about what you need, from just the gutter protection system itself all the way up to new gutters. Once you agree with their quote and sign a contract for installation, they will set an install date that works best for both parties involved.
As you probably know, gutters can get clogged and not function properly. The company uses a three-step process to prevent this from happening. Step one is cleaning or repairing existing gutters so that they are ready to be used with the LeafFilter system.
The second step of gutter installation involves sealing and prepping your gutters which prevents leaks in both metal or PVC pipes while reinforcing them with internally hidden hangers. These types of hangers help secure each section together so they don't budge when winds pick up during the colder months. Finally, the LeafFilter will be installed on your existing gutters.
Important things to consider
With many online reviews describing negative experiences, you should be skeptical of the high-pressure sales tactics that this company employs.
Sometimes, if you're persistent enough and ask for a lower price on the product you want to purchase, they'll give it to you. In most cases, they have been able to drop the initial quote by 50% or more just due to persistence.
The company makes it possible for buyers to finance their purchases with monthly payments of just $35 per month.
Even if you hired a contractor, Consumer Reports states that it would be worth your money to install the Amerimax 85198 or 854054 because this could save you thousands.
Pros and Cons of LeafFilter
The LeafFilter gutter protection system comes with its pros and cons, just like any other system. Here's what you should consider:
Pros of LeafFilter
Homeowners can go for a financing option
It can be installed easily, in less than a day
The system is installed right on your current gutters
You can get a free estimation
The gutter guards will come with a built-in pitch
It will decrease the need to clean your gutters by keeping all debris types away from the gutter
It is made not to rust or warp, being made from good quality mesh
It is under a lifetime warranty
Cons of LeafFilter
It has splash guards in its corners, as a way of preventing splashes
LeafFilter will have to be installed by a professional, can't be a DIY project
Depending on your home size, it might become pricey
Tips to Save Money on the LeafFilter Cost
As you'll surely notice, LeafFilter has initial quotes that are almost always the highest in the gutter and gutter guard area. Even so, you might be able to snatch quite an impressive price discount during the negotiation of the quote stage. The steps below might help you get the best price for the gutter guard system you buy.
1. Negotiate the Price
It's not a question of whether you should. You HAVE to negotiate the rate with the sales representative. LeafFilter will highball its possible clients on the initial offer exactly because it expects them to negotiate to reach a middle ground. Make sure that before you agree on a deal, you look for customer reviews that you can cite during the negotiation process so you can reach lower numbers.
To get an idea, most gutter guard companies will usually pay roughly $6 per linear foot when it comes to the materials they will use for the gutter guards themselves. Although the company expects to add a markup as well as any charges related to the labor involved with its installation, price gouging is still to be expected.
2. Look for Financing Options
You can take advantage of the LeafFilter interest-free financing system, which can split the initial costs of gutter or gutter guard installation over 12 months. This is made as a way of differing the payment over a period of time, without any additional initial charges, if you have difficulties paying the price in full.
3. Before Requesting a Quote, Inspect the Gutters
Make sure you clean the gutters and inspect them before the LeafFilter representative comes to you. Try to check for any problems with the overall functionality or things hanging loose from one of the gutters. When possible, try to fix those issues yourself so that the LeafFilter representative doesn't add them to the price quote for the job.
Frequently Asked Questions
How much does LeafFilter cost on average?
LeafFilter has an average price mark between $2,600 and $6,500. The factors that create such a wide range are the condition of the existing gutters, difficulty of access to your roof, the size of the home, and your negotiation skills while being quoted.
Why is LeafFilter so expensive?
Yes, the initial pricing quotes of LeafFilter are considerably higher than the industry average costs. This is just a sales tactic that works for some customers, while for others, it doesn't. They actually give quite a France for negotiation to clients. This works for some people, as it gives a false impression that a considerable discount has been earned, while others dismiss the company, considering it too expensive for their budget.
How much does LeafFilter weigh?
When it comes to gutter protection systems, LeafFilter products are considered a pretty lightweight solution. The overall system is around half of the weight of other gutter guards, due to its uPVC frame. Even so, gutter guards and gutters provided by this are installed to avoid any interference with your shingles, while the brackets are secured into the fascia board. So, any additional weight provided by the installation of this system will have no effect on your roof or home.
Can I buy LeafFilter and install it myself?
All gutters and gutter guards provided by LeafFilter Gutter Protection will come with professional installation. This, unfortunately, is the only option for this particular provider, which isn't good news for DIY-minded people that want to cut down on the installation cost.
Does LeafFilter work in heavy rain?
According to Leaf Filter, its micro-mesh gutter guard system is designed to handle rainfall of 32 inches per hour and intense downpours, which is most of the time, a lot more in terms of volume than you would ever need to cover. Instead, heavy debris sitting on top of your gutter might not get through the 275-micron micro-mesh.
This can lead, in time to the warping of the pieces. Furthermore, the structural integrity of the gutter guard system might be weakened by the fact that the UPVC frame will contract and expand as the temperature changes with the seasons.
https://www.thepricer.org/wp-content/uploads/2021/09/LeafFilter-cos.jpg
380
610
Alec Pow
https://www.thepricer.org/wp-content/uploads/2023/04/thepricerlogobig.png
Alec Pow
2021-09-10 19:51:40
2023-02-07 12:20:09
How Much Does LeafFilter Cost per Foot?