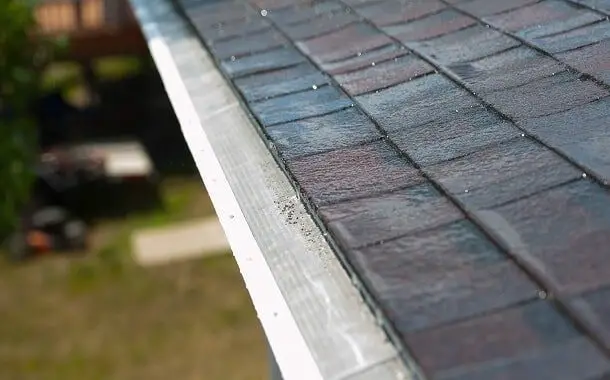 Leaves, needles, seeds, mosses: only complete coverage of the gutter prevents stubborn dirt. There are different ways to protect the gutter from clogging. The offer varies from stable metal grilles to protective springs.
To ensure a long life for your gutter, you need to maintain it regularly and also protect it from bad weather and various attacks.
One top-rated gutter guard system brand that can help you in this situation is The LeafFilter. It uses stainless steel mesh to protect your gutters. Whether you want it installed for the first time or over an existing setup, this filter will work for all types of gutters and keep them clean from debris so they can perform their best function.
The company is a leader in this industry thanks to the offered services. It is a reliable long-term solution, a great fit for all four seasons, and its warranty doesn't void your roof warranty. The lifetime guarantee is also an advantage of this system along with customer support, patented design features to make installation easier, and multiple five-star reviews from previous customers.
The LeafFilter system ensures that you won't have to deal with many common gutter problems. With this one-of-a-kind solution, there's no need to worry about damaged gutters either.
How much does LeafFilter gutter protection cost?
The costs of the LeafFilter system will vary depending on your gutter type, the number of corners inside and outside, the amount needed (measured in linear feet), the condition if installed to an existing setup, and levels. If you are experiencing any issues with your gutter system, the company recommends contacting them to assess and recommend a course of action. Also, you can fill out a form on their website to get an estimate for your roofing project in less than 15 minutes.
There are very few online quotes that give you an idea of how much this product costs. The prices range from $26 to $33 per foot, but the official company does not provide this information at this time.
You might also like our articles about the cost of the MasterShield gutter system, CertainTeed Siding, or Leaf removal services.
In a thread on City-Data.com, some members discussed the quotes they received for new gutters protection installed in their homes. One member said he was quoted $5,300 to have his 160 feet of gutters replaced while another paid an average of $25 per linear foot just for the system itself.
Reviewers of Roofery.com gave it poor ratings, many citing that they were quoted an exaggerated price for the job and then got a better deal from another company or had to pay more themselves. One user said he was initially quoted $18,000 before the price decreased to $9,000 very quickly while another member revealed that he paid $7,000 for their job. Neither of them could say how long or big the gutters were at all.
Quotes gathered online
$3,100 for 130 feet but haggled to $2,600 in the end
$6,000 for 119 feet
$20 per linear foot for the system alone
$2,200 for 2 gutters
$5,100 for 160 feet
When it comes to the materials, LeafFilter doesn't sell to you directly. But at this time of writing, we found five feet of premium gutter guard for about $9 on eBay.
How does it work?
The award-winning technology of the company's gutter system is made from three parts. It has a micromesh filter that filters out even sand particles, so you won't have to worry about debris clogging up your gutters. The vinyl frame on this gutter guard is designed to divert debris over the drip edge and keep your gutters clean all year long. This is almost invisible when standing on the ground. Finally, the reinforced hangers make sure that your new gutter guards stay fixed in place in case of bad weather.
The installation process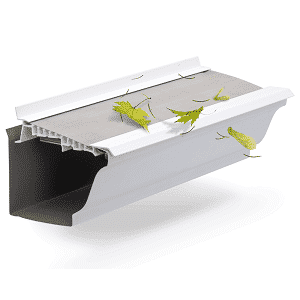 The first step of getting your LeafFilter system installed is the inspection. This process involves a professional coming to your home and measuring your gutters in order to make recommendations about what you need, from just the gutter protection system itself all the way up to new gutters. Once you agree with their quote and sign a contract for installation, they will set an install date that works best for both parties involved.
As you probably know, gutters can get clogged and not function properly. The company uses a three-step process to prevent this from happening. Step one is cleaning or repairing existing gutters so that they are ready to be used with the LeafFilter system. The second step of gutter installation involves sealing and prepping your gutters which prevents leaks in both metal or PVC pipes while reinforcing them with internally hidden hangers. These types of hangers help secure each section together so they don't budge when winds pick up during the colder months. Finally, the LeafFilter will be installed on your existing gutters.
Important things to consider
With many online reviews describing negative experiences, you should be skeptical of the high-pressure sales tactics that this company employs.
Sometimes, if you're persistent enough and ask for a lower price on the product you want to purchase, they'll give it to you. In most cases, they have been able to drop the initial quote by 50% or more just due to persistence.
The company makes it possible for buyers to finance their purchases with monthly payments of just $35 per month.
Even if you hired a contractor, Consumer Reports states that it would be worth your money to install the Amerimax 85198 or 854054 because this could save you thousands.
https://www.thepricer.org/wp-content/uploads/2021/09/LeafFilter-cos.jpg
380
610
Alec Pow
https://www.thepricer.org/wp-content/uploads/2022/01/thePricer.png
Alec Pow
2021-09-10 19:51:40
2021-09-10 19:51:40
LeafFilter Cost per Foot