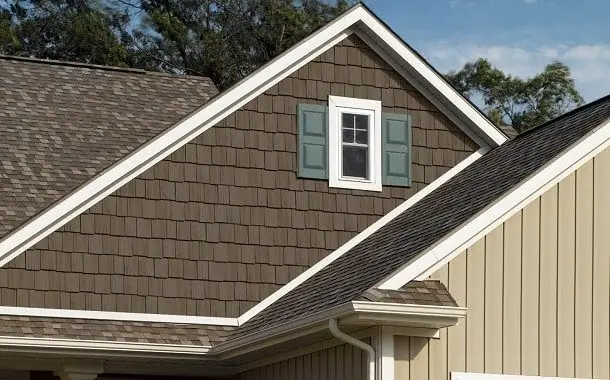 CertainTeed is a leading North American manufacturer of building products, including vinyl and fiber cement siding. Among the company's most popular product lines are Certainteed "EverLast" Shingles which come in many colors to match any home exterior design aesthetic. This guide will give you more information on each type of CertainTeed siding product available as well as installation costs for your project.
CertainTeed Siding Average Costs
CertainTeed vinyl siding is a popular home improvement for many homeowners. It comes in various styles and colors, and the typical cost ranges from $4.50 to $9 per square foot installed or about $7,500-$12,000 for 1500 sq ft of Certainteed vinyl installation on your house.
You might also like our articles about the cost of a storm door, IKO shingles, or standing seam metal roof.
Woodgrain or brushed clapboard costs between $5 and $6 per square foot. Dutchlap is a little more expensive, but insulation makes it worth the additional price. Insulated vinyl siding will cost you around six to seven bucks for each square foot of your home's surface area while imitation shakes are priced at about $6-$9 per sq ft.
CertainTeed fiber cement siding is a durable, affordable alternative to vinyl. Fiber-cement costs $5-$10 per square foot installed (the heavier weight of this material makes it more expensive than the lighter plastic), which means that your home will cost anywhere from $7,500 for 1,500 exterior square feet up to as much as $15,000 if you are installing new soffit or fascia along with other extras like gutters and downspouts. Removing existing siding could add another dollar or two on top of these prices.
Main Reasons to Install CertainTeed Siding
You will find below is a list of reasons why you should consider installing CertainTeed vinyl siding or fiber cement siding on your home.
CertainTeed Vinyl Siding
Vinyl siding made by CertainTeed is among the best-selling products in their category, and for good reasons.
Sustainability: CertainTeed points out that sustainability can start at home. If you're looking for environmentally friendly, NAHB Green Approved vinyl siding installation services then they have you covered. They offer a variety of types in their lines including some made from recycled materials as well as Energy Star rated vinyl so there are options to suit everyone's needs.
Choice: CertainTeed provides three types of siding: classic, insulated panels, and shakes. These materials come in dozens of different colors and styles that allow you to express your creativity.
Ease of Ownership: CertainTeed vinyl siding has a limited lifetime warranty that covers any manufacturing defect, making it very attractive for the original homeowner. In addition to easy maintenance and protection against defects, CertainTeed vinyl is also fire resistant.
CertainTeed Fiber Cement Siding
Made from recycled and biodegradable materials, CertainTeed cement-fiber siding is an excellent alternative to traditional wood products when it comes to the environment.
Value and Style: If you want to maximize your return on investment, CertainTeed cement siding is the way to go. According to Remodeling Magazine, fiber cement offers homeowners a 78 percent ROI and it's available in more than 20 prefinished colors that range from smooth wood grain textures to stucco patterns.
Durability: Fiber cement is a great material for building because it has the natural appeal of wood but with much lower maintenance costs. Even though you need to paint fiber-cement, unlike other materials that require painting every few years, this only needs repainting once in a while – even if you live up north and your old house didn't fare so well against the harsh winters. Lastly one more thing about its durability: as long as there's no structural damage from high winds or earthquakes (which are inevitable), then fiber cement can last for a very long time.
https://www.thepricer.org/wp-content/uploads/2021/04/certainteedsiding-cost.jpg
380
610
Alec Pow
https://www.thepricer.org/wp-content/uploads/2023/04/thepricerlogobig.png
Alec Pow
2021-04-29 05:48:29
2022-12-22 17:19:25
CertainTeed Siding Cost