Cost To Pebble Tec A Pool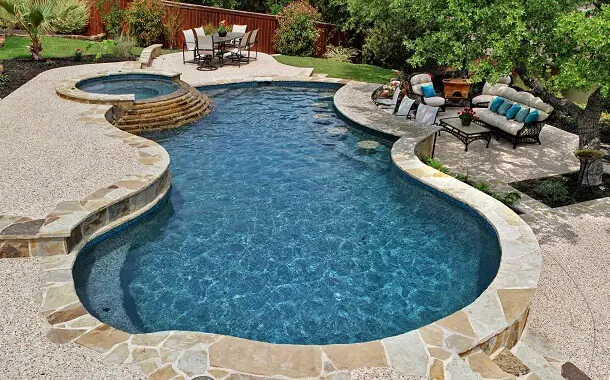 If you're a proud swimming pool owner, you should think about pool maintenance, to avoid periodic repairs or fixes. If you notice splits or uneven surfaces on your pool, you should consider a resurfacing, to avoid water spills. It isn't something to worry about, as in their life span, most pools will go through resurfacing a few times, due to damages or degradation. You shouldn't think about resurfacing only when your pool suffers degradation, it could revive it, give it a great look and make it safer.
If you're one of the hundreds of people that have a pebble tec pool, you should repair your pool, whenever necessary, with pebble tec patch mixture. If you aren't the type to start a DIY project, you're probably interested in how much will it cost to hire someone to fix your pebble tec pool.
Pebble Tec Pool Resurfacing Cost
One of the most important aspects you need to take into account is the product that you will use for the interior surface of your pool when you start a pool resurfacing project. When you pick the product, think of elements like cost, durability, and the size of your pool.
One of the most famous brands for pool resurfacing is pebble tec, that has become more and more known all around the world in the last decades. Although the cost of pebble tec projects is somewhat bigger the market average, the overall quality of this product, its life span, and its power to hide synthetic substance is well over the market average, which makes it worth its cost. But how much will it cost you to resurface a pool using pebble tec?
Want to Get a Swimming Pool? It Costs This Much
For a rough coating, expect to pay anywhere from $3,000 to $9,500 on your pebble tec pool resurfacing project. If you opt for the polished finish instead, then your pebble tec project might be more expensive, reaching prices of $4,500 to $11,000. The price of the pebble tec material will be influenced by multiple factors like its style or color. If you think you can't afford pebble tec, then you should know that marble dust plaster can be cheaper, with prices anywhere from $2,000 to $6,000, with the pool deck replacement not included in this price. This makes the price of marble dust plaster lower than the price of pebble tec for the same resurfacing project.
Do you need a full pool to upgrade with pebble tech, then expect to spend anywhere from $8,000 to $24,000 or even more. This price includes any plumbing issues, fixing of electrical problems, and replacement of waterline decking and tile. 
There are different levels of finishes using pebble tec, all of them featuring different prices, but you can't get an exact price, unless you do the numbers, having in mind the square footage for floors and walls and the type of finish you're going for. Here are the different finishes you can opt for, using pebble tec:
1. Small and large pebble finish
If you opt for a pebble tec pool resurfacing with small and large pebble finish, then expect to pay around $7,500 to $18,000 or even more. The price will be influenced by the color of the pebbles, with black and blue pebbles costing slightly more than the lighter materials.
2. Glass mixture pebble with stone pebbles
The estimate for a pebble tec project with glass mixture and stone pebbles is slightly higher, with prices around $8,500 to $25,000 or more. It's a better-looking mixture, with the glass sparkling in the water, which explains the higher price.
If You Have a Swimming Pool But Don't Know How To Swim, Get Swimming Lessons! They Cost This Much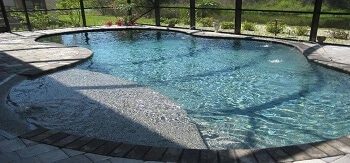 When you feel that it's time to resurface your pool, first off figure out if you'll be able to do it yourself or need to hire a professional. The price of professional labor will depend on the size of your swimming pool and the type of resurfacing you're going to get. Although the price will be higher if you get professional help, if you have no experience in pool resurfacing, you should hire an expert, avoid any permanent or expensive degradation of your pool.
Should the average working Joe have a Pebble Tec Pool?
If you want to include a more natural and rich look for your swimming pool's interior then you should think about resurfacing it with pebble tec material. The purpose of pebble tec is to consolidate many minor stones and to wire them into a plaster that will be connected to the interior of your pool. The light will be reflected from many of the pebbles in the water, creating an amazing rainbow of hues. Having a pebble tec pool brings a lot of advantages over a normal pool, some of them being:
Pebble tec materials are made with real rocks of different shapes and sizes, that give a nice look to your pool, with perfect shading and texture.
The pebble tec will look the same for a long time. Its composition is very tough and it will protect your pool from degradation, damage, and tears. It will be a great choice especially if you have children, as the material is tolerant to stains and non-slippery.
Although Pebble Tec isn't the cheapest material you could use, its durability ensures that you won't need to resurface your pool for a long time, which will help you spend less in the long run. t also doesn't need a lot of maintenance, another aspect that will help you save money.
https://www.thepricer.org/wp-content/uploads/2017/07/pebble-tec-resurfacing-cost.jpg
380
610
Alec Pow
https://www.thepricer.org/wp-content/uploads/2022/01/thePricer.png
Alec Pow
2017-07-21 01:23:21
2020-08-15 22:18:58
Cost To Pebble Tec A Pool