Cost to Rent a Pressure Washer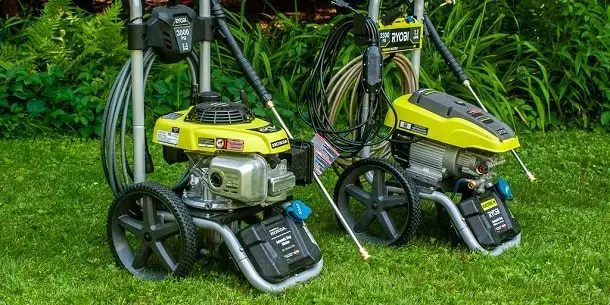 As prices of consumer goods continue to rise at alarming rates, more and more people are looking for ways to cut costs when it comes to having home maintenance performed. While it can be worth it to purchase tools and accessories if you are going to use them on a regular basis, it sometimes makes more sense to rent items that will only be needed once or twice a year. This can prompt you to find out how much a pressure washer rental cost will be.
Determining how long it will be required for
A good rule of thumb to work with when trying to determine what your pressure rental cost will be is to calculate how long you will need to use it for. If you only need to use a pressure washer for a small project that will take a day or two at most, then renting one will make far more sense than purchasing one outright. However, if you need to complete multiple projects that will take more than a few days, such as cleaning a driveway, a house roof, and all of its walls, you may be better off purchasing your own washer.
Type of Pressure Washer Required
We also have articles on the cost of renting: A Bounce House, An Apartment, A Backhoe
Another factor that will determine your pressure washer rental cost will be the type of washer you require. If you only need to clean a deck or wash a regular driveway, a small, domestic model will be ideal for this. However, if you are repainting a roof or house walls and need to remove paint or if you need to clean a greasy workshop or garage floor, you may require the strength of an industrial pressure washer. Before signing on the dotted line, inquire whether you have the option of renting a washer that is suited for your needs, as this will also play a part in determining the rental rate that you will pay.
Calculating the Cost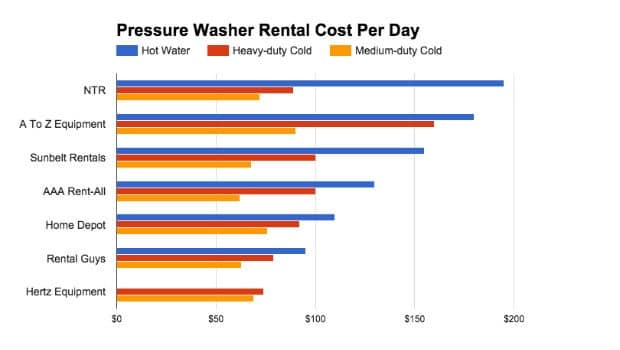 When shopping around for a good pressure washer rental cost, you can expect to pay anywhere between $30 and $160 per day for using one of these devices. This will of course depend on where it is rented from, the brand of washer that is being rented, and the duration that the washer will be required. While most companies will charge you a daily rental rate, they may sometimes be willing to offer you some form of discount if you need to rent it for a few consecutive days. If you have a friend or neighbor that also needs to use a pressure washer, you may be able to reduce your pressure washer rental cost by as much as half by sharing the rental with them.
Before you rent a pressure washer, it is important to ask around for referrals, as this will determine whether a company offers good customer services or not. While using a pressure washer, it is necessary to ensure that all operating instructions are adhered to, as these devices can cause serious injury if used incorrectly.
https://www.thepricer.org/wp-content/uploads/2020/06/pressure-washer-cost.jpg
305
610
Alec Pow
https://www.thepricer.org/wp-content/uploads/2023/04/thepricerlogobig.png
Alec Pow
2020-06-17 05:57:50
2020-08-15 22:47:09
Cost to Rent a Pressure Washer