The name Six Flags is associated with two things: a rather controversial amusement park due to the large number of accidents, and roller coasters with various themes, which are more daring, more dizzying, and which sometimes push gravity to the limits of common sense. This park gives you the opportunity to climb into such attractions ignoring the existence of gravity. What's more, they are fun without a doubt.
Six Flags is the world's largest chain of amusement and theme parks. It is a guaranteed place to have fun with both friends and family. This chain was founded in Texas in 1961. The Six Flags chain is currently based in New York.
How Much Does It Cost To Rent Out 6 Flags?
If you are thinking about renting the entire Six Flags Park just for you, then you should know that the costs are extremely high and it is nearly impossible for the average Joe. Most can not afford to support the rent expenses even for just one hour. The rental cost of Six Flags Park is around $100,000 per hour. So, if you would like to rent the park for 12 hours, you will have to spend $1,2 million which is an insane amount of money to spend just to have some fun.
You might also like our articles on the cost of visiting Urban Air, Disney World, or Universal Studios.
The price is so high because it took a lot of effort and money to build such a project. It is estimated that approximately $300 million were spent to build Six Flags Park. According to the American media and most specialists, the value of all the rides of the Six Flags amusement park is anywhere between $3 million and $5 million.
However, everyone can enjoy the beauty of this park and its rides by purchasing a one-day ticket for a cost that starts at around $28.
The ticket costs at Six Flags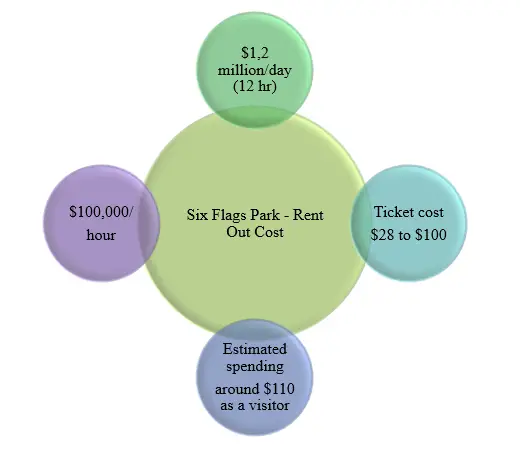 Not everyone can afford to rent Six Flags, but everyone can afford to purchase a ticket and visit this park. Expect to pay anywhere between $28 and $100 for a ticket at Six Flags. The more rides you will take, the more money you will spend.
Also, you can purchase a membership from Six Flags. It would a little more expensive, but it will surely be worth the cost because you will be able to have access to more services.
In the table below you will find the average costs of different categories of tickets at Six Flags.
| | |
| --- | --- |
| Category | Cost |
| Basic season pas | Starts from $59.99 each |
| One day tickets | Starts from $24.99 each |
| Gold Plus | $6.99/mo or $79.99 for full |
| Platinum | $9.49/mo or $109.99 for full payment |
| Diamond | $12.49/mo or $154.99 for full |
| Diamond elite | $18.49/mo or $224.99 for full |
| Group tickets | $22.99 each |
Six Flags Park overview
Six Flags Entertainment Corporation, more commonly known as Six Flags or Six Flags Theme Parks, is an American amusement park corporation based in Grand Prairie, Texas. It has properties in the United States, Canada, and Mexico. Six Flags owns more theme parks and water parks combined than any other amusement park company in the world and has the seventh-largest number of guests in the world. The company operates 27 properties throughout North America, including amusement parks, a family entertainment center, theme parks, and water parks. Six Flags properties host around 30 million guests per year.
The name "Six Flags" originally referred to the flags of the six different nations that ruled Texas: France, Spain, the Republic of Texas, Mexico, the Confederate States of America, and the United States. Six Flags parks are still divided into different theme sections, although many of the original areas in the first three parks have been replaced.
How much it would cost to build a brand-new project such as Six Flags?
We already pointed out that Six Flags is a great project which can receive millions of guests per year and hire thousands of people. This park consists of a great number of facilities which include various foods and fun activities, all of them in a huge area.
According to some famous American architects and specialists, it would cost at least $300 million to build a brand-new project such as Six Flags. These costs may get even higher but never below this sum.
The land purchase, the legal work, and all the rest of the things are included in this price. Also, this project may be finished in around 2 years if hiring a team of thousands of professionals.
Conclusion
As you could see, it is nearly impossible for a normal individual to rent the Six Flags Park as the costs are enormous. But you can enjoy the rides and facilities offered by this park by purchasing a ticket for less than $30.
https://www.thepricer.org/wp-content/uploads/2022/05/six-flags-rental-price.png
380
610
Alec Pow
https://www.thepricer.org/wp-content/uploads/2022/01/thePricer.png
Alec Pow
2022-05-09 06:06:11
2022-12-30 00:55:49
Cost To Rent Out 6 Flags