Costco Food Court Menu Prices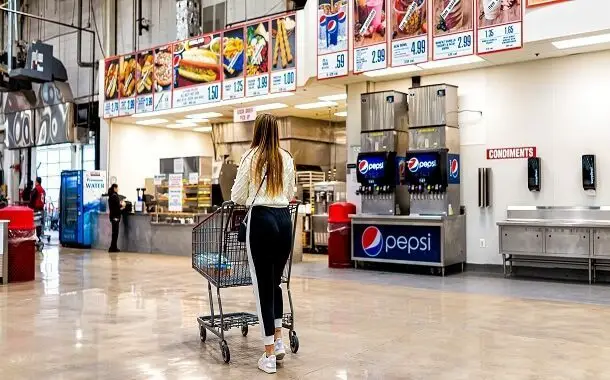 Costco Food Court is a well-known restaurant chain in America where you can order chicken, burgers, pizza, hot dogs, salads, sandwiches, drinks, gelato, and much more. This restaurant is so popular thanks to its tasty hot dogs. Also, the majority of the customers order hot dogs paired with latte/mocha freeze or berry smoothie.
Most people choose to eat at Costco Food Court because the food is very good and the prices are low compared to other fast-food restaurants. In the table below you will find the latest Costco Food Court menu prices.
Food
Price

Main Items

Pizza

Slice – $2.00
Whole – $10.00

Chicken Caesar Salad
$3.59
BBQ Beef Brisket Sandwich
$4.49
Hot Turkey and Provolone Sandwich
$3.59
Chicken Bake
$2.69
All Beef Hot Dog or Polish
$1.39

Drinks

Latte/Mocha Freeze
$1.29
Berry Smoothie
$1.29
Drinks
20 Oz. – $0.69

Fresh Made Gelato

Hand Packed Quart To Go
$4.49
3 Scoops Served in a Waffle Cone
$1.39

Sweets

Hand Dipped Ice Cream Bar
$1.39
Twisted Churro
$0.89
Nonfat Yogurt
$1.19
Very Berry Sundae
$1.49
Brand History
Costco Food Court was founded in 1993 as a partnership between Price Club and Costco. Price Club was a restaurant created by Sol Price in San Diego, California.
You might also like our articles about the prices on the menus of Outback Steakhouse, Long John Silver's, or P.F. Chang's.
There are more than 800 Costco locations in the United States and in some other countries such as Australia, the United Kingdom, Canada, Taiwan, China, Spain, France, South Korea, Iceland, New Zealand, Japan, and Mexico.
Most of these locations have a food court that can be either indoors or outdoors. Though, their menu varies from one country to another. For example, at some locations in the US, you can find bratwurst and Polish sausage as well on the menu, in addition to hotdogs, while in Mexico the hot dog is made 100% beef and in Japan and Taiwan, the hot dogs are made of pork.
Our review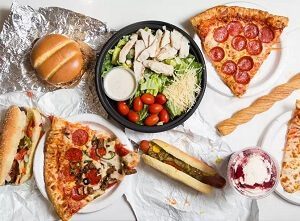 The atmosphere at Costco Food Court restaurants is relaxed and casual. There is no TV, but you can enjoy the view while eating outside because usually there are some outdoor seats available.
People just love Costco Food Court for their low-cost tasty food. You can purchase a big beef hotdog sandwich for only around $2. So, you can have the best dining experience without making a hole in your pocket.
Every item from the Costco Food Court Menu is a best seller, but most of the clients use it to order creamy gelato, combo pizza, chicken bake, and hot dogs.
The service is also very good. The staff is very kind and helpful with each guest. At this restaurant, you will have a one-of-a-kind customer service experience without having to spend a lot of money.
Costco Food Court FAQs
At what time does Costco Food Court open?
Costco Food Court opens at 10:00 a.m. from Monday until Sunday, and at 09:30 on Saturday. Though it depends on the location and you better verify the schedule of the restaurant you are interested in on their website before going to a location.
At what time does Costco Food Court close?
In general, Costco Food Court closes at 08:30 p.m. from Monday until Friday, and at 06:00 p.m. on Sunday and Saturday. However, it depends on the location and it is recommended to check this information on their website or to give them a call.
Why are Costco Food Court hot dogs so tasty?
Costco Food Court hot dogs taste so good because they make sure that their hot dogs do not contain any artificial flavors or colors, by-products, fillers, corn syrup, or phosphates.
How much does a slice of pizza cost at Costco Food Court?
Expect to pay around $2 for a slice of pizza at Costco Food Court, and almost $10 for an 18" whole pizza. However, these prices may depend on the location.
How many slices are in an 18" Costco Food Court pizza?
An 18" Costco Food Court pizza contains 12 slices.
Do I need a membership to buy food from Costco Food Court?
No, you will not be required to have a membership if you want to purchase food from Costco Food Court. This is the same if you want to buy something from the liquor store or pharmacy.
What are the best items from the Costco Food Court menu?
Some of the best items from the Costco Food Court menu are:
– Cheeseburger
– Hotdogs
– Fruit smoothies
– Sandwiches
– Chicken Caesar salad
Does Costco Food Court deliver their pizzas?
Unfortunately, Costco Food Court does not deliver pizza. But they offer the possibility to call to place your order and pick it up at the warehouse.
What types of toppings does Costco Food Court use for their pizzas?
Costco Food Court puts different types of topping on their pizza such as:
– Black olives
– Italian sausages
– Mushrooms
– Pepperoni
– Red onions
– Bell peppers
What types of cheese does Costco Food Court use to prepare their pizza?
In order to prepare their pizza, Costco Food Court uses three types of cheese. These are provolone, mozzarella, and parmesan.
https://www.thepricer.org/wp-content/uploads/2022/03/costco-food-court-menu-prices.jpg
380
610
Alec Pow
https://www.thepricer.org/wp-content/uploads/2023/04/thepricerlogobig.png
Alec Pow
2022-04-03 10:14:20
2022-04-01 05:13:41
Costco Food Court Menu Prices