Cotton candy is a sort of spun sugar that melts in your mouth and always makes for an enjoyable sweet treat. It's one of those things people look forward to eating during carnivals, fairs, or other special events because it provides such a delightful taste. After all, what kind of fair or carnival would it be if there were no kids to run around with cotton candy in their hands?
How much should cotton candy cost?
Cotton candy has a wide range of prices depending on where you buy it. Sellers will typically sell cotton at $1 to upwards of $5 if they are selling it at an event or sporting game, while the price can be lower than usual in other places such as small towns and stores that don't hold any events.
You might also like our articles about the cost of Baklava, crepes, or fudge.
Instead of relying on a vendor to supply you with cotton candy, why not make your own? Cotton Candy Express sells their pre-packaged kits of big retailer websites like Amazon for $24.95. These kits come in containers that contain an average of 24 servings. You can buy packs of 5 containers, which means that you will get around 120 servings per pack.
Ready to eat cotton candy is a quick and easy way to get your sugar fix without the hassle of making it yourself. Ready-to-eat packs that contain around 42 servings are available at Sam's Club for $30, or you can buy packs of three ounces worth of cotton candy from any grocery store for about $1 – $2.
Cotton Candy Express estimates the cost of cotton candy at about $0.05 per floss sugar and another $0.18 for the cone–for a total of around $0.082. But even if you were only selling it for 1 dollar, your profits would still be substantial – around $0.908. Now imagine if you were to sell it for 2 dollars or more. This is why cotton candy is one sweet business opportunity with plenty of profit left after all costs are accounted for.
Elements that will influence the price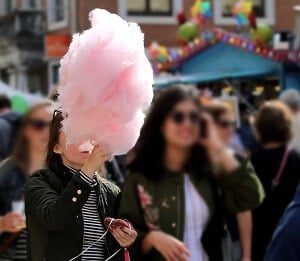 Cotton candy brand/manufacturer – Cotton candy is a delicious treat made from spun sugar. You can buy pre-packaged kits online to make your own cotton candy, or you could just as easily purchase them at any grocery store in the ice cream aisle. The brand of the kit will affect not only its price but also its quality. Some people like to go with brands that are more expensive because they know those tend to be better cheaper ones.
The location – Cotton candy is one of the most popular treats in America, but they are sold at very different prices depending on where you buy them. A cotton candy store in a crowded area with little to no competition will usually charge more for their product because there's less competition and it would be easy to get away with charging higher prices without fear of losing business due to dissatisfaction from customers. Just as well, a big event or sports game will have merchants charging more for treats (including cotton candy) due to higher rent costs. At the same time, a county fair or a smaller event can often provide great deals on fresh-spun cotton candy.
Any extra expenses to consider?
Buying pre-packaged cotton candy kits from an online retailer doesn't always mean better prices because there will usually be additional fees such as shipping charges. This is especially true if you do not meet minimum spending requirements.
If you're interested in making your own cotton candy, it's not as easy as just adding sugar to a pot. Paper cones and plastic wrap are needed for wrapping the fluffy treat so that they can be eaten safely on the go or at home with friends. You can enjoy cotton candy at home by having your own machine. The cost of a household model ranges from $40 to more than $250+.
Is there a way to spend less?
Cotton candy is the perfect sweet treat for carnivals, fairs, and other events. If you are starting a business in this industry, always know where to look for cheap yet quality goods that will serve your purposes well. This includes materials like machines as well flavors as well.
https://www.thepricer.org/wp-content/uploads/2021/06/cotton-candy-cost.jpg
380
610
Alec Pow
https://www.thepricer.org/wp-content/uploads/2023/04/thepricerlogobig.png
Alec Pow
2021-06-09 08:55:43
2021-06-09 08:55:43
Cotton Candy Cost