Last Updated on December 9, 2021 | Written by CPA Alec Pow
First Published on August 18, 2021 | Content Reviewed by

CFA Alexander Popivker
In the past it was common for companies to invest in their own cranes but since they are expensive and most of them only get used sparingly this practice is less practical nowadays. This means renting one will typically provide more value than buying one on your own especially if you need multiple uses over time or don't know when your next project might come up; so checking with local businesses can help make sure you're getting the best possible price while still having access anytime needed.
How much does a crane rental cost?
Renting a crane can be expensive. Depending on where you rent it from, the duration of your rental, and if an operator is needed, most construction cranes range in price between $120 to $1,100 per day. When getting one for multiple days,  you might be able to find one for a price of up to $1,500 for weekly rentals and up to $6,000 for monthly rentals depending on factors like the type of crane and your geographical location.
Renting a crane can be an expensive endeavor. If you need one along with the operator, then you will be charged by the hour and the price can range from $110 for a 14-ton hydraulic to as much as $370 per hour for 100-ton truck cranes. These rental companies usually want at least three hours commitment when providing an operator.
When it comes to renting a crane, many people are turned off by the high prices. However, you can save money with our guide below. Our table shows what is the average cost for different types of cranes.
Type of Crane
Average Rental Quote
15 Ton Carry Deck Crane

Daily: $1,500
Weekly: $3,000
Monthly: $5,900

9 Ton Carry Deck Crane

Daily: $1,000
Weekly: $2,300
Monthly: $4,500

2.25 Ton Walk Behind Crane

Daily: $1,050
Weekly: $2400
Monthly: $5,500

2 Ton Electric Mini Crawler

Daily: $1,200
Weekly: $2,900
Monthly: $6,400

4 Ton Carry Deck Crane

Daily: $500
Weekly: $1,300
Monthly: $3,000

2.5 Ton Carry Deck Crane

Daily: $450
Weekly: $1,200
Monthly: $2,900

17 Ton Crane Truck

Daily: $900
Weekly: $2,500
Monthly: $5,200

14 Ton Crane Truck

Daily: $700
Weekly: $2,200
Monthly: $4,000

23.5 Ton Crane Truck

Daily: $750
Weekly: $2,750
Monthly: $6,000
Regarding the prices per hour, in the table below we have written the average costs available at some rental companies from the United States. In this cost, the price for the operator is also included, but you should take into consideration that there might be additional fees applied, depending on the situation.
You might also like our articles about the cost to rent an excavator, bulldozer, or dump truck.
| The Type of Crane | Hourly Rate With Licensed Operator |
| --- | --- |
| 600 Ton and 164′ Height | $120 |
| 500 Ton and 164′ Height | $135 |
| 350 Ton and 197′ Height | $170 |
| 275 Ton and 223′ Height | $175 |
| 210 Ton and 197′ Height | $220 |
| 140 Ton and 305′ Height | $245 |
| 100 Ton and 225′ Height | $295 |
| 90 Ton and 237′ Height | $320 |
| 70 Ton and 200′ Height | $345 |
| 50 Ton and 172′ Height | $480 |
| 40 Ton and 190′ Height | $565 |
| 30 Ton and 161′ Height | $650 |
| 23 Ton and 105′ Height | $800 |
| 14 Ton  and 73′ Height | $895 |
Crane rental details
There are many things that come with renting a crane. Some rental companies include the operator in their package while some don't. The terms of usage should be established before signing a contract with a company to avoid confusion later on.
Choosing the right crane for your needs is an important decision that can make all of the difference in a project. Depending on what you need to do with it, there are three different types: carry deck cranes, walk behind cranes, and truck-mounted crawler cranes. Carry deck cranes have their own base so they're easy to transport but may not be as powerful when lifting heavier loads – which could mean more work time or the need to purchase another type of crane altogether. Walk-behind cranes will offer better control over materials being lifted but won't always go anywhere, especially around tight spaces, like other models and this makes them unsuitable for certain projects. The truck-mounted crawler crane has its lift mechanism on the ground.
What are the extra costs?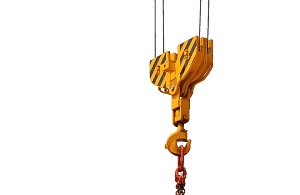 With the popularity of construction skyrocketing, it is not surprising that there are many companies that provide this service.  You might have to pay a crane operator to use the device because they often have the basic knowledge of operations like loading and unloading materials from trucks.  Some common procedures may require you to set aside additional money as well if any customizations are required, outside of what would normally be included in standard operations.
If you have to hire a professional flagger, rigger-signal operator, director, and/or pilot driver in addition to the licensed operator then this can cost $70-$110 per hour for each person.
Depending on the project, it may be necessary to have permits from your city. A permit can protect both you and the community with guidelines that reduce the risk of injury or damage in case something goes wrong during construction.
Some rental trucks come with a "fill it up" card that will take care of the gas, while others require you to bring the truck back as close to full as possible.
Operators work usually within a set radius, but when they have to travel outside of their normal area there may be additional fees.
If the operator needs to work more than eight hours then there will be overtime fees to consider.
The cost of cranes can vary greatly depending on size. For larger cranes, a road permit may be required which ranges from $100 to as much as $200 more than the price quoted for smaller models; these permits are usually less expensive in densely populated areas where traffic is heavier.
Also, if the company works during the holidays, there will be some extra fees added as well.
How can I save money?
As with any rental company, make sure to contact at least three companies before deciding who to work with. While it's important not to focus too much on the price of renting, you will want to pay attention to the reviews and reputation for each business that you negotiate with as well as their work history in order to find one that is best suited for what you need.
https://www.thepricer.org/wp-content/uploads/2021/08/crane-rental-cost.jpg
380
610
Alec Pow
https://www.thepricer.org/wp-content/uploads/2023/04/thepricerlogobig.png
Alec Pow
2021-08-18 23:32:03
2021-12-09 12:49:32
Crane Rental Cost