Culligan Water Delivery Service Cost
There are no people who do not need to drink water to stay alive. From this perspective, if your employees don't already have a state-of-the-art water cooler at their disposal, they would surely be delighted with your initiative to contact a water delivery service. Culligan offers you the chance to delegate them to take care of this for you. Surely this initiative will generate a positive reaction from your employees. And this will soon be felt in an increase in their productivity.
Culligan is a company specialized in water delivery services which is different from other similar companies through the fact that they don't make bottled water. Although you can order bottled water from them, their specialty is water treatment solutions, mainly reverse osmosis and filtration.
The water coolers are suitable for both companies with a large number of employees and household consumers and can be rented or purchased. Regardless of the service or model you go for, each type of equipment comes with free delivery, installation, and training services on how to operate.
How Much Do Culligan Water Delivery Services Cost?
The rates charged by Culligan's water delivery services depend on the type and the amount of water you want. They charge a monthly subscription fee either for the water filtration or for the water delivery. Into this price are included both the equipment installation and the monthly rental fee of the equipment, plus bottled water for three months.
You might also like our articles about the cost of Iron Curtain Water Filter, LifeSource Water System, or Ooho The Edible Water Bottle.
Be prepared to pay around $10 for a 5-gallon bottle of either fluoridated or distilled water, and almost $9 for a 5-gallon bottle of spring or purified water.
The number of people in your company or organization will determine the amount of water you will need. Expect to consume around seven 5-gallon bottles of water per month for every 10 employees. This will result in a cost of around $55 per month for every 10 employees for spring and purified water. In case you prefer fluoridated or distilled water, then you should budget around $60 per month. You should double these costs for 20 employees, triple them for 30 employees and so on.
Also, Culligan offers individual-sized water bottles, which are available in cases of 24. Depending on the type of water and the size of the bottles, the prices will be anywhere between $10 and $28 per case.
It is important to mention that not every Culligan delivery service offers the same options. In case you want a particular type of bottled water, make sure you ask if Culligan is able to provide it.
Culligan offers
You will have to choose from multiple Culligan bottled water options such as distilled, spring, purified, and demineralized. Though, in case you prefer a particular brand of water, then you will have to choose another delivery service because Culligan can only offer you their brand. However, you will be able to work with an expert in water quality in the area you are living in, who will recommend the best water solutions for your company or organization. Also, he or she will help to set the ideal delivery program and actually deliver the water.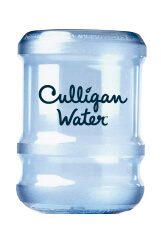 Also, you may want to choose one of Culligan's water treatment solutions such as reverse osmosis or filtered water. Again, the Culligan man will be there for you to help in choosing the option that works the best for you.
Regardless of the type of water you choose, treated or bottled, the Culligan man will be responsible for servicing the equipment and sanitizing the equipment at every delivery.
Your Culligan man will deliver the water at your preferred schedule. Also, you can increase the number of deliveries in a particular month or suspend this service during holidays or vacations.
Culligan offers the possibility to buy or lease the equipment regardless of the type of water you choose, filtered or bottled. It is important to mention that you will have to get the Culligan's equipment even if you already have a dispenser or water cooler. The servicing of your water dispenser will be part of your subscription fee throughout the lifetime of your subscription. The periodic maintenance includes the filter replacement and the sanitization of the equipment.
Culligan is one of the few water delivery companies that require a personal meeting between the customer and a company's representative. For some, this may be seen as an inconvenience, while for Culligan this level of personal development is the main selling point.
The advantages of Culligan's water filtration service
One of the main advantages of the Culligan's water filtration services is that it is cheaper than bottled water. Also, it can provide filtered water instead of bottled even in offices that don't have a water line. It ensures that you will never run out of clean and fresh drinking water, and moreover this treatment system is eco-friendly.
In case your organization has limited space for bottled water, then the Culligan's water filtration service is the perfect option. The Culligan Man is responsible for the service of the filtration equipment and will change and sanitize the filters several times a year.
https://www.thepricer.org/wp-content/uploads/2022/02/Culligan-Water-Delivery-Services-cost.jpg
380
610
Alec Pow
https://www.thepricer.org/wp-content/uploads/2022/01/thePricer.png
Alec Pow
2022-02-21 08:31:00
2022-02-19 23:38:44
Culligan Water Delivery Service Cost