Cost to Open a Dollar General Franchise
Last Updated on February 4, 2023 | Written by CPA Alec Pow
First Published on June 22, 2017 | Content Reviewed by

CFA Alexander Popivker
People are more and more concerned about spending less and saving money, and that's the whole idea behind the Dollar General franchise and why its profits increase by the year. New Dollar General stores pop up more and more, so if your city doesn't have such a store just yet, this is a great business opportunity for you. But how much will it cost you to open a Dollar General store?Before talking about the actual costs, let's see what the Dollar General franchise is all about.
Dollar General is a network of stores that sell most of the common merchandise but at incredibly low prices. The stores are somewhat similar to the Dollar Tree ones that you surely have heard of, but the main difference between them is in their prices, some products being cheaper in one store while others having a lower price in the other store.
Out of the thousands of positive reviews from happy customers, most talk about how you can't just get into a Dollar General store, buy the one item you need, and leave because you'll stumble on hundreds of low prices that will get you into a shopping frenzy.
Although the price is what makes them popular, they also rely on quality to attract and keep their clients. This combination of features keeps them on top of other stores from all around the US. This chain of stores is somewhat different from normal shops, and that is because they don't offer a lot of discounts. The good part is that they feature prices that are so low, you won't even need discounts.
But how much will a Dollar General Franchise cost?
To open such a store, you will pay anywhere from $20,000 to $350,000 or even more, depending on the type of store you open and the products you choose to sell. As an alternative, the Dollar Tree franchise will cost you more, because the items will be a little more expensive so the initial stock will cost more.
Looking to Start a Coffee Shop? It Will Cost You This Much
This initial cost will cover everything you have to pay in order to launch and operate a new store as part of the dollar general franchise. In general, if you don't have around $25,000 to spend right off the bat and before expecting any profit, then you shouldn't be able to open such a store.
Anything over this minimum number will help you get the store you want up and running. But what would you spend this sum on? These are some of the costs included in the initial expenses:
Initial franchise fee (the price required by the company to use their name)
Store equipment
Inventory prices
Initial leasing or contracting of the premises
Fixtures, advertisements, and signs
Grand opening preparations
Other Expenses
Different types of Dollar General stores and their initial costs
The stores that are part of the Dollar General franchise fall into one of the three categories you will find below, with different launch costs. Here are the types of stores and the initial price for each of them:
Just-A-buck: The most expensive type of store under the Dollar General franchise, will require an initial investment of at least $150,000 to $300,000 to have it working. And this price doesn't even include the franchise fee of $50,000.
Among the conditions of opening, this type of store is the 10 years' commitment to the franchise, regardless of whether it brings the profits you were looking for or not. This is the most expensive store under this franchise and should only be in your mind if you have the required funds to launch it and are prepared for some harsh conditions.
Looking for Other Business Opportunities? Check Out The Cost to Start a Laundromat
Dollar Discount Store of America: A lower-priced store, it will only require an initial investment of $150,000 up to a maximum of $250,000. This isn't the cheapest type of store, but it is considerably cheaper than the Just-A-Buck. You will be required to offer collaterals and good credit to be accepted into the franchise. The smaller price will also be seen in the quality and quantity of your initial and ongoing stock.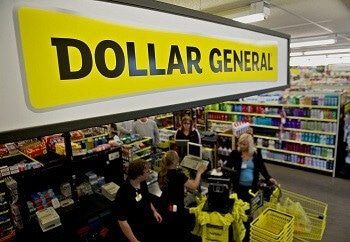 The initial cost of the investment and franchise fee won't be the only expenses you will have to face; you will also have to pay periodical fees called royalties.
These costs won't be for nothing; you will take advantage of the advertisement made by the parent company, along with training and support for you and your staff, and, of course, you will pay for the continued usage of the main company's brand and logo. Royalties will be a percent of your store's monthly gross revenue, calculated either monthly, yearly, or periodically, depending on the contract you sign.
How do you Open a Dollar General Franchise?
First off, figure out if owning a Dollar General franchise is for you
You should consider some things before starting the process of opening a Dollar General franchise. The first and most important question you should ask yourself is whether this business model is the right one for you. Is there any retail experience you can brag about? Does running a small business sound comfortable for you? Are you capable financially to invest in a big franchise?
If all of the answers to these questions are yes, then it might be a good decision for you to try your luck with a Dollar General franchise. But before you jump on the opportunity, spend some and do proper research, Talking with an experienced franchisee before making a final decision is also a good idea.
Find out what opening a Dollar General franchise means
Along with the financial investment, opening the Dollar General franchise store will also require a decent amount of experience in the retail industry. Depending on the store you'll want to open, you'll need around $75,000 to $150,000 right from the start. You will also need to have the management resources needed to run a small business and be as familiar as possible with franchising processes.
So make sure you do proper research and talk with experienced franchisees before investing actual money and time into a Dollar General franchise, to be sure you know everything there is to know about opening a store.
Fill out the application process
Although daunting at first, applying for a Dollar General franchise will be easy, as long as you have access to the right resources.
An experienced franchisee can offer a lot of help and make the application process a lot easier to complete.
Sign the franchise agreement and then pay the initial fee in full
Once your application is approved, you must sign the franchise agreement and pay the initial fee.
Set up the store
As soon as the application is approved, the agreement is signed and the initial fee is paid, you can set up the store and start serving your first customers. The company will be able to give you everything you need to get started, from marketing materials to operational support, training programs, and even signage.
How to finance your store
The easiest and most profitable way to open a store that's part of a franchise is with your own money, but let's be honest; how many average joes have a few tens to hundreds of thousands of dollars just lying around? This is why most people need to find a reliable source for the vital funds needed to launch the store.
Your local bank: Banks usually have the smallest interest rates you'll find and are very reliable and easy to work with. That's why the bank should be your first choice for getting the necessary money for the initial investment. Banks usually lend money only if you have a project that has a shot on the market, so don't go unprepared, make a business plan and present it in the best way possible to make sure you are approved for a loan.
Our Business Category Has Other Interesting Articles on Businesses and Money Making Ideas
Lenders: We're not talking about shady people that lend you money for high-interest rates, but real institutions making their business around financing new startups. They will usually have a higher interest rate than banks do, but they will offer you a loan easier than a bank would. They should be your next choice in case you get a strong refusal from the bank.
Wealthy friends or relatives: Don't be afraid to share your business idea with a wealthy member of the family or close friend. Who knows? You might get a business partner that has the financial strength to support you and in whom you can put your trust.
Market investors: They are wealthy people, always ready for a new business opportunity, but be advised: only share your business proposal if you can't get the money from somewhere else and, if possible after they've signed a non-disclosure agreement, as there is a big risk for the investor to just starting the business without you.
Should the average working Joe get into the Dollar General franchise?
If you are business inclined and think will be a good store owner, then launching a store under a franchise should be a good idea. Remember to prepare a serious business plan before you get into such a business, to make sure you will get your money back, along with a hard-earned profit.
Make sure you have in mind a good place for such a store and that the place can be leased or bought at a decent price. Be prepared to have to work for your business; a successful business has a manager that works harder than their employees and is prepared to give all they have for their business.
https://www.thepricer.org/wp-content/uploads/2017/06/dollar-general-store-entrance.jpg
380
610
Alec Pow
https://www.thepricer.org/wp-content/uploads/2023/04/thepricerlogobig.png
Alec Pow
2017-06-22 00:08:57
2023-02-04 01:09:56
Cost to Open a Dollar General Franchise