Sephora Franchise Startup Cost
Sephora is one of the most beloved chains of physical and online stores that offer customers diverse, quality, and irresistible products. You will find make-up products, perfumes, and cosmetics ideal for your skin type, for your tastes and needs, but also for the event you are participating in.
In addition, you have access to a whole variety of services in Sephora stores, at any time, to connect you with the world of cosmetics: make-up services, personalized advice, special gift packaging or you can enjoy personalized advice on skin and body care.
Brand overview
Launched in France in 1970, the Sephora chain of stores became, in 1997, part of the Moet Hennessy Louis Vuitton Group (LVMH Group), the largest luxury group worldwide. With a tradition of over 45 years on the market, Sephora offers the unique concept of a space dedicated to beauty, the place where you will find the most varied brands, from classic and selective, to the most famous, exclusive, or trending ones.
The founder of Sephora was Dominique Mandonnaud, the first to create a concept store in the field of beauty, in a completely visionary way. It was happening in France in the 70s. At that time, perfumes and beauty care products were kept behind the counter and carefully monitored for fear of theft.
The message was very clear: "First you buy and then you test!".
Sephora founder Dominique Mandonnaud had the vision and changed the way beauty products were sold. He removed the products from behind the counters and placed them in front. It gave customers the flexibility and freedom to walk around the store, try on, touch and examine without restriction.
Today, Sephora has approximately 1,900 stores internationally and more than 600 stores in Europe, being present in 29 countries around the world.
Top Brands at Sephora
Sephora Collection offers a full range of beauty products, from make-up to skin, body, and hair care products, as well as perfumes with strong aromas.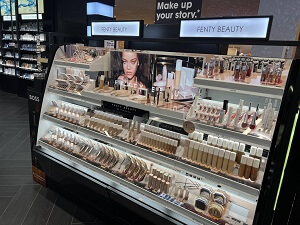 Dior offers make-up, perfumes, and products for skin, bath, and body with irresistible scents for all tastes and ages.
Fenty Beauty is a brand created by Rihanna and focuses on make-up and cosmetics suitable for skin with problems.
Urban Decay offers GOOD FOR VEGAN products, i.e. products without ingredients of animal origin. You will be able to choose from an extensive range of makeup and skin care products.
You might also like our articles on the cost of opening a franchise for Walmart, TopGolf, or Dollar Tree.
Huda Beauty was born in 2013 and offers make-up products, perfumes, and cosmetics customized for every individual taste.
Yves Saint Laurent is a brand that has become noticed all over the world thanks to its luxury products (from make-up to cosmetics and perfumes).
Estée Lauder creates luxury make-up, fragrances, and skin, bath, and body products, delivering the best results for customers.
Dolce & Gabbana is a glamorous brand from Italy that delights customers everywhere with quality fragrances and irresistible bath and body products.
The Inkey List offers numerous dermatological treatments, with effective formulas, regardless of your skin type. Most of the products are part of the Sephora Stands "GOOD FOR" program.
Givenchy is a renowned brand in the world of perfumery and beyond, as it delights the hearts of customers with irresistible and special cosmetics and make-up products.
Is Sephora a franchise?
The great success and popularity Sephora gained over the years made people ask whether it is a franchise. You may be surprised, but all the Sephora locations are company-owned, so this is not a franchise. They have stores in more than 29 countries all over the world and all of them are company owned.
However, at some point, Sephora made a partnership with a company from India to start a franchise in this country. It proved to be a success as currently, you can find around fifty stores all over India, with the most in New Delhi.
How much does a Sephora franchise cost?
As we just said, Sephora is not a franchise, so you will not be able to find any costs regarding the opening of a Sephora franchise. At least this type of information is not available at this moment.
But, let's hope the company will decide to start franchising at some point in the future.
How much does a Sephora store earn?
A Sephora store's income will depend on various factors, that vary from one location to another.
Because there is no Sephora franchise owner, we are not able to figure out how much money would a Sephora store make, at this moment.
Though, according to the information from India, where the company has some type of partial franchise agreement, the income for an average Sephora store is around $2 million per year.
The Sephora Accelerate Program
Sephora doesn't sell a franchise, at least for this moment, but it is involved in various projects to help women start their own businesses with cosmetics. One of these projects is Sephora Accelerate, which helps women entrepreneurs to create their own cosmetic outfits.
As a participant in the Sephora Accelerate program, you will be camped at one of their locations and you will be assisted with creating designs for their cosmetic brands. Also, you will e offered mentorship on how to run a successful cosmetics business from scratch.
Moreover, each participant will receive a grant of around $2,500 and will be able to take part in other company activities.
Training and support
There is no available support and training for prospective Sephora franchise owners because Sephora does not sell franchises. Though, a good way to get training regarding the ideas and concepts of the cosmetics industry is to participate in the Accelerate Program.
How to open a Sephora franchise?
Unfortunately, at this moment, Sephora does not offer any franchise opportunities in the United States of America. Though, if you are in India or any other country where it is possible to open a Sephora franchise, you can send your application to the company and you will get a response in a few days.
One of the company's requests, at least in India, is to have a good location with high traffic, that attracts a lot of customers. However, you will get assistance and a consultant will help you to open your new Sephora franchise location.
https://www.thepricer.org/wp-content/uploads/2023/01/sephora-franchise-cost.jpg
380
610
Alec Pow
https://www.thepricer.org/wp-content/uploads/2023/04/thepricerlogobig.png
Alec Pow
2023-01-28 06:57:29
2023-01-24 15:04:49
Sephora Franchise Startup Cost