El Torito is an unmistakable casual-dining American restaurant chain specialized in serving food items inspired by Mexican cuisine. The decor, the exciting rhythms of Mexican music, and the smell of varied, tasty food are the key elements of an unforgettable gastronomic adventure, which make this restaurant a perfect place for an outing with friends, family, or office colleagues.
The El Torito menu represents a real carnival of tastes, colors, textures, and aromas. The gastronomic fiesta can start with a plate of nachos with salsa and guacamole to get into the party spirit, and then it will be very difficult to choose from the variety of burritos, taquitos, fajitas, and tacos or the famous Mexican grills. The portions are enormous, just like in Mexico, so you can't leave El Torito hungry.
In the table below you will find the latest El Torito menu prices, so you can get an idea about how much you should budget for an authentic Mexican experience in terms of food and drinks.
El Torito Menu Prices
Food
Size & Price

Appetizers

Fresh Guacamole
$13.8
Crispy Flautas
$11.5
Quesadilla
Steak – $15.00
Chicken – $14.00
Cheese – $13.00
Nachos Supremos
Steak – $14.25
Chicken – $12.25
Bacon-Wrapped Shrimp
$16.39
Grande Fiesta Platter
$20.7
Loaded Tostada Nachos
$12.08
Mexico Buffalo Wings
$12.08
Queso Dip
$9.78
Queso Dip With Carnitas
$10.93

A La Carte

Cheese Enchilada
$4.6
Chicken Enchilada
$5.18
Chicken Tamale
$4.6
Chile Relleno
$5.18
Chips And Salsa
$5.75
Frijoles De La Olla
$3.45
Guacamole
$5.75
Mexican Caesar Salad
$4.03
Refried Beans
$3.45
Rice
$3.45
Sauteed Vegetables
$3.45
Sweet Corn Cake
$4.03
Tortilla Soup
$4.03

Soups And Salads

Grilled Chicken Mexican Caesar
$17.25
Grilled Chicken Taco Salad
$18.4
House-Made Tortilla Soup
$8.34
Fajitas Salad
Grilled Steak – $18.50
Grilled Chicken – $16.50
Fiesta Market Salad
Shrimp – $19.00
Chicken – $17.00

Enchiladas

Chicken & Sour Cream Enchiladas
$17.54
Shrimp Mazatln Enchiladas
$18.98
Spinach Enchiladas
$15.53
Enchilidas Rancheras
Beef – $16.25
Chicken – $16.25
Cheese – $13.25
Sizzling Enchiladas
Grilled Steak – $17.75
Grilled Chicken – $15.75
Taco & Burritos
Seafood Taco Trio
$18.98
Street Taco Trio
Steak – $16.50
Carnitas – $14.50
Chicken – $14.50
Tacos Al Pastor
$16.39
Burrito Especial
Beef Barbacoa – $15.25
Chicken Machaca – $15.25
Carne Asada Burrito
$17.83
Fajita Tacos
$16.68
Grilled BBQ Burrito
$17.54

El Torito Specialities

Carne Asada & Shrimp
$27.6
Carne Asada And Cheese Enchilada
$25.3
Chile Rellano Especial
$14.95
El Torito Bacon Burger
$14.95
Pollo Fresco en Adobo
$20.13
Salmon Veracruz
$21.28
Slow Roasted Carnitas
$22.43

Fajitas

Grilled Chicken Breast Fajitas
$21.85
Ignited Fajitas Supremas
$26.45
Shrimp Fajitas
$25.3
Fajitas
Combo plate – $23.00
Duo – $23.00
Family Style Fajitas
$74.75
Grilled Steak Fajitas
$24.15
Seafood Fajitas
$25.3
Veggie Fajitas
$21.85

Combinations

Combo
3 Item – $18.00
2 Item – $17.00
Baja Combo
$21.85
Macho Combo
$20.7
Sizzling Combo
$20.99

Desserts

Cheesecake Banana Chimi
$9.78
Cinnamon Crisp Cheesecake
$8.63
Deep Fried Ice Cream
$8.63
Homestyle Flan
$8.05
Mexican Bread Pudding
$9.2
Mudd Pie
$11.5
Sopapillas
$8.05

Kids Menu

Cheese Pizza
$8.04
Cheese Quesadilla
$8.04
Chicken Tenders
$8.04
Kids Drinks
$2.29
Kids Mac And Cheese
$8.04
Mini Beef Taco
$8.04
Mini Burger
$8.04
Mini Chicken Taco
$8.04
Mini Corn Dog
$8.04
Pepperoni Pizza
$8.04
Fajita
Steak – $8.99
Chicken – $8.99

Fountain Drinks

Agua De Jamaica
$4.36
Cucumber Cooler
$4.6
Diet Pepsi
$4.36
Fruit Punch
$4.36
Lemonade
$4.36
Mountain Dew
$4.36
Pepsi
$4.36
Raspberry Iced Tea
$4.36
Root Beer
$4.36
Sierra Mist
$4.36
Strawberry Cilantro Soda
$4.6
Brand history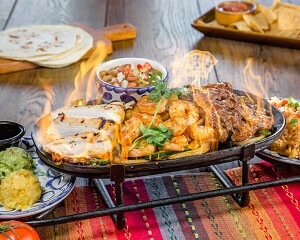 El Torito, which in Spanish means "the little bull", was founded by Larry J. Cano in 1954 in California. Actually, it claims to be "a pioneer in the California full-service Mexican casual dining restaurant segment".
Larry J. Cano was working as a bartender at the restaurant that was going to be "El Torito" when the owner of the bar died. The widow offered the business to Cano and he started to serve Mexican food at the bar. So, the first El Torito restaurant appeared.
You might also like our articles on the prices you will find on the menus of Azteca, Fuzzy's Taco Shop, or Las Palapas.
The restaurant became very successful within just three years, and Larry opened more locations. Twenty restaurants were opened by 1976. That year, Cano sold the chain to W.R. Grace and Company, but he was hired as the President of the company.
This Mexican restaurant had several owners over time. Currently, it is owned and operated by Xperience Restaurant Group and has 69 locations mainly in California, USA.
Our review
The dining atmosphere in El Torito restaurants is casual, with free WiFi and TV where clients can watch their favorite shows. This is the ideal place for dinner and lunch.
Their menu consists of popular Mexican dishes like burritos, fajitas, tacos, and enchiladas. The specialties from El Torito include pollo fresco en adobo, carne asada, carnitas Michoacan, carne asada & shrimp, and chile verde. All of these are cooked with bold flavors and fresh, high-quality ingredients. Also, they serve wines, ice-cold cervezas, and margaritas.
You should plan on spending anywhere between $10 and $15 for an appetizer such as guacamole, quesadilla, Mexican platter, or taquitos. The salads and soups are priced at $6 to $15 each, and include options such as tortilla soup, fire-roasted tomato soup, chicken taco salad, fajita salad, and others.
The Mexican specialties cost a little more, with prices that range from $15 to $20. On the other hand, Mexican classics such as tacos, enchiladas, chili, burritos, and taquitos can be ordered at affordable prices of $10 to $15.
El Torito offers the best customer service with a staff that is very accommodating and friendly. They are permanently checking up on clients to make sure they have everything they need for a great dining experience.
El Torito FAQs
At what time does El Torito open?
El Torito opens at 11:00 a.m. Monday through Friday, at 08:00 a.m. on Saturday, and at 09:00 a.m. on Sunday. But it may vary depending on the location. You should visit their official website to check the opening hours based on your location.
At what time does El Torito close?
Most El Torito restaurants close at 10:00 p.m. Sunday through Thursday and at 11:00 p.m. on Friday and Saturday. But again, it depends on the location and the day of the week. So, you have to visit their website to check this information.
Who founded El Torito?
El Torito was founded by Larry J. Cano in 1954.
Where was the first El Torito restaurant opened?
The very first El Torito restaurant was opened in the San Fernando Valley. It was located near the corner of Ventura Boulevard and Balboa next to Los Encinos State Historic Park.
Who owns El Torito?
The restaurant chain El Torito is owned and operated by Xperience Restaurant Group.
Can you order food online from El Torito for takeout or delivery?
Yes, El Torito not only offers you the possibility to order delivery or takeout online through their official website, but you can also order using one of the many delivery services available like Uber Eats and Doordash.
https://www.thepricer.org/wp-content/uploads/2023/07/el-torito-menu-prices.jpg
380
610
Alec Pow
https://www.thepricer.org/wp-content/uploads/2023/04/thepricerlogobig.png
Alec Pow
2023-07-24 08:05:13
2023-07-14 09:23:56
El Torito Menu Prices