Hardwood Stair Installation Cost
Last Updated on December 11, 2022 | Written by CPA Alec Pow
First Published on October 23, 2020 | Content Reviewed by

CFA Alexander Popivker
A staircase is among the most noticeable parts of the house. By changing carpeted stairs with hardwood, you can considerably improve your home's interior looks. For a fairly small task, nevertheless, stair installation expenses can run rather high due to the amount of labor needed. While it's possible for a knowledgeable do-it-yourselfer to manage the task, the detail-oriented nature of the work should be delegated to a pro for the most part.
Setting Up Wood Stairways: A Summary
Stairs have 3 significant elements: treads (the horizontal boards; the part of the stair that you place your foot on), risers (the vertical areas of wood in between the treads), and stair nosing (a rounded, finishing piece that extends beyond the tread over the riser). You can also purchase premade treads with a rounded edge, eliminating the requirement to purchase a separate nosing.
You might also like our articles about the cost of wood restoration, dry rot elimination, and the cost to build a duplex.
If you presently have carpeted stairs, removing the carpet will expose a plywood substrate. The brand-new hardwood stairs will be added to the substrate. If the stairs are already made from a type of hardwood, it's possible to set up the brand-new stairs over the old ones (although adjustments might be needed if the brand-new stairs overlap the stair stringer, or skirting). Building and construction adhesives and nails are utilized to protect the stairs.
Hardwood Stair Choices
Wood Type: Any type of hardwood, in addition to engineered wood items, can be utilized for stair building.
Unfinished or Prefinished: Just like hardwood floor covering, prefinished wood and unfinished wood is also available. Prefinished stairs need no work onsite; they're sanded, sealed, and top-coated at the factory. Unfinished wood is in its raw state; all finish work needs to be carried out on-site. Custom-made wood stairs are more frequently made from unfinished wood. This alternative offers higher levels of personalization, as you can not only go for any wood type, but also any stain color and surface (shiny, semi-gloss, or satin). Unfinished wood, nevertheless, needs more labor.
Matched or Unmatched Risers and Runners: Stairs can have either all-hardwood risers and runners, or risers made from less-expensive softwood (usually pine or poplar) and painted white (or any other color). The latter alternative will rather minimize labor and material expenses.
Carpeted Runners & Other Nonslip Solutions: Due to the fact that wood stairs can be slippery (and a fall from a staircase can be especially nasty), some property owners choose to set up a carpeted runner that enables much safer walking. Nonslip tread covers are also readily available, as are stain-additive items such as SharkGrip.
Hardwood Stair Installation Costs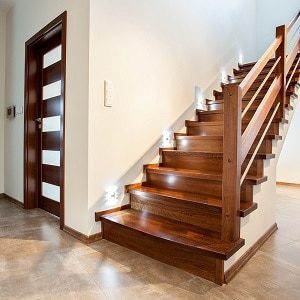 Setting up hardwood stairs costs around $100 to $200 for each step, consisting of labor and material costs. If we think of a staircase that has 17-20 stairs, that's an overall approximated expense of $1,700 to $4,000.
Depending upon the professional you work with, staining, and finishing (with a product) the newly-installed stairs might also be included with the project. If not, it will cost extra (obviously, you can stain/finish the stairs yourself).
Real expenses depend upon the geographical area you live in, the products you go for, the stair measurements, the number of steps, and whether there are any extra building changes that need to be carried out to accommodate the brand-new stairs.
Lots of professionals will charge less for an "add-on" job (that is, setting up stairs in addition to wood flooring). Standalone stair jobs tend to cost more.
https://www.thepricer.org/wp-content/uploads/2020/10/hardwood-stairs-installation-cost.jpg
380
610
Alec Pow
https://www.thepricer.org/wp-content/uploads/2023/04/thepricerlogobig.png
Alec Pow
2020-10-23 09:01:35
2022-12-11 23:56:32
Hardwood Stair Installation Cost