Last Updated on August 15, 2020 | Written by CPA Alec Pow
First Published on November 4, 2016 | Content Reviewed by

CFA Alexander Popivker
High schools or secondary schools usually include ninth to twelfth grades, where students of age group fourteen to nineteen can get themselves enrolled. The enrollment varies from a few hundred to a few thousand students per school. While there are several standard academic high schools in the US including private and public schools, the primary area of emphasis in high schools is on college prep, sciences, arts, technology, religious studies, and military life.
Typical Costs
While public high schools do not charge a tuition fee, they can charge fees ranging from $5 to $200 or more per item for supplies, textbooks, physical education, yearbook, clubs, participating in sports or other activities, and technology. For one school year, the total fees can be as low as $100, or they can be more than $700. Families that are homeless or economically unprivileged can apply to get a fee waiver. For instance, the Plainfield Community Consolidated School District 202 in Illinois charges $30 as activity fee, $170 for textbooks, $24 for the chess club, $106 for the band, $63 for the speech team, $74 for the choir, $24 for non-competitive sports, $129 for competitive sports, $200 to $250 for driver's education, and $9 to $40 per consumable workbook.
This Article Is Also Interesting, This is The Cost of Elementary School
The cost of private high school tuition can vary from $6,000 to $35,000 per year, depending on various factors such as school focus, the ratio of teacher to pupil, and the reputation and location of the school. School focus means if the school is religion-based or nonsectarian where religion-based schools are usually less expensive. According to the National Catholic Education Association, an average high school parish tuition is estimated to be $9,622. For example, the St. Monica Catholic High School in Santa Monica charges a standard tuition fee of $8,900, and for families that are active members of a Roman Catholic parish in the Archdiocese of Los Angeles, it costs $8,000. The Lutheran High School in Parker, CO has standard tuition of $8,900 or, for members of an associated congregation, $8,180.
The National Association of Independent Schools members charge an average median high school tuition fee of $22,745 for day students. Considering the example of other schools, tuition at the Colorado Springs School is $19,175, $34,268 at the Sidwell Friends School in Washington, DC, and $27,700 at the Detroit Country Day School. A residential or boarding high school can charge you from $30,000 to $80,000 for one year. The boarding school at Chapel Hill, Chauncy Hall School in Waltham, MA, costs about $46,000, while Woodside Priory School in Portola Valley, CA charges $53,925.
Additional Costs
Most of the private and public schools have a particular school uniform that students must wear. These uniforms can cost from $25 to $500 per outfit, varying according to the requirements of the school.
Usually, public schools offer free bus service to low-income students, but the rest of the students might need to purchase an annual bus pass costing $100 to $400 or more, according to the distance traveled. For example, the Northampton Public School in Massachusetts demands $303 annually for one high school bus pass. Many public schools charge from $50 to $400 each year for on-campus student parking. The annual parking fee at South High School in Newton, MA is $360. Since several private school students' parents provide transportation themselves, they do not have to pay any transportation fees, but for school transportation, the cost can vary from $300 to $2,000. For instance, Ravenscroft in Raleigh, NC has an annual transportation fee of $360 to $1,750 depending on the location of the student.
A Great Hobby For Your Child Could Be Martial Arts. Here's How Much The Classes Would Cost
Discounts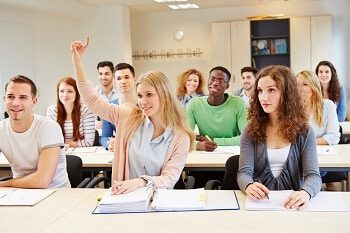 Discounts in high school fees can be availed by using various methods. If you pay the entire tuition fee at once, it will cost you less than paying in installments. At the Tampa Preparatory School, Florida, the tuition is $19,025 if paid in full, whereas in two installments, it is $19,565.
Many schools also offer a 5% to 25% sibling discount when multiple students from the same family are studying. For example, the Chicago Waldorf School offers a 15% sibling discount.
Many public schools also have the policy to provide a free independent study program that enables students to get a high school diploma. The Mark Twain High School in San Diego, CA features the SOAR Independent Study Program for students.
Should the average teenager go to high school?
Education is very important an a lot of careers depend on it. That being said, if you don't have the necessary funds to go to the most respected private school available, you could opt for the much cheaper alternative, a public school.
https://www.thepricer.org/wp-content/uploads/2016/11/high-school-cost.jpg
380
610
Alec Pow
https://www.thepricer.org/wp-content/uploads/2023/04/thepricerlogobig.png
Alec Pow
2016-11-04 11:45:59
2020-08-15 21:40:45
High School Cost