How Much Do School Uniforms Cost?
The first school uniforms appeared in England in the 16th century and were initially worn by orphaned children or those from poor families. Over time, the standardization of education led to the choice of a unitary clothing style in the form of school uniforms specific to each educational institution.
The feeling of belonging to the group, the tradition, the erasure of social class differences for a group of students as well as their easier integration into the community represent some of the essential arguments why school uniforms are successful today.
The immense popularity of school uniforms is mainly due to their association with educational institutions with a tradition in the West. Children and teenagers have always associated wearing a uniform with the reputation of the educational institution.
How Much Do School Uniforms Cost?
Depending on the brand and size, the average school uniform costs anywhere between $10 and $30. For instance, you can buy a pair of flat-front plain girls' pants from Land's End for almost $25. Expect to pay the same, maybe a few dollars more for the uniform capris, skirts or shorts, and for the boys' pants and shorts.
The cost of school uniform shirts is anywhere between $10 to $25. For example, a plain color short-sleeved polo, boys' or girls' cut, from French Toast can be bought for around $15, while for a long-sleeved polo, you will have to get almost $17 out of your pocket.
Usually, you don't have to buy school uniform shoes through a uniform store. In general, the only requirement is that these are plain color dress shoes. For instance, JC Penny has many options with prices that start at around $35 and go up to $75.
But you have to buy the accessories to school uniforms through a uniform store, like bows, tights, and socks. These will cost anywhere between $5 and $15.
Be prepared to spend around $18 per item, so you will pay around $360 for ten bottoms and ten tops.
So, the average cost of a school uniform for your child would be anywhere between $110 and $220.
The annual costs of a school uniform are around $260, according to StatisticBrain.com.
In the tables below you will find the average costs of a school uniform for both girls and boys.
Boys
Price
Vest or Sweater
$40 to $60
Short-Sleeved Polo
$24 to $50
Long-Sleeved Dress Shirt
$25 to $50
Double-Knee Pants
$35 to $60
Girls
Price
Sweater with the jumper or blazer
$30 to $60
Solid skirt
$20 to $45
Short-Sleeved Polo
$20 to $45
Long-Sleeved Blouse
$20 to $45
Jumper with short-sleeved blouse
$30 to $60
Popular brands
Brand
Price Range
Lands' End Uniforms
$10 to $55
French Toast Uniform
$7 to $24
Dickies Uniform
$12 to $28
Cherokee School Uniforms
$10 to $27
Academy School Uniforms
$5 to $20
School uniforms overview
Many of today's schools have implemented a strict school dress code. Whether it's public schools or private schools, uniforms are required in both institutions. School uniforms for children can be made of skirts, pants, shirts or blouses, and vests, all depending on the age of the child.
Some schools are also very strict regarding the color of the uniform, allowing only dark blue, black or brown, or other colors approved by them. While uniforms can be a burden for children, for parents it is a much better option because it saves them from worrying about daily clothing for school, and at school, you can no longer differentiate between children when they all wear the same uniform.
The uniforms can be found in many specialized stores and also online.
Which are the additional expenses?
If you purchase a classroom uniform from an online store, most probably you will have to pay a handling and shipping fee.
You might also like our articles on the cost of competitive cheerleading, Halloween costumes, or scrubs.
At some schools, you must have their symbol or name printed or embroidered on each uniform shirt. Usually, there is an extra fee for this service. However, some companies will include this in the cost.
If the uniform doesn't fit perfectly, you will have to pay extra for any modifications done to the shirts or pants.
On the other hand, if your child needs a plus size uniform, usually these sizes cost a few additional dollars per item.
Important things to consider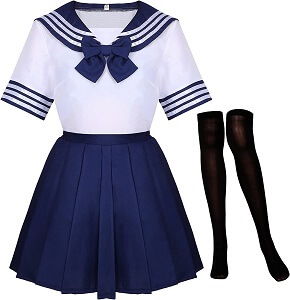 The most important thing when buying a uniform for children is to have with you a model of the uniform required by the school.
One of the most important cons of school uniforms is that some schools have very strict school uniform requirements and policies related to what the little ones can wear, imposing a certain style and a certain color from the beginning.
So, make sure before you buy it, that it is the right style, color, and size. Size is very important because children grow up quickly, so don't buy pants that are too short and shirts that are too tight. By the end of the first semester of school, the child's uniform may already be small and will prompt the purchase of a new one.
Up to 83% of US teachers believe that a well-chosen school uniform can prevent bullying based on appearance or economic situation.
Many times, the mandatory wearing of the school uniform can be more expensive than wearing decent, regular clothes. And this is because there is a limited number of suppliers for these uniforms, and the lack of competition allows them to keep the prices quite high.
Another reason can be related to the fact that wearing the uniform requires the purchase of additional accessories: a jacket open in the front, of a certain color, or children's shoes that comply with certain rules or standards. Especially when these clothing items are only worn at school, for a few hours a day, the investment in them can be more than some families would afford.
Tips for saving money
Try to buy most, if not all of your uniform items in one order if shopping online. In this way, you will pay only one shipping fee. You can find most school uniform items on Amazon at a reduced cost.
Loyal clients are offered coupons and discounts by most stores. Also, some local retailers will even make a deal with your school if they recommend them as a store.
Check if the school has an exchange program that will let your child change uniforms with classmates and friends.
https://www.thepricer.org/wp-content/uploads/2023/04/school-uniform-cost.jpg
380
610
Alec Pow
https://www.thepricer.org/wp-content/uploads/2023/04/thepricerlogobig.png
Alec Pow
2023-04-28 06:51:40
2023-04-25 11:34:09
How Much Do School Uniforms Cost?