How Much Does Honda B123 Service Cost?
Last Updated on September 13, 2023 | Written by CPA Alec Pow
First Published on August 23, 2020 | Content Reviewed by

CFA Alexander Popivker
Most of the time, when you get the code Service B123 on your Honda, regardless of whether it is an Accord, Pilot, or Honda Civic, this will mean that it needs regular mileage service. This usually happens between 30,000 and 60,000 miles and it will also mean that you will have to have your engine oil replaced, as well as engine air filters and cabin filters, along with other consumables.
Depending on your specific Honda model and the numbers showing on your dashboard, the car computer system that can be found at your dealer/mechanic will have the ability to inform them precisely what requires to be serviced at the time as soon as it is plugged into the vehicle mainframe. So how much will Honda B123 Service cost?
How Much Does Honda B123 service cost?
The B123 service code is part of the Honda maintenance minder and, as pointed out in the first paragraph, will be related to the routine service, and from what we saw online, many Honda owners would require their oil changed, along with the cabin filter and air filter too, usually along with other consumable pieces.
The average cost to fix the B123 Honda service issue will be between $240 and $450, depending on what needs to be done. This cost can get higher if the mechanic finds other issues as well while fixing the code B123 problems.
Each number, which we will go through in our list below, will mean a particular service that requires to be carried out. This all, of course, won't necessarily need to be done at the same time, depending on what plans you'll have at the time of service. Although you can skip some of the changes that were maybe done already, it is all regular upkeep so it is extremely advisable to change everything to make sure your Honda runs smoothly.
Also read about the cost of Walmart tire installation, brake pad replacement, and muffler delete installation.
One Honda professional on JustAnswer has stated that the costs, when the oil modification and filters are included, can reach as much as $450, however sometimes, the vehicle computer systems might inform the mechanic that other services require to be done at the same time.
One member on the Piloteers online forum noted his A123 light started to show and he was priced around $242 for the oil change, tire rotation, a/c and engine filter, and the transmission fluid.
On another online forum thread at GreenHybrid, a member was given a price quote of about $440 to fix the maintenance code B123 on a Honda Odyssey, however, when he changed the cabin and air filter on his own, he was able to knock $145 off the maintenance cost, bringing the grand total to $295.
Finding out the meaning of the "B123" Honda maintenance code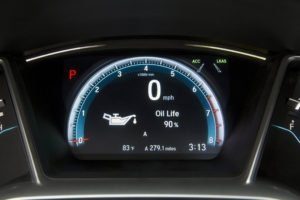 The sign "B" implies that it's time to change the engine oil and the oil filters as well as examine other systems and elements, depending upon your specific design. You or the mechanic will read through the service handbook for more information regarding what requires to be checked at this time.
When it comes to the numbers, check out the information listed below to see what each number shows:
the tires need to be rotated and the pressure and condition need to be checked
the air cleaner component requires to be changed, inspect the drive belt and change the dust and pollen filter
replace the transmission fluid and transfer fluid if you have one
replace the spark plugs, and timing belt, and check the water pump and valve clearance
replace the engine coolant
replace rear differential fluid if you have it on your model
Interested in how the Honda B123 code is fixed? Then check out the video below:
https://www.thepricer.org/wp-content/uploads/2020/08/honda-b123-service-cost.jpg
380
610
Alec Pow
https://www.thepricer.org/wp-content/uploads/2023/04/thepricerlogobig.png
Alec Pow
2020-08-23 10:21:20
2023-09-13 12:21:53
How Much Does Honda B123 Service Cost?