How Much Do Crow Boots Cost?
CROW boots are an orthosis that has been developed for patients with severe deformities of the foot and ankle due to acute nerve conditions, which are mostly caused by diabetes. It provides support for diabetic deformed feet or Charcot Marie Tooth disease.
This orthopedic device is customized, taking a mold of the affected member of each patient individually. Due to personalization, releases are made exactly where the pressures and/or ulcers/necrosis are. Customizations are made to allow equal distribution of loads of the limb and to support the ankle and foot joints. The orthosis is designed to reduce pressure on the surface of the foot.
Crow boots are available in black, white, or a multi-color interlocking pattern/custom pattern; lined with a special memory material that acts as a shock absorber for added comfort. The orthosis is lined with a special material with memory on the inside, which helps absorb shock in the affected areas. Due to the materials used this orthosis allows the healing of lesions/mycosis/ulcers.
Fixed crow boots stabilize the ankle and foot for complete control during the healing process. It is an economical and functional alternative when immobilization in the healing process is indicated.
How much do CROW Boots cost?
The average price for crow boots is about $1,130, but it depends mostly on whether you have insurance and its particular type. Most of the insurance plans cover the whole price for Crow boots, based on HCPC codes, more specifically on Lcode, L4631, meaning you might not have to pay anything.
Health Insurance Coverage
As we mentioned above, most insurance companies do cover the cost of a crow boot, but you will need a prescription from your foot and ankle orthopedic surgeon, and of course, to consult your insurer.
Here are the codes added to the L4631 base code for CROW boots:
L1960 ANKLE FOOT ORTHOSIS, POSTERIOR SOLID ANKLE, PLASTIC, CUSTOM-FABRICATED
L2232 ADDITION TO LOWER EXTREMITY ORTHOSIS, ROCKER BOTTOM FOR TOTAL CONTACT ANKLE FOOT ORTHOSIS, FOR CUSTOM FABRICATED ORTHOSIS ONLY
L2275 ADDITION TO LOWER EXTREMITY, VARUS/VALGUS CORRECTION, PLASTIC MODIFICATION, PADDED/LINED
L2340 ADDITION TO LOWER EXTREMITY, PRE-TIBIAL SHELL, MOLDED TO PATIENT MODEL
L2820 ADDITION TO LOWER EXTREMITY ORTHOSIS, SOFT INTERFACE FOR MOLDED PLASTIC, BELOW KNEE SECTION
L3010 FOOT, INSERT, REMOVABLE, MOLDED TO PATIENT MODEL, LONGITUDINAL ARCH SUPPORT, EACH
These are the only codes used for billing a CROW boot, including adjustments, modifications, or fitting. These changes must be done and will be accepted, based on the codes, only on necessity reasons. These may be due to loss of effectiveness, damage, or because they are worn out, and not for style change.
In case the patient does not have Charcot arthropathy, but needs CROW boots to treat ulcers or edema, or to prevent an ulcer of the lower extremity, then the code A9283 should be used.
You might also like our articles on the cost of foot levelers, prosthetic legs, or Good Feet Store products.
Some insurance providers cover just one pair of CROW boots, but there are some providers that may offer different self-pay offers or discounts on the second or third pair.
We mentioned above that there are some insurance companies that do not cover, under any circumstances the cost of CROW boots, and here they are:
Medicare
Medicare supplement plans
Medicare Advantage plans
Regence UNIFORM
Kaiser
Molina for adults
United Health Care Community Plan
Additional costs
Depending on whether you are an outpatient or you visit a clinic or hospital, you may pay a consultation fee besides the crow boot cost.
Some providers may have the visit included, but most of the hospitals and clinics charge the facility fee, meaning the use of the treatment room during the visit. The facility fee can go from $100 to $270, depending on the time spent and the complexity of your medical situation.
Depending on your medical grade you may also need some socks to wear inside, some pads for the inside of the boot, and so on. In case your insurance does not cover the add codes to the base code L4631, here are some priced options:
The importance of proper CROW Boots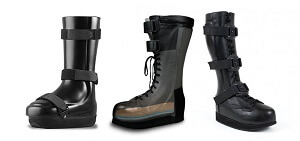 Orthopedic footwear will be all more effective as the execution technique is more rigorous and directed toward the requirements of the condition. Based on the experience gained and evaluating the needs of patients, the specialists in orthopedic technique are aware of the importance of achieving orthopedic footwear for adults with serious foot problems based on the mold and computerized planting analysis.
The walking evaluation, through computerized plantar analysis, highlights high-pressure points in the legs, areas that can turn into potential weft that, in the context of diabetic disease, can lead to serious complications, from ulcers to amputations in very serious cases.
Starting from this simple dynamic analysis, the importance of not only the CROW boot becomes evident, but also the inner planting orthosis, which is no longer just a simple plantar supporter but a leg orthosis with an extremely important role in preventing further complications.
A properly made plantar orthosis will ensure 75% of the efficiency of orthopedic footwear. Also developed on the basis of the mold, it will allow, through the chosen materials and the technique of making, the discharge of high pressure from the problem areas, significantly contributing to the prevention of complications.
A CROW boot is made of soft materials, without inside stitching if the pathology requires this and, most importantly, taking into account the peculiarities of the foot. Especially in the case of diabetic foot, but also in other pathologies that generate foot deformations, choosing the right model is extremely important.
Although most patients, most ladies, are used to elegant shoes that give the foot a thin look, it is extremely important to realize that many of the foot problems have started from this type of footwear.
Final words
With proper orthopedic shoes and a corresponding plantar orthosis, foot orthosis, the patient can remain active, and able to continue their daily activities. This aspect is extremely important not only in terms of the obvious physical benefits of daily movement but also because of the major psychological role that continuing an active life has on patients, so you must always buy them from specialized and authorized companies.
https://www.thepricer.org/wp-content/uploads/2023/04/CROW-boot-cost.jpeg
380
610
Alec Pow
https://www.thepricer.org/wp-content/uploads/2023/04/thepricerlogobig.png
Alec Pow
2023-04-24 12:39:48
2023-04-24 11:05:14
 How Much Do Crow Boots Cost?