How Much do Girl Scout Cookies Cost?
The Girl Scouts were founded in 1912, by Juliette Gordon Low. Not long after becoming reality, the Girl Scout troops also started to sell cookies. The Mistletoe Troop in Muskogee, Oklahoma was the first to sell Girl Scout cookies in 1917. The cookies were baked by the scouts themselves and then sold as a service project in a high school cafeteria, according to the official website of the Girl Scouts.
They were followed by a few other troops, that also started to bake their own cookies and sell them through the 1920s and 1930s. It was only in 1935 that Girl Scout troops raised money through this type of sale when the Girl Scout Federation of Greater New York baked cookies commercially. Just one year after that, the national Girl Scout organization started to license the first commercial bakers, with the goal of producing cookies to sell all around the country by all of the troops.
The Girl Scout Cookie program has slowly become the biggest worldwide entrepreneurial program led by girls. The money that comes from it helps fund the Girl Scouts of America, some Stem programs, and even local community projects.
Events like the "Bring Home the Cookies" 5k run/walk aren't uncommon when the Girl Scout cookie season starts.
But of course, the best part of the season will be the release of the cookies.
How much do Girl Scout cookies cost?
The price of Girl Scout cookies for the year is between $5 and $6 per box. These prices are set by each Girl Scout council independently and will be based on factors like shipping costs, market size, and ingredients.  Usually out of all the Girl Scout cookie boxes, the Girl Scout s'mores and the toffee-tastic are the most expensive, at about $6.
Girl Scout cookie flavors
The Girl Scout cookie flavors are listed below:
Raspberry Rally – added for the first time in 2023
S'mores
Do-si-dos
Trefoils
Lemon-ups
Adventurefuls
Toffee-tastic (gluten-free)
Samoas
Thin Mints
Tagalongs
As for the new cookies called Raspberry Rally, these will be thin and will have a crispy texture, being dipped in chocolate coating and infused with raspberry flavor. These are only available through online orders.
You might also like our articles on the cost of Cake Pops, Crumbl Cookies, or macarons.
How have these prices changed over the years?
In 2021, the price per box was $5 to $6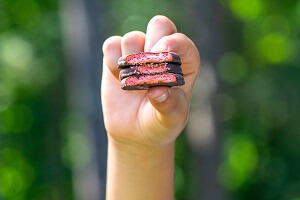 The Girl Scouts of Western Illinois and Eastern Iowa announced in July 2020 that Gorl Scout cookies will see a price increase for the 2021 season. The cost was set to $5 per box for traditional cookie flavors like S'mores, Lemon-Ups, Trefoils, Do-si-dos, Tagalongs, Samoas, and Thin Mints. As for the Toffee-tastic specialty flavor, this would be sold at a higher price of $6 per package.
In 2015 all boxes were priced at $5
The Girl Scouts of Eastern Massachusetts had the hard job of announcing a price increase for the cookies in November 2015, announcing the new price of $5 per box, which was a 25% increase. That same year, the price raise was also adopted by the Girl Scouts of California's Central Coast troops, which also set the price per box to $5. This happened as local councils in Hawaii and parts of California were already adopting the raised prices.
2012 – the price was raised to $4 per box
In July 2012, the Girl Scouts of Minnesota and Wisconsin River Valley announced the new price of Girl Scout cookies, which was going to be $4 per box, according to Star Tribune. The reason behind this price increase was a combination of inflationary factors including the increase in baking costs.
In 2004 the cost was set to $3.50 per box
This year was when troops considered a price increase first time after the 1999 price change. They raised the price to $3.5 per box, an increase of 50 cents from the old price. They said that higher expenses for cookie bakers were what caused this increase, along with the amount that each troop would receive per sale of a cookie box.
In 1999 you would be charged $3 per box
Local Scouts of Marshall, Missouri were the first to sell cookies at $3 per box in 1999. It was that year that the number of cookie varieties rose to eight and included sugar-free options and low-fat flavors.
Just $1.50 per box in 1981
New York Times reported in an article that Girl Scouts used to sell their cookies in 1981 for just around $1.50 per box.
When do Girl Scout cookies go on sale?
In 2023, Girl Scout cookies will be sold from Jan. 16 to Mar. 5, which is a week longer than previous cookie seasons.
How to buy Girl Scout cookies online
You can buy these cookies through the Girl Scout Shop, which is the official Girl Scout Cookies website.
https://www.thepricer.org/wp-content/uploads/2023/03/girl-scout-cookies-cost.jpg
380
610
Alec Pow
https://www.thepricer.org/wp-content/uploads/2023/04/thepricerlogobig.png
Alec Pow
2023-03-25 06:52:48
2023-03-09 11:27:36
How Much do Girl Scout Cookies Cost?