How Much Do Lip Fillers Cost?
It's not always easy to accept yourself as you are. Sometimes there are parts of our body that we can't be happy with and we wish they were completely different. For a lot of people, one of these is their lips.
Nowadays, there are discrete and non-invasive solutions that can be used if you want to intervene to reshape your mouth, without excessively altering your facial features. The most common technique is that of filling, namely the injection of substances such as hyaluronic acid capable of plumping lips, smoothing wrinkles, and strengthening the tissue. If you are interested in this type of treatment, in this article you will find all the information you need.
How Much Are Lip Fillers?
Depending on the treatment used, the number of sessions, the particular filler, and how much filler you need to get the desired look, the average cost of a lip filler would be anywhere between $450 and $2,500.
For instance, some of the most common lip fillers used in Oregon are Bellafill, which costs up to $1,100 per syringe, Juvederm, which costs anywhere between $450 and $750 per syringe and Restylane, that cost anywhere between $450 and $750 per syringe.
What is the difference between lip plumping, lip fillers, and lip injections?
Lip plumbing products, like lip plumping glosses, provisionally make your lips fuller by determining the rush of blood to your skin.
In order to get this fuller appearance, lip-plumping products contain different ingredients such as cinnamon oil, bee venom, and capsicum resin from peppers.
When talking about the procedure of making a fuller and more defined lip, the terms lip injection and lip filler are used interchangeably. Lip injections contain lip fillers, and both are used in the same context.
There are different fillers and products in lip injections which are inserted under the creases and folds, typically in the bottom half of the face. This will make your face look wrinkle-free, youthful, and rejuvenated.
You might also like our articles on the cost of inner lip tattoos, other lip augmentation techniques, or facelift procedures.
Lip fillers and lip injections contain, but are not limited to, the following components:
Fat from other parts of your body
Autologous (own) fat injection uses fat tissue from another part of the body as a lip filler. Grafting usually involves liposuction surgery on another area of the body, and the procedure can be done without incisions on the face or lips. Fat injections should only be performed by a qualified plastic surgeon with specialized training in fat transfer procedures. A beautiful lip contour can be achieved that looks and feels very natural and lasts for years.
Hyaluronic acid
Hyaluronic acid fillers, such as Restylane and Juvéderm products, are a popular non-surgical option, providing temporary lip enhancement at an affordable cost. When administered by an experienced physician, dermal fillers can last anywhere from 4 to 12 months. Depending on the product, fillers can increase the volume of the lips, improve their shape and fade wrinkles that form around the lips (perioral wrinkles).
Agents that have collagen in them or promote collagen production, such as Bellafill
Collagen, once the most common dermal filler, is used less often today.
Botox
This is a chemical substance injected into your face, determining the relaxation of your facial muscles.
Limitations and risks
As with any aesthetic procedure, patients must be in contact with their doctor during the recovery period. Contact your surgeon at the first sign of an abnormality or unexpected side effect. Prolonged pain and swelling could be a sign of infection or an allergic reaction.
There are very few risks associated with lip fillers, but you should contact your doctor if:
you face acute pain near the injection site, coupled with asymmetry, which lasts more than 7-10 days after the procedure;
swelling, bruises or redness do not disappear after a week;
you develop lumps or swellings in or around the injected areas.
FAQs
What is the best lip filler?
The most recommended lip filler is Juvederm. This is FDA-approved and doesn't require an allergy test. It offers a natural texture and feel to your lips. Also, it is used to balance out the size of your lip or to decrease the space between your nose and top lip.
Juvederm contains a hyaluronic acid formula, which is a naturally occurring substance in the human body.
How long do lip fillers last?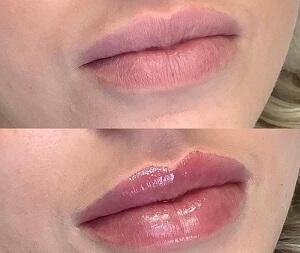 Lip fillers can be of two types, temporary and permanent.
Temporary lip fillers can be done on the same day through a non-surgical procedure. In general, these can last six months to three years, depending on the result you would like to have, the amount used, and the type of filler.
When used on other parts of the face, Botox can last almost the same period of time.
On the other hand, permanent lip filler is a surgical procedure that may last for years. This procedure involves transferring fat from other parts of your body to the part of your face which is being treated.
Does lip filler dissolve naturally?
Over time, hyaluronic acid is dissolved naturally by the body as it is a substance produced by our bodies.
Though, according to the American Board of Cosmetic Surgery, hyaluronic acid fillers can be removed with an enzyme called hyaluronidase. When someone wants a different result, hyaluronidase is injected in different areas with the hyaluronic acid filler.
In order to remove other non-hyaluronic lip fillers you can use surgery or some types of medication.
How much does a lip injection cost?
The cost of a lip injection is anywhere between $550 and $2,500, depending on the geographical location, the type of injection, the physician you choose, the number of injections you need, and the results you would like to achieve.
Which is the most natural lip filler?
According to multiple online sources, the most popular natural filler uses hyaluronic acid. This is a natural substance that can be found in the body and helps increase the volume of your lips when injected. Also, it can reduce wrinkles for up to one year.
Do lip fillers hurt?
Some fillers contain a local anesthetic such as lidocaine to increase comfort during the injection. An anesthetic cream can also be used.
https://www.thepricer.org/wp-content/uploads/2023/02/Lip-Filler-cost.jpg
380
610
Alec Pow
https://www.thepricer.org/wp-content/uploads/2023/04/thepricerlogobig.png
Alec Pow
2023-03-02 08:49:21
2023-02-24 11:08:09
How Much Do Lip Fillers Cost?