How Much Does a Facelift Cost?
Last Updated on September 19, 2023 | Written by CPA Alec Pow
First Published on October 24, 2014 | Content Reviewed by

CFA Alexander Popivker
Skin aging manifests both by the skin reducing its elasticity and by changing its structure. The facelift is a surgical intervention in which the skin goes through a stretch from the face and neck level, without fully suppressing the deep wrinkles around the nose, cheeks, or the upper lip's crease.
The surgery is performed under intravenous local anesthesia or general anesthesia, with an incision that begins in the hairy skin of the head, in the temple's region, and continues through the front of the ears and then behind the ears. The face and neck skin is taken off from the underneath subcutaneous and muscle tissue, then the excess skin is removed. The incision edges are then sutured with very fine wires, to generate a scar that is almost invisible to the naked eye.
How much does a facelift cost?
A traditional facelift has an average cost of around $8,000 according to multiple experts including the American Society of Plastic Surgeons. Among the factors that influence the cost of the procedure the most, is the surgeon's fee. The place where you have the facelift surgery will also influence its cost. If you only need one-third of the face surgery, then it might just cost around $4,000, while a full facelift surgery can easily go over the $15,000 price mark.
Below you will find the average costs you should expect for common facelift procedures depending on the part of the US where you choose to have the intervention:
Nonsurgical facelift, also known as liquid facelift – Having this type of surgery in Kentucky, for example, will cost somewhere between $2,000 and $5,500.
Mini-facelift – Having a mini facelift costs $7,000 when done in the Chicago area.
Mid-facelift – Getting a mid-facelift in Florida will likely cost between $6,500 and $9,000.
Deep plane facelift – Expect a price between $15,000 and well into $30,000 for this procedure in the New Jersey area, according to experts. This type of procedure is considerably more invasive, but it should last more than traditional facelifts, hence the bigger price mark. Deep plane facelifts are more common for older patients that have some very visible signs of aging.
Of course, you will spend more or less depending on several important factors, like the costs of anesthesia, the type of procedure, and other add-ons, but more about this below.
Factors that affect the costs of a facelift
There are charges that might or might not be included in the averages above, including:
Consultation fee – There is a fee you will have to pay to just meet the plastic surgeon you'll be working with. Although this fee might be added to your final bill, it isn't uncommon for you to be charged separately.
Hospital or surgical facility costs – Depending on the operating room your surgeon will use and whether it will be an inpatient or outpatient facility, you might be charged a separate fee for it. These surgeries can be done in an ambulatory surgery center, an office-based surgery center, or a fully equipped hospital. There are people that have gone home just a few hours after having the surgery, while others needed at least a day to recover in the hospital. This additional day would be added to the final cost.
Anesthesia fees – You will spend both on the anesthesiologist treating you and on the anesthetics themselves. Although things are more complicated than this, expect to need general anesthesia for most interventions. When it comes to its price, local anesthesia is known to be cheaper than general anesthesia, according to Science Direct.
Medical tests – Before you get your facelift, it isn't uncommon to need tests like blood work.
Medication: You'll probably have to get medication that keeps things from swelling, anti-nausea medication, antibiotics, and painkillers, as per the prescription of the surgeon to help with the recovery, and all of these will be priced separately.
Post-surgery garments: As a way of promoting healing and reducing discomfort, a lot of patients will choose to buy and use compression facial wraps.
Post-surgical corrections: As there are patients that are unhappy with their facelift results, they might require further procedures. This is also the case for people that had complications during their surgery.
Different surgeons and different locations will also have different fees. You will likely be charged considerably more by an experienced surgeon than you would by a less experienced one. The same story goes for the anesthesiologist as well. In areas where there is a lot of demand for plastic surgery or the number of plastic surgeons is reduced you might be charged above the average.
Does insurance cover a facelift?
As facelifts are seen as cosmetic surgeries, most of the time, you won't be able to cover these facial plastic surgeries with insurance. This means that you'll probably have to cover the entire cost.
As per the IRS, you won't be able to use the funds you have in your flexible spending account (FSA) or health savings account (HSA) either when it comes to cosmetic surgeries. Even though these accounts would allow you to use pre-tax funds for most healthcare expenses, cosmetic surgeries don't qualify.
The good news is that you might be able to get the surgical procedure even without saving tens of thousands of dollars. You can use a personal loan from one of the many lenders, as these can be used for basically any reason. With a good credit score, you might also be able to get a loan with a very good interest rate. You should consider low annual percentage rates (APR).
There are also plastic surgery practices that have in-house financing options available. A lot of them would use medical credit accounts like CareCredit.
Before going for a lender or another, make sure you compare the loan terms and interest rates, to make sure you protect your money.
According to plastic surgeons, Is a facelift worth it?
As with most cosmetic procedures, the results of a facelift will be subjective. While some ask themselves why they bothered, others might be thrilled with the results. It is more of a personal expectation thing.
Getting a consultation with a board-certified plastic surgeon should offer you all of the helpful information you need. They are the best to determine whether you should get a facelift and whether you are among the good candidates, by weighing in factors like:
Your general health, as a lot of people aren't able to get surgery if they already suffer from a medical condition that affects their immune system, skin healing, or blood.
Your history of healing and recovery from past surgeries.
Your general expectations
This initial consultation should also be when you talk to your facial plastic surgeon dr. about:
Expectations in terms of recovery
The risks associated with plastic and reconstructive surgeries of this type
Whether or not your surgeon is certified by the American Board of Plastic Surgery and what are their qualifications.
Facelifting is still a surgery so you should take into account the risks involved, some of which are:
Change in skin color or skin sensation
Nerve damage that could cause facial paralysis
Asymmetry
Seroma (a buildup of fluid at the surgical site)
Hematoma (bad bruising)
Bleeding
Numbness
Scarring
Infection
Risks from anesthesia, (vomiting and allergic reactions aren't uncommon)
Depending on the procedure, it might lead to skin that is too taut or a change in the shape of your earlobe(s). This is why a lot of people choose to get a facelift coupled with an earlobe reduction. Before you agree on getting a facelift, make sure you consider all of these outcomes and possible side effects.
Does this plastic surgery have any cheaper alternatives?
If a facelift doesn't seem like your thing, then you can consider several options that feature similar results. Among these are procedures like radiofrequency or microneedling. These are known to help the skin get a fuller look by producing more collagen.
Thread lifts are another procedure that lifts the skin in key places. It is done by inserting temporary sutures beneath the skin.
There is also face yoga, which is a series of facial exercises made to make the skin tighter and more firm.
How long does a facelift last?
Most facelifts should last around 10 years or more. According to experts, it isn't uncommon for the procedure to last even 15 years in the right circumstances. Things like sun exposure, both before and after the procedure, weight fluctuation, and your genes, in general, will influence how long it will eventually last. The more invasive the procedure is, the more it should last.
Other procedures that go with a facelift
Sometimes facelifts can also be combined with chin liposuction to remove fat deposits or may be followed by other adjuvant procedures to improve the final result.
Among these are:
Chemical peel;
Chin Implants and Fat Injection;
BOTOX® Cosmetic;
Blepharoplasty or cosmetic eyelid surgery.
Chemical peeling
Most chemical peels cost, on average, around $550. This procedure is used to reduce sun damage or acne scars.
Chin Implants
This is The Price of Liposuction
This type of option may cost another $1,000 apart from the face lift costs. This procedure is done at the same time as your facelift and consists of creating a better-defined jawline, if you are not satisfied with your actual one, with some special-shaped silicone implants.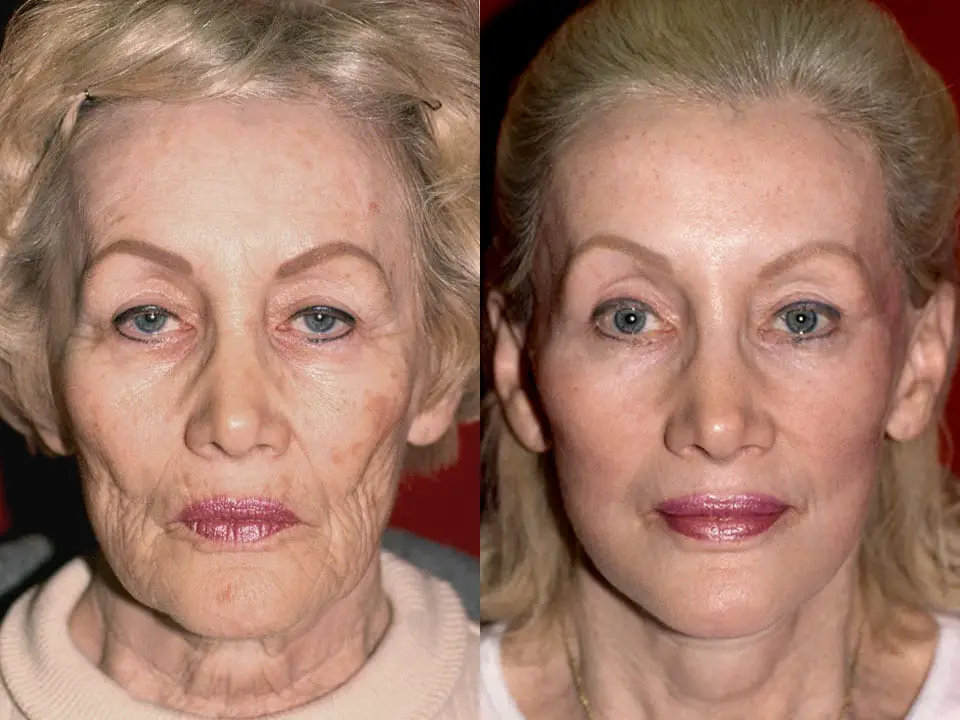 Fat Injection
Fat injections are another option for many patients who start to have sunken faces due to age. This is why some volume can be added to certain face areas using this technique. It will involve fat removal, and liposuction, from other areas which may cost around $2.800, depending, of course, on the treatment. Fat injection may cost a few other hundreds of dollars, apart from the facelift or other types of procedures, because you have to purify the fat.
The BOTOX® Cosmetic average cost is around $200 for a treatment area. This is an injectable treatment to correct the lines formed at the outer corner of the eyes, the horizontal lines between the eyes and the forehead.
Blepharoplasty, also known as cosmetic eyelid surgery, costs around $2,800 and helps patients look more refreshed and rejuvenated, by reducing the "bags" beneath the eyes or correcting the sagging upper eyelids.
Also Interesting, The Cost of Breast Reduction
Face and neck lift
A facelift can rejuvenate your face and neck by removing the visible signs of aging like wrinkles and prolapse. The fat and excess skin is removed, while the residual skin, subdermal tissues, and muscles are stretched. During surgery, the neck's excess skin is removed and the cheek and wrinkles are smoothened.
A facelift can be combined with liposuction to correct the double chin.
Top facelift
Top facial lift produces a rejuvenation of the superior frontal region, corrects the fallen look of the brows, and improves the appearance of front horizontal wrinkles also wrinkles between the brows (which give a person a sad, tired, or angry look).
The front face lifting principle is to strengthen the muscles and other tissues responsible for the formation of wrinkles and drooping eyebrows.
https://www.thepricer.org/wp-content/uploads/2014/10/face-lift-cost.jpg
380
610
Alec Pow
https://www.thepricer.org/wp-content/uploads/2023/04/thepricerlogobig.png
Alec Pow
2014-10-24 12:17:30
2023-09-19 20:16:34
How Much Does a Facelift Cost?