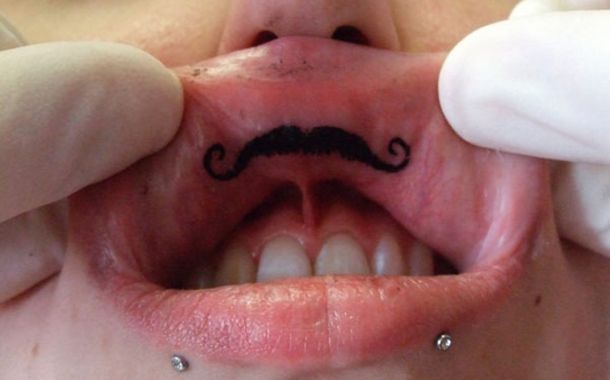 An inner lip tattoo is a special way in which to express yourself given that the tattoo isn't easily noticeable. As the name indicates, the tattoo will be made on the inside of the bottom or upper lip.
Just how much does an inner lip tattoo cost?
The expense of an inner lip tattoo will depend upon the artist you work with, the colors, shading, the tattoo shop you go to, and where you live. Many inner lip tattoos, according to what we could gather online and by phone, will stay in the $50 to $125 price range and will take less than an hour to get done. Nevertheless, this cost might be far more if you were to go for an artist who was popular or more in demand. You should know that most artists will have a shop minimum, generally in the $50 to $80 range. Another thing to bear in mind is that many tattoo shops will not do inner lip tattoos due to the risk of infection, so it's a good idea to call a couple of them ahead of time to ensure they would be able and will want to do this type of tattoo for you.
On one Reddit thread, people have talked about this exact topic, and most claimed that you need to be prepared to spend anywhere from $50 to $80.
Aspects that impact the cost:
Tattoo style
The good part about lip tattoos is that they are rather small, so the cost of having one done is a fair bit lower than on other parts of the body. Nevertheless, the cost still differs according to the style itself. The majority of the styles carried out on the inside of the lip will be a word, expression, a smaller-sized image, sign, or name of somebody special. Some complex styles require attention to detail. If this were the case, then you would more than likely pay a bit more than for the normal styles.
You might also like our articles about the cost of a finger tattoo, a word tattoo, or a knuckle tattoo.
Colors/shades
If you wish to have more than one color and/or tone used on your tattoo, then the expenses can increase with every color or shade you add.
The geographical location
There are still areas in the country that have only a handful of tattoo shops. If you reside in one of these cities, you may find higher costs given that there are no competitors.
Inner lip tattoo details
The quotes discussed above will consist of all of the needed products to carry out the job such as the ink, sterilized needles, and the time the artist will need to do the tattoo.
If you're not sure which style would be perfect for you, all tattoo artists will have stock designs and fonts you can pick from, and most of them can even aid you by drawing the style if you have something in mind.
After the tattoo is done, some swelling will occur for the next couple of days, and will spend some time to recover as long as the proper aftercare directions are followed.
What are the additional expenses?
Unlike other tattoos, an inner lip tattoo can fade pretty quickly. If you want the tattoo to last, you will have to have it retouched every 4 years. Depending upon the artist, they might charge the exact same cost for a retouch or might knock off a couple of dollars, depending upon their policy. Nevertheless, as Bustle.com notes, regular touch-ups, if you consider them, can protect the tattoo, but they will also increase the chances of infection.
Tattoos on other parts of the body will need an aftercare lotion cream, and because you can't use this kind of cream on your inner lip, you will be asked to utilize a standard alcohol-free mouthwash after every meal, and if you're a cigarette smoker, after every smoking session.
Any tips to remember?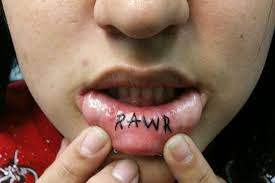 When thinking about a style, you should try to keep the style as limited as possible considering that there's very little space on the inside of your lip. In fact, you should stick to a couple of letters and numbers. Adding too many details, as the tattoo fades gradually, might make your tattoo look rather messy.
You should also keep in mind that lip tattoos fade quickly due to the acid and chemical content inside the mouth. In fact, 40 percent of inner lip tattoos totally vanish in the very first year. Even if it does not fade within the very first year, you can count on it being gone by the 5th year.
Specialists will ask you to keep it as dry as possible for the first 4 to 5 days while the tattoo heals. When compared to other tattoos, the mouth just takes a couple of days to recover due to the fast regrowth of mucosal cells. If you fail to follow aftercare guidelines, the possibilities of infection are high due to the germs found in the human mouth.
Does a lip tattoo hurt a lot?
When it comes to discomfort, the amount of pain is arguable by some. Some report that the process isn't more uncomfortable than on other parts of the body, while others state it was the most painful tattoo they have ever experienced due to the high concentration of nerves inside the lip. If there's something we know for a fact is that it will truly boil down to your discomfort tolerance levels, however at a minimum, it must seem like a noticeable sting-like experience.
Any way of saving some money?
Among the very best ways to save money is to take care of your tattoo correctly. The better care you take, the longer the tattoo will last. This, in turn, means that you will need to get it retouched less frequently.
Similar to anything in life, you should try to get a quote from a handful of artists in your location. While you do not wish to focus just on the cost, be sure to also ask for referrals, take a look at their previous work and see how they run their shop and how clean it is.
Due to the fact that this tattoo will not be seen by many people, is extremely agonizing, and vanishes rapidly, it might be smart to think about a tattoo on a different part of the body.
https://www.thepricer.org/wp-content/uploads/2021/03/inner-lip-tattoo-cost.jpg
380
610
Alec Pow
https://www.thepricer.org/wp-content/uploads/2023/04/thepricerlogobig.png
Alec Pow
2021-03-26 08:05:45
2021-03-25 12:14:14
Inner Lip Tattoo Cost