How Much do Truck Stop Showers Cost?
Traveling for long periods of time can be difficult for truck drivers and normal drivers alike. Especially when you haven't showered in days. While truck stop showers were originally created for truckers, they can also be used by others who need to take a shower.
Truck stop showers are very popular in the truck industry. And they are used at least once by most truck drivers.
How Much Do Truck Stop Showers Cost?
Depending on the truck stop, the cost of a truck stop shower is anywhere between $5 and $15. However, in some situations, it can be lower or even free if you fill up a certain amount of fuel and/or have a savings card.
In the table below you will find the average costs of different truck stop showers across the United States of America.
| Truck Stop | Cost |
| --- | --- |
| Travel America (TA) | $15 to $17 |
| Flying J | $12 |
| Loves | $12 |
| Pilot | $12 |
| Hess | $10 |
| Wilco | $10 |
| Mom and Pop | $7-$12 |
The majority of the TA Travel Centers charge around $15 for their shower, according to RoadTripAmerica.com. Also, they say that you will get a coupon for a free shower if you fill up with 50 gallons of fuel.
According to the Truck-drivers-money-saving-tips.com website, the average cost of most truck stop showers is anywhere between $9 and $15 per shower.
What is going to be included in the cost?
At most major truck stops the common showers will include team, handicap, and single showers.
You will receive a shower pass with the number of your shower stall when you pay at the counter. Some may offer you a PIN to access a room, depending on the truck stop. In case all the shower stalls are full, you will have to wait at the truck stop for your number to be called over the P.A. system.
You might also like our articles about the cost of washing and vacuuming your car.
In case you fill up with fuel at the same truck stop, just show the receipt and your costs with the shower will be waived.
The majority of the truck stop shower rooms are private. These are equipped with hooks on which you can hang your clothes, a mirror, an oscillating fan, a toilet, and a sink. The premium features that you can find at some truck stops include a tiny soap, washcloths, fresh bath towels, and a bath mat.
You will have to return your towel once you finish the shower and you will get your deposit back.
A maintenance person will come to clean and sanitize the shower after you have used it.
Which are the additional expenses?
You may have to pay an additional fee for shampoo and soap in case you forget them. Usually, the small sizes cost less than $1.5.
Also, at some truck stop showers, you may have to pay a deposit fee for using their towels. Though, this amount will be returned to you if you bring back the towel.
Important things to consider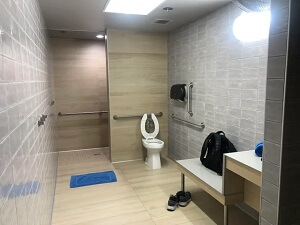 Make sure you always wear flip flops when you enter the shower stall. Even though many truck stops pride themselves that the shower stalls are cleaned and sanitized after each use, you never know what you may take from a public bathroom.
Also, make sure you have a rewards card with the truck stop, so they will be able to apply credits to it in case you cannot use your shower. This way you can get a free shower in the future. Though, read the fine print carefully as some credits could expire within a specific time period.
Usually, there is a limited time for a shower. Depending on the truck stop, it would be anywhere between 30 and 45 minutes.
You can still be able to use a truck stop shower even though you are not a truck driver. You can take advantage of it if you are on a long road trip and plan on driving at night instead of getting a hotel room. A hot shower will keep you awake and fresh.
Tips for saving money
Depending on the truck stop's policy, most of these will offer free showers if you fill up with more than fifty gallons of fuel. For example, according to the Travel America website, you have to fill up with sixty gallons to receive a free shower credit. If possible, try to take your shower every time you fill-up the tank.
Many large truck companies have lounges where their drivers can stop to sleep and shower. Check if your company has to offer this benefit.
https://www.thepricer.org/wp-content/uploads/2023/04/Truck-Stop-Showers-cost.jpg
380
610
Alec Pow
https://www.thepricer.org/wp-content/uploads/2023/04/thepricerlogobig.png
Alec Pow
2023-04-24 06:45:46
2023-04-20 06:28:56
How Much do Truck Stop Showers Cost?