Last Updated on October 21, 2021 | Written by CPA Alec Pow
First Published on October 21, 2021 | Content Reviewed by

CFA Alexander Popivker
For drivers who really love their car, washing is a real ritual. The preparation of clean buckets and cloths, the choice of cleaning products, the adjustment of the water jet, are just a few details that those who are used to washing their car safely enjoy to the fullest. But not everyone has enough time or space to clean their car at home. For these ones, there are car washes that come in many types with specific characteristics for every need.
How much does a car wash cost?
The cost of washing your car is influenced by some factors including the type of car wash, the size of the vehicle, the package you go for, and the place you are living. However, a basic drive-through car wash costs somewhere between $5 and $12. The price for a premium car wash, also known as "the works" is anywhere between $13 and $18. This type of washing also includes tire shine and wax.
According to Autos.com, a full-service automatic wash would cost $18 to $35, while the price for a basic automatic is only $7 to $15.
If you choose to wash your car at a self-wash, be prepared to be charged by the minute. In order to start, you have to pay $3 to $5 and add $2 to $3 more for each extra minute.
Plan to spend anywhere between $18 and $30 if you want a full-service car wash that includes a dusted-down console and a vacuum interior.
The price for a car detailing wash depends on the type of car and how many details the car has. This type of washing includes all services performed by hand, from shampooing the rugs and floor mats. For an average car, expect to pay around $90 for this service, while the cost for a van or SUV is $130 to $160.
You might also like our articles about the cost of vacuuming your car, repairing the rust, or painting the car.
If you want the service to come to you then you can call for a mobile car wash. The price for a basic car wash is anywhere between $30 and $55, while a deep clean interior and a premium car wash could cost more than $120.
In the table below we have gathered some price estimates from some of the most popular car wash brands.
| Car Wash | Prices |
| --- | --- |
| BP Car Wash | $8 to $112 |
| 7 Eleven Car Wash | $7 |
| Kwik Trip Car Wash | $8 to $13 |
| Exxon Car Wash | $13 to $18 |
| Phillips 66 Car Wash | $7 to $11 |
| Mister Car Wash | $26 to $32 |
| Shell Car Wash | $4 to $11 |
Car wash details
A car wash is an essential part of maintaining your vehicle clean. There are many types of car washes you can choose from. A basic or value wash will simply power-wash and brush the exterior as you go through a tunnel on a track system that pulls the car along. This type of car wash can have a brushless or touchless system. Often, the basic car wash will only soap your car and will not include an air-dry when finishing. On the other hand, the higher-end car washes include a one-minute dry clean when the whole process is done. Besides this, there is also a wheel cleaning, an undercarriage clean, and a clear-coat protector included. At some car washes, you may find employees that will hand dry your car at the end.
Types of car washes
Self-service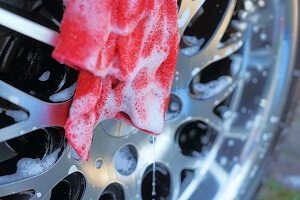 A self-service car wash is a space where a car owner can wash his own car. The self-wash works as a vending machine with the help of money that are inserted in the appliances present in the laundry space. Whether the washing track with active foam or wax is available, or other equipment is used such as vacuum cleaners, they all use money and the intervention of a laundry employee is necessary only in exceptional cases.
One of the greatest advantages of this kind of car wash is that is it open 24 hours.
In-bay
This new type of self-service car wash is a lot different from the traditional ones. The car is being helped by robotic arms that roll back and forth, cleaning the outside of your vehicle. This type can be found at gas stations or local self-service companies where there's no need to station staff to constantly monitor it.
Hand car wash
If you choose this type of car wash expect to have your car washed by some employees on-site because as its name says, the car will be washed by hand.
Tunnel
This car wash is the most common and it uses a conveyor belt to clean your vehicle.
Mobile
Mobile car wash professionals carry large, plastic water tanks that use a high-pressure washer. They are often mounted on trucks or vans for ease of transportation.
Waterless
A chemical car wash that doesn't use any water, this eco-friendly service will polish your vehicle's exterior with special chemicals.
What are the extra costs?
If you have an SUV or a larger vehicle then you may have to pay a surcharge that is $1.5 to $3.
How can I save money?
There are many ways to find the best deals for car washes. One way is by checking their website or Facebook page, as they may offer coupons that can save you some money.
There are many car wash companies that offer discounted washer services. For example, if you visit the same business 10 times in a row they might give you one free wash per month or an unlimited monthly pass for only $30.
There is a chance a gas station may offer a discount if you purchase your fuel with them at the same time.
https://www.thepricer.org/wp-content/uploads/2021/10/car-wash-cost.jpg
380
610
Alec Pow
https://www.thepricer.org/wp-content/uploads/2023/04/thepricerlogobig.png
Alec Pow
2021-10-21 09:54:01
2021-10-21 09:54:01
Car Wash Cost