How Much Does a Costco Eye Exam Cost?
The eyes are an extremely important part of the body, which gives you the visual comfort that everyone needs. It is necessary to be able to maintain your vision as long as possible. Therefore, you shouldn't ignore any symptom, no matter how insignificant it may seem to you. If you feel that you are struggling more to read from a book, if you can no longer distinguish certain objects very well, or if you notice changes in the appearance of your eyes, go to an ophthalmologist office urgently for a routine check-up.
If you need new contact lenses or a new pair of eyeglasses, you can consider going to a Costco vision center. Like in the case of many other retailers, such as Sam's Club, Walmart, or Target, the optical center you can find inside of a Costco store is not owned by this company, but by a local optometrist.
How Much Does a Costco Eye Exam Cost Without Insurance?
Aside from the selection of lenses and eyeglasses, all Costco optical departments are independently operated and owned by a local independent doctor of optometry, according to the company's official website. This means that these eye doctors are using the Costco warehouse just as their landlord, essentially renting out the space of the building, and can set their own price for the eye exam or other eye care services.
You should be prepared to pay anywhere between $60 and $90 to get an eye exam, and around $140 for a contact lenses exam at one of these independently owned Costco locations. Though, the prices will vary and in order to find out what is the exact price of an eye exam, you should contact your local Costco location or you can visit them in person because most of their locations have the prices displayed on a large billboard near the entrance of the vision center.
In the table below you will find the average prices of different services available at the Costco eye exam centers.
| Service | Costco Eye Exam Prices |
| --- | --- |
| Basic Eye Exam | $55 to $88+ |
| Contact Lens Exam | $93.5 to $126.5 |
| – Astigmatism | $132 to $154+ |
| – Multifocal/ Monovision | $154 to $176+ |
| Dilation | $22 to $33 or more |
| Office visit without exam | $22 to $44 or more |
| Visual Fields | $11 to $22 or more |
| Frames (optional to purchase) | $44+ |
| Lens (optional to purchase) | $71.5+ |
Note: Remember that these prices are estimated, and can be lower if a special offer and/or coupon is available at the time of your prescription.
You might also like our articles about the cost of an eye exam at Eyemart Express, Target, or LensCrafters.
According to several members of the Reddit.com online forum, the cost of a routine Costco eye exam is around $85, while for a contact lens Costco exam, you should plan on spending around $110.
According to a CBS News article, the cost of an eye exam at Costco is more than $50, and if you need to buy glasses, you should be prepared to pay around $160 for a pair.
Depending on the location you choose, they may accept your vision insurance. Also, depending on your insurance company policy, you may still be eligible to get reimbursement even if Costco does not accept insurance. You may be able to get a portion of your payment back because Costco is considered "out of network" by most insurance companies.
Important things to consider about the Costco optical exam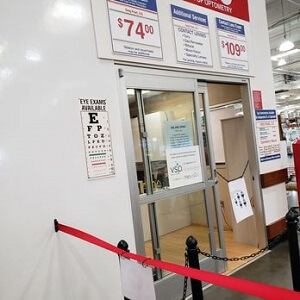 There is an optical center at most Costco locations, but not at all of them. You should visit their official website and use their search tool to make sure your local Costco location has such a center.
According to many online reports, you don't need to have a Costco membership to make an eye exam appointment, but you will need one for buying eyeglasses or contact lenses if you need them after your eye exam.
The accepted payment methods will greatly depend on the location as at some you can pay with all credit card types, while at others you can pay only with checks and/or cash.
As each Costco vision location is independently owned, you should not consider the reviews from all locations. Consider only the reviews for the optometrist who works at your local Costco, with an emphasis on customer service and overall medical services.
It is highly recommended to call your local Costco vision center and schedule an appointment because most locations tend to be very busy. You may have to wait almost two weeks for an eye exam at the busiest locations.
Other things to keep in mind
Doctors recommend people do an ophthalmological examination at least once a year because it will help them prevent serious eye diseases. One example is glaucoma, an extremely serious condition that does not hurt at first but can lead to blindness if you do not see a specialist.
Doctors also advise us to have an eye exam even if our vision is perfect, because many eye diseases have no symptoms at first, and among them are the most serious ones such as glaucoma, retinopathy (a complication of diabetes), eye tension, and macular degeneration.
https://www.thepricer.org/wp-content/uploads/2023/06/costco-eye-exam-cost.jpg
380
610
Alec Pow
https://www.thepricer.org/wp-content/uploads/2023/04/thepricerlogobig.png
Alec Pow
2023-06-21 08:13:22
2023-06-17 07:35:08
How Much Does a Costco Eye Exam Cost?