How Much Does a Hair System Cost?
As more than 85% of men go bald even before the age of 50, based on available statistics, it isn't farfetched to think that throwing a rock at a crowd will likely hit a man having an issue with balding. Most people are looking for that one solution against hair loss that cures their issue permanently.
Celebrities have gone through all kinds of treatments with more or less success. Robbie Williams, for example, had what experts call a successful hair transplant, but it only took around 10 years for the hair to fall again. And even the medications he tried after the treatment have proven to be unsuccessful. And after all the trouble, in the end, he tried human hair wigs, toupees, or hairpieces. These are also called hair replacement systems. But is this the best choice?
For people constantly fighting hair loss, hair replacement systems are slowly becoming the ultimate solution. So how much does a hair system cost? How much would it cost a normal individual to have and care for a hair system over a year?
This article should give you a good idea of the budget needed to have a healthy-looking hair system.
How Much Does a Hair System Cost?
A hair system will likely cost anywhere between $300 and $2,500, although its final price will depend on important factors like its design and style, hair density, the hair materials it is made from, and the supplier you're buying it from. A human hair system that is not only hand-made but also well-versed will can cost around $100 to manufacture.
Of course, before we go into deeper issues you should know that hair replacement systems are not the permanent solution and you will have a yearly cost to consider.
This means that it will be a constant expense to consider in the long run and will include not only paying for a new unit when the old one wears out but also paying for regular maintenance and the occasional touch-ups.
On top of this, don't forget about the actual cost of ordering hair systems. You can't just order cheap hair systems because you will probably get bad-looking hair systems or synthetic wigs that look really bad on you.
How Much Does it Cost per Year to Maintain the Hair System?
You will spend money whenever you need to reattach a hair system, which adds to the overall cost of the hair system.
Depending on the salon you are going to, the actual cost of reattaching and maintaining a hair system will fall between $50 and $300 per month for a properly done job. This means that the costs per year will be between $600 and $3,600 to maintain the hair system. You can find this out by asking the salon staff directly, during your first visit.
How Many Hair Systems Will You Need Per Year?
You will probably go through 4 to 6 hair systems over the course of a year, depending on the type of hair system you will go for.
How Often Should You Reattach a Hair System?
When it comes to reattaching a non-surgical hair system, we're talking about the regular touch-ups you'll have throughout the system's life. It isn't unusual for hair systems to get less sticky on their base side as the natural hair will grow underneath it and as you occasionally sweat. When this happens it will start to peel, getting a really unappealing look. This will happen once every 3 to 4 weeks and will require a visit to your stylist so that they can have the system cleansed and reattached to your hair.
How Long Does a Hair System Last?
Your average hair system that can be found on the market will have a lifespan of around three months, as long as you care for it properly.
Of course, things aren't all that simple and their lifespan will likely depend on the materials used to make the hair system, being anywhere between a month and a year.
| Base Material | Lifespan |
| --- | --- |
| Monofilament | 6-12 Months |
| French Lace | 3-4 Months |
| Swiss Lace | 1-2 Months |
| Skin 0.1mm | 3-6 Months |
| Skin 0.08mm | 3-4 Months |
| Skin 0.06mm | 2-3 Months |
| Skin 0.03mm | Around 4 Weeks |
How Much Does the Hair Replacement System Cost at The Hair Club?
Most people that want to give hairpieces a first try will go to big-name non surgical hair replacement salons to have them installed so that they know the job is done correctly. Hair Club is one of the places where people choose to go for their first hairpiece when they start to have issues with hair loss.
You might also like our articles on the cost of Hair Club for Men, beard transplants, or Bosley Hair transplants.
Hair Club was invented in 1976 by Sy Sperling when he noticed that his hair started to go. It's been decades since this company started advertising on TV through different types of infomercials and commercials. As they have all those years behind them, it's easy to understand why they are considered the most professional salon chain in the US when it comes to non-surgical hair replacement. You can probably find a salon of theirs in all of the big cities. They picked a motto to perfectly illustrate the care they show for their customers.
The bad news is, as with everything else, Hair Club charges pretty high prices for their top-tier services. It's not unusual for people to get rather bummed when they see that they are charged a whole month's salary to fight their hair loss or complete baldness and get a proper non surgical hair system. And this is even before they find out that on top of this, they will have to consider three to four replacements per year and regular reattachments.
As around half of all hair loss sufferers are turned away by the high prices offered by Hair Club, this chain has always been under fire for its high hair system cost.
A Reddit post for example had one of their clients complain about the high bill. They were charged $1,6595 for just one salon visit that included the attachment of a new hair system and the price of the system itself. This would be followed by monthly expenses of $288 for regular maintenance. Running the numbers made this individual very disappointed.
Pros and Cons of Hair Club
Both a pro and a con is the fact that you will get what you pay for. This chain employs the country's most popular and well-trained hair specialists as hair consultants. You will get top-notch products and services in any of their locations. Most people will get a custom-made hairpiece, made completely from scratch, from taking the measurement until it is installed. They will also follow up to check every detail of the hairpiece and your wearing experience.
On the downside, top services are, as expected, coupled with top prices. This is what turns away most of the hair loss sufferers.
It's not unusual for a hair system at Hair Club to come with an annual cost of over $8,500.

How Much Does DIY Custom Hair System Installation Cost Per Year?
Before we go on to talk about how much it costs to install a hair system yourself, you should know that it's always recommended to have a professional qualified hairstylist do this for you. Of course, if you think you are up for the challenge and what to try a home installation, then you'll probably spend considerably less. When you do everything yourself you will cut down on the cost of going to a salon and you will only have to spend on the hair system itself and the necessary tools like glue, scalp adhesive, and tape.
How much does a hair system cost from wholesalers?
You will spend less when getting your hair system from a wholesaler than you would when getting it from a retailer, but you will probably have some restrictions and requirements, like getting a minimum bulk order.
There are some wholesalers that will reduce the price per unit by $100, $500, or even more, depending on how many pieces you're getting.
How Much Does a Hair System Cost at Online Retailers?
Although it will be more expensive to order your hair system from an online retailer than from a wholesaler, you will probably face fewer restrictions and requirements. Keep in mind that most online retailers will source their hair pieces from hair shops in China, enabling them to have considerably cheaper prices than local hair distributors in North America and Europe. On the downside, you might be faced with lower-quality pieces.
Some retailers that keep their standards high are LaVividHair and LordHair, both well-known retail brands in the industry. The number one position is kept by the Lordhair online retailer, which is known to sell men's wigs and hair systems. Both Lavividhair and Lordhair have an average unit price of around $250 to $400.
Installing a Hair System Yourself comes at an annual cost of around $1,000 when you take into account all the needed tools and products.
How Much Do Hair Systems and Toupees Cost at an Independent Salon?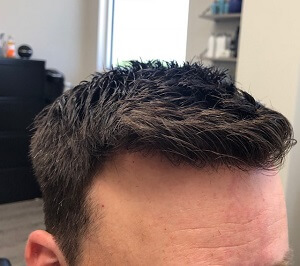 Independent hair salons usually have more competitive prices than your average Hair Club salon like. It is a lot easier for them to adapt both to market expectations in terms of price and to market fluctuations. As they aren't part of a big chain, salon owners can decide to change the prices for their products or services anytime they feel the need. They also have no franchise fees to pay, fees that are usually passed down to salon visitors.
A New York-based salon, for example, charged only $750 for an initial visit which included a new hair system and its attachment, with monthly touchups only costing an additional $200, according to one of our baldness-fighting users.
When it comes to installation fees, some include them in their quote, while others don't. It is always a good idea to ask about this during your first visit to an independent salon. Ask for a breakdown of the expenses so you have a clear idea of what you're spending your money on and whether there is room to haggle or not. Keep in mind that regardless of their payment system, the franchise fee won't be added to the costs they would at most salon chains like Hair Club.
Pros and cons of Independent Salons
You will likely save money if you choose an independent salon for your hair system needs. You will probably have to spend about half you would at a salon chain, as you won't have to consider franchising fees or unnecessary hair products and you will get reduced service costs. This includes everything from the hairpieces themselves to regular touch-ups and maintenance needs.
Independent salons will charge around $4,000 in annual costs for their hair systems and required maintenance if you're aiming for a natural look.

Conclusion
Hair loss has different levels of importance in each person's life, with some people choosing to spend more for their hair replacement plan, while others simply ignore the issue. The cost per year for the hair system will depend on the approach you take.
Depending on how big this issue is for you, you can simply ignore your hair getting thin, or you can spend anywhere between $100 and $10,000 per year to fix it, depending on your approach, with chain hair system salons charging the most and a DIY approach being the least expensive.
https://www.thepricer.org/wp-content/uploads/2023/08/Hair-System-cost.jpg
380
610
Alec Pow
https://www.thepricer.org/wp-content/uploads/2023/04/thepricerlogobig.png
Alec Pow
2023-08-18 06:36:36
2023-09-20 11:22:04
How Much Does a Hair System Cost?