How Much Does a Hillwood Country Club Membership Cost?
The Hillwood Country Club was founded in 1953, in the prestigious Nashville Tennessee. This private club is the pride of the region and is rich in history and traditions. The exclusivist club provides its members with competition level pools, one of the largest tennis programs in the southern States, fitness activities, a beautifully designed golf area, dining areas, and social events.
How much does a Hillwood Country Club membership cost?
The cost of the Hillwood Country Club memberships ranges somewhere from $3,000 up to $5,000 per year. These costs will depend on the type of membership you choose and other fees will be charged as well.
For example, the initiation fee to become a member of this club is somewhere from $7,000 up to $40,000 per membership. These costs are estimates and can vary depending on the membership and considering that the club changes them quite frequently.
According to our research, the Hillwood Country Club has several options for membership and each one has its own initiation fee and annual dues.
For example, the initiation fee for Resident Membership may be around $40,000 with annual dues of around $4,500.
The Social Membership may have an initiation fee that may cost anywhere from $15,000 up to $20,000. Also, annual fees will be charged and will likely cost somewhere from $2,500.
Intermediate Membership initiation fee may cost somewhere from $10,000 to $15,000, with $3,500 in annual dues.
The Hillwood Country Club requires a minimum food and beverage expense of around $500 per quarter, for all types of memberships.
These costs are estimates and may vary. To get a more accurate membership cost, we recommend contacting the club.
The membership options
The Hillwood Country Club provides several memberships, each with its specific amenities.
Resident Membership – The Resident members have several amenities such as full access to the golf course, tennis, swimming pools, fitness facilities, access to clubhouse, and dining area. Also, they benefit from family and member events. Besides these facilities, this membership gives the privilege of having the right to vote and being part of the Board of Directors.
Non-resident Membership – The non-resident members are individuals who live outside of the Hillwood Country Club, within a 50-mile radius. Non-resident membership gives you access to the golf course, swimming pool, tennis, and fitness activities. Also, the members can use the dining area and can participate in different social events.
Intermediate Membership – This membership is available for individuals 21 to 40 years old. Intermediate members are able to use the same amenities as the Resident members but with some exceptions. Applying for this type of membership may come with some payment options for the initiation fee.
Whitworth Membership – The Withworth is the clubhouse of the Hillwood Country Club. Members will be allowed only in the Whitworth area. They can benefit from both indoor and outdoor tennis courts and an outdoor pool with separate locker rooms for men and women. This campus provides a full-service pro shop for members to use.
Social Membership – Typically, this membership is designed for a member and his or her family. They are allowed to access the swimming pool, tennis courts, dining area, and fitness facilities.
Hillwood Country Club membership overview
Hillwood Country Club has an additional facility, the Whitworth location, with a 6-mile distance between them. The Club spreads on 44,000 square feet plus the additional location.
They provide several competition pools, as well as indoor and outdoor swimming pools with separate locker rooms for each gender. Also, there are separate baby pools for the little ones and limited poolside food service.
The pride of the Hillwood Country Club is the tennis program, one of the largest in the Southern States. The Club provides ten Rubico clay courts, four indoor courts, six tennis hard courts, and two grass courts.
You might also like our articles about the cost of becoming a member of Southern Hills Country Club, New Orleans Country Club, or Army Navy Country Club.
Hillwood Country Club has an 18-hole, par 72 golf course which spreads over 7,000+ yards of land. This course was designed by Dick Wilson, a well-known golf architect.  Members are continually improving the area by renovating the green areas with high-end irrigation systems and other improvements.
The fitness facility has 10,000 square feet of workout space alone, with the latest equipment. Besides this, they provide amenities such as steam, whirlpool, and massage rooms, and separate lockers for men and women. Each week they attend 30 group exercise classes and Pilates sessions. The club also offers childcare.
Along with the sports amenities members can access the exclusive dining area, with breathtaking views. The Hillwood Country Club members can attend private parties, cocktails, and private dinners. Also, they have the possibility to organize weddings that can host up to 400 guests. For more information about this, get in touch with the club directly, either at their front desk or on their official site.
What are the extra costs and fees?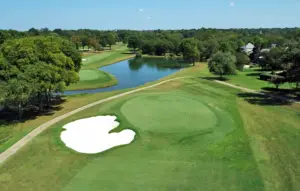 Tennis and golf tournaments and leagues held throughout the year may come with an additional fee.
The members who do not have full access to the golf facilities, as well as guests may be charged with an extra fee, called the weekend green fee. The cost may be around $200 and will include golf carts.
A minimum expenditure on food and beverages is required, and as mentioned above, this comes at an additional cost.
An additional fee will apply if you take golf lessons with a top instructor.
Having an event, whether it is a small gathering or a large wedding, will be charged extra.
For an extra cost, you can attend tennis and swimming lessons. The Club provides private, semi-private, and group lessons in which you can participate.
As stated above, food and beverage minimums will apply.
Important things if you want to join

The Hillwood Country Club membership is obtained only through an invitation or sponsorship.
For children within eight years old, the Club provides QuickStart tennis courts.
As a rule of the club, guests must be accompanied by a member at all times. This is called the "Accompanied by a Member" policy.
Year-round athletic and summer-only swim memberships are provided by the Club.
https://www.thepricer.org/wp-content/uploads/2023/09/Hillwood-Country-Club-membership-cost.jpg
380
610
Alec Pow
https://www.thepricer.org/wp-content/uploads/2023/04/thepricerlogobig.png
Alec Pow
2023-10-08 06:10:58
2023-09-29 06:28:32
How Much Does a Hillwood Country Club Membership Cost?