How Much Does a McChicken Cost?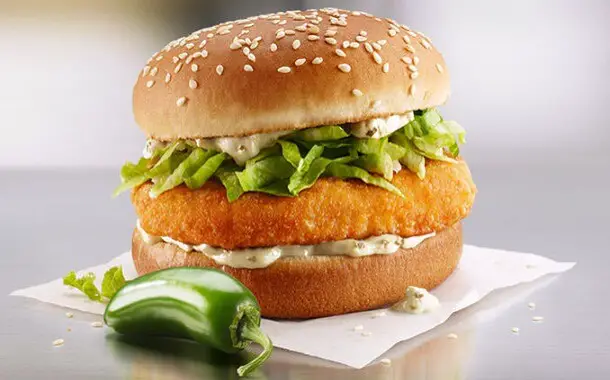 For those who don't know yet, McChicken is a chicken sandwich that can be bought from McDonald's fast-food restaurants. In this article we are going to talk about the history of this famous fast-food product, and the variations and differences between sandwiches. Also, you will learn how to prepare your own McChicken at home, regardless of how good or bad you are at cooking.
How much does a McChicken cost?
The McChicken comes in two different sizes, large and small. Expect to pay around $3 for a large McChicken and $2.5 for a small McChicken, including taxes. Though, you should take a look at the McDonald's menu to confirm these numbers.
In case you want to add some fries to your McChicken, be prepared to pay around $2 for a large portion and $1.80 for a regular-size portion. Also, for a large or small drink, you will have to get around $1.5 out of your pocket.
McChicken history
In 1980 McChicken was introduced on the restaurant's menu for the first time but failed to meet the sales expectations in the following years.
In the mid-late 1990s the McChicken was introduced again into McDonald's menu and was promoted as Cajun-style McChicken. However, around the year 2001, its name was changed and the chicken patty was cooked milder. The original version was named McChicken, but different types of sandwiches became popular across the world.
McChicken's history is fascinating and has many facets. The Mcdonald's chain became a legend in the fast-food industry with this item. If in the late 1970s, McChicken was seen as a fad product, today it has beat chicken fingers and burgers and is one of the most popular fast-food products. Currently, there are more than 35,000 McDonald's restaurants all over the world, that serve over 68 million clients every day.
Types of McChicken
This fast-food sandwich is made from 100% white meat, which varies depending on the geographical area and local tastes. For instance, in the United States of America there are different varieties of McChicken such as McTeriChicken and Hot 'n Spicy, that taste differently. Also, in Hawaii, the McTeriChicken is served with teriyaki sauce.
There are countries, like UK and Canada, where the McChicken is not spicy and contains lettuce, while in others it is served on a sesame seed bun. Also, in Canada the McChicken is known as "Junior Chicken" and the bun for this product is toasted.
In Italy, we can find two types of McChicken: The McChicken Saporito, which is made with grain mustard and bacon, and the McChicken Delicato, which is made with Provolone Valpadana DOP cheese and grilled zucchini. Both of these Italian versions are not available at all McDonald's locations in the world. So, make sure you verify the McDonald's menu before you head to a certain location.
The Double McChicken is another type of McChicken. This is similar to the original version but has two chicken patties. Also, there are also spicy varieties in countries where spicy food is common.
Ingredients
The list of McChicken ingredients is available on the McDonald's website. According to it, this item is made with a mix of dark meat chicken and white meat chicken, and the sauce is similar to mayonnaise. Also, McChicken costs more than a burger, but is worth the price because provides more fiber and protein.
Some of the ingredients contained in a McChicken sandwich include chicken, distilled vinegar, egg yolks, and soy. The natural beef flavor is also included.
A recent McDonald's innovation is their McPlant program which aims to test plant-based alternatives to their famous McChicken.
How to cook a McChicken?
In order to get a delicious McChicken, you should cook it in a pan at 350 degrees until it gets golden brown and crispy. Add mayonnaise to it, tomatoes, and lettuce, and it's done! Also, you should make sure you get the right buns for a tasty McChicken. These have to be toasted as well.
If you want to cook the famous McDonald's McChicken at home, you should watch the video below. The fast-food chain doesn't provide any recipe, but the channel "Learn with S E A N" created a tasty recipe for the McChicken sandwich. Their dry mix includes potato flour, onion powder, and celery salt. Also, you should add a pinch of cayenne pepper and turmeric to get a rather different texture and taste.
Nutritional information
Like any other fast-food meal, the McChicken sandwich offered by McDonald's contains a lot of calories. The nutritional information available on the McDonald's menu is based on an average adult of 155 pounds. But your nutritional requirements may vary depending on your medical history, age, physical activity level and gender.
The McChicken has 15 grams of protein, 410 calories, 39 grams of carbohydrates, and 22 grams of fat. So, almost 50% of the calories in a McChicken come from fat and only 14% come from protein. Also, a McChicken with a bun has 210 calories and many carbohydrates, while a plain McChicken contains only 160 calories.
Allergens
You should read the list of McChicken allergens, which is available on the McDonald's website if you know you are allergic to a specific ingredient or more.
As most fast-food restaurants use the same cooking equipment, it is almost impossible for them to guarantee a nut-free product. Also, McChicken contains natural flavors such as paprika, which is known to cause allergic reactions in some people.
Also, check out the cost of a McDonald's Filet-o-Fish.
This sandwich is made with milk, eggs, and wheat. McDonald's removed the classic bun from a lot of their sandwiches to make them gluten-free. Now, the buns are made from ancient grains like millet, amaranth, and quinoa.
McChicken FAQs
Why Is #mcchicken Trending right now?
Currently, the #mcchicken is trending due to the new chicken sandwich offered by McDonald's. This is made from a grilled chicken patty, cheese, and bacon. Also, it comes with a toasted brioche bun, mayonnaise, and lettuce. It costs around $5.5 at most McDonald's restaurants.
What Is McChicken No Mayo Calories?
The McChicken No Mayo Calories is a chicken sandwich made from all-white chicken meat, tomatoes, and lettuce, and doesn't contain mayonnaise. This comes in three variants: McChicken with Cheese, Chicken Selects, and McChicken.
The McChicken with Cheese contains two grams of trans fat per serving, 9 grams of saturated fat, 19 grams of fat, and 370 calories.
The Chicken Selects type has 13 grams of fat and 280 calories, while the McChicken has 6 grams of saturated fat, 15 grams of fat, and 290 calories.
How many calories does a McChicken have? 
The number of calories a McChicken sandwich contains depends on its size. A large-size McChicken has 390 calories, while a regular one has 290 calories.
How many calories does a Spicy McChicken have?

The calories a Spicy McChicken has, depend on the location you buy it from. Though, an average sandwich contains 550 calories.
How many carbs does a McChicken have?

The number of carbs contained in a McChicken depends on the type of bun and the size of the sandwich. The original McChicken has six grams of carbohydrates per serving, but it depends on the type of bread you choose.
For instance, the Spicy Chicken Sandwich only has 5 grams of carbohydrates per serving, while the Bacon Clubhouse Burger has 16 grams of carbs.
This is also available for French Fries. The large portion of French Fries has 19 grams of carbs per serving, the medium portion has 13 grams and the small one has 7 grams.
https://www.thepricer.org/wp-content/uploads/2023/04/McDonalds-mcchicken-cost.jpg
380
610
Alec Pow
https://www.thepricer.org/wp-content/uploads/2023/04/thepricerlogobig.png
Alec Pow
2023-04-12 06:42:05
2023-04-07 08:51:55
How Much Does a McChicken Cost?