How Much Does a McDonald's Filet-o-Fish Cost?
The Filet-O-Fish sandwich is one of the oldest and most traditional sandwiches on McDonald's menu. It was created in 1962 by Lou Green, a local franchise owner from Cincinnati, Ohio. He beat out another burger that Ray Kroc had envisioned as being added to the menu – pineapple with cheese! The first known price for this iconic dish was $0.29 when it was first released to the public.
How Much Does a McDonald's Filet-o-Fish Cost?
The McDonald's Filet-O-Fish costs around $3 to $4 when ordered on its own, and when paired with fries or another side order like apple slices, it will be priced between $5 and $6. You will usually spend $1 more to get the double Filet-O-Fish, but all these prices can vary depending on your geographical location and ongoing promotions. This sandwich that you will find at McDonald's might be exactly what you need when looking for a tasty but low-priced meal.
Looking for something more expensive? Then you should read our articles about the cost of filet mignon, lasagna, or crab legs.
Nutritional values of the McDonald's Filet-O-Fish
As with any other fast-food dishes, it's always best to know the nutritional value of a food item before ordering it. So let's go over McDonald's Filet-o-Fish sandwich nutrition facts, so you know exactly what you're eating. The fish contains 380 calories and 18 grams of fat. 39 grams of carbs and 590 milligrams of sodium are also part of the nutritional value of this hamburger. It will offer 19% of your recommended daily intake of saturated fat and 25% of your needed daily sodium intake.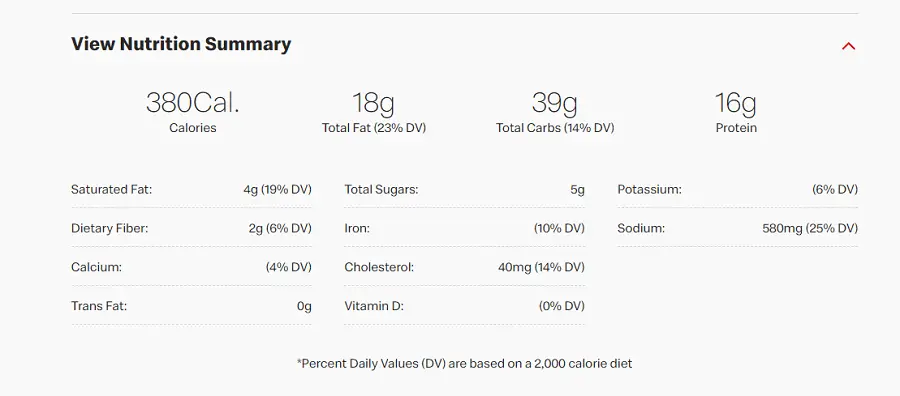 Interesting facts about the Filet-o-Fish
For the best-tasting, soft Filet-O-Fish sandwich, Clark.com recommends ordering a cheeseless sandwich to be sure it is done after placing your order (no one likes cold fish). If you want a slice of cheese anyways, ask for a "cook-to-order" patty and wait up to five minutes until the steamed bun gets made fresh in front of you.
The filet of fish has tartar sauce topped with half a slice of American Cheese (or upgrade option) placed overtop an Alaskan Pollock Fish Patty that's steamed using the same recipe since 1961.
You will usually find Filet-O-Fish in one or more of these combinations:
| | | |
| --- | --- | --- |
| Filet-O-Fish | | $3.79 |
| Filet-O-Fish – Meal | | $5.79 |
| Double Filet-O-Fish | | $4.79 |
| Double Filet-O-Fish – Meal | | $6.79 |
If you're a usual client of Mcdonald's and like eating there a lot but never tried Filet-O-Fish, then we recommend that you give it a try. If you've never been to McDonald's and want to check out one of the many locations all around the world, then having one Filet-O-Fish might actually be a great idea.
Be sure to go through all of the ingredients used to make this sandwich if you're usually allergic to different types of food, especially fish or cheese. If you're not really fond of fish, then you can try one of the many other types of burgers.
For a full McDonald's menu with prices, you can check out this article.
Remember to keep McDonald's as a weekend delight and never overeat their products, because they are considered fast-food products and will be a really big hit on your silhouette.
Is there any way to save some money?
There's always one way or another to save some money at a Mcdonald's restaurant. McDonald's is a great place to find deals on food. The Filet-of Fish Sandwich can often be found for $2 or less when it's not being offered as part of the 2 for $5 special offer. During Lent, which is known as "Fish Fridays" at McDonald's, you might even get lucky enough to score this sandwich with fries.
UPDATE
One member of the ThePricer community said that they got a Filet-o-Fish and were charged $13 in the DC area, so make sure you double-check the prices before ordering.
https://www.thepricer.org/wp-content/uploads/2021/04/mcdonalds-filet-o-fish-cost.jpg
380
610
Alec Pow
https://www.thepricer.org/wp-content/uploads/2023/04/thepricerlogobig.png
Alec Pow
2021-04-23 23:01:39
2023-04-03 13:01:29
How Much Does a McDonald's Filet-o-Fish Cost?