Last Updated on December 23, 2022 | Written by CPA Alec Pow
First Published on September 12, 2020 | Content Reviewed by

CFA Alexander Popivker
Lasagna is a layered pasta meal that is usually prepared in the oven; it is topped with cheese and packed with meat in between its layers.
Lasagna can be found in various kinds, whether it is directly from a can or made fresh utilizing various ingredients such as noodles, meat, home cheese, peppers, spices, and more.
Just how much does lasagna cost?
A homemade lasagna will cost $15 to $40 if you consider all the ingredients and if you do not have any of them. This will depend upon the ingredients you put in and which brand name you will opt for. Listed below are the ingredients and their price, if you were to make it homemade. Organic beef will be 3 to 4 times more in terms of price than non-organic.
Frozen lasagna can be acquired pre-made in boxes that have everything already included and all you have to do is to place it in the oven for around an hour. These premade boxes, depending upon the brand name, can cost anywhere from $10 to $25. The majority of the time, you will get more than one box in a bundle. For instance, Omaha Steaks offers a tray for $9 to $15, while Stoffer's lasagna with meat sauce retails for $9.
Costco lasagna, which is referred to as the Kirkland Signature Lasagna, retails for $17 and consists of 2 three-pound bundles. Michael Angelo's, another popular merchant that is on the shelves of a lot of supermarkets, retail for about $7.
When it comes to pizzerias and restaurants, the expenses will depend upon the size, type of lasagna, the popularity, and the general prices of the restaurant. Typical plates can consist of meat, vegetables, or just cheese. If you're planning for a party of 15 to 20 individuals, the expenses of a full plate can be anywhere from $55 to $100 or even more.
We also have articles on the cost of escargot, Hell's Kitchen dinner, and the most expensive foods in the world.
If you were to make it all on your own and didn't have any of the ingredients, the expenses would be very close to the ones we offer below, based upon the # 1 lasagna dish as rated by the internet community – on the AllRecipes website. As we will show you in a second, if you were to purchase all of the ingredients, you would need to prepare around $35, bringing it down to about $2.91 per serving for 12 full portions. The expenses can differ depending upon the dish you put together.
Ingredients and their prices
1 pound of Italian sausage $5.5 (depending upon the type)
1 pound of beef $3 to $6
Minced onion $1.5
2 garlic cloves $0.75
1 can of crushed tomatoes $0.75
2 cans of tomato paste $0.75
White sugar $1.50
Basil leaves $1
Fennel seeds $1
Italian spices $1
Salt $1.
Black pepper $1.
Fresh parsley $1
Lasagna noodles $2.50
Ricotta cheese $3.50
Eggs $1
Mozzarella cheese $3.50
Parmesan cheese $4.50
TOTAL $38.25
What are the additional expenses?
A 9 × 13 lasagna pan will be needed if you wanted to make it at home.
Tips to know about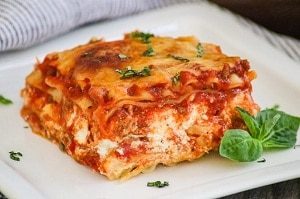 You should spray the pan with a basic cooking spray prior to putting the ingredients in, given that this is going to stop the lasagna from sticking when cooked, so you can take it out.
To combine a lot of flavors, think about including a small quantity of garlic to the dish.
If the dish will require something such as olive oil, think about getting genuine olive oil for even more taste.
While the majority of dishes are going to need stock noodles in the shop, think about making the noodles by yourself by making use of a pasta maker.
If the dish requires canned tomatoes, think about utilizing sliced up fresh ones instead of going for the canned ones. The very same can be said about herbs and peppers.
Lasagna that is ready to be eaten will have the serving tray included and once you finish it, it will only need to be cut and served. A lot of frozen boxes, despite the brand name which includes "minute", will need to be baked at 350 degrees Farenheight for as much as 60 minutes.
https://www.thepricer.org/wp-content/uploads/2020/09/the-cost-of-lasagna.jpg
380
610
Alec Pow
https://www.thepricer.org/wp-content/uploads/2023/04/thepricerlogobig.png
Alec Pow
2020-09-12 11:43:31
2022-12-23 05:03:54
The Cost of Lasagna