Escargot, typically seen as a delicacy by a lot of people, means edible snail which is only served at high-end locations. Very common in French restaurants as an appetizer, you will often see this meal on a lot of French menus and especially seafood menus.
Escargots are land snails that are prepared as a dish kind of like a really small type of shellfish. The most popular type of escargot in France is Helix.
Just how much does escargot cost?
The price of escargot will depend on how it's bought (fresh, canned, frozen), where it's acquired from, the market price range, and location.
Roland and Helix escargot, popular ranges that can be found at any local supermarket, will cost around $0.50 to $2 per ounce.
On Amazon.com, for instance, a popular seller offers a pack of 12 7.75-ounce Roland escargot snails for about $60 or $0.61 per ounce.
When it comes to escargot caviar, you can expect prices between $3 and $5 per gram.
Beverly Hills Caviar, an online merchant that offers escargot caviar, offers 30 grams of Imperial escargot caviar for $100.
Canned escargot, which is typically sold in the dozen pre-cooked, can retail for $3 to $5 per 7.75-ounce can.
Walmart, for example, offers a 7.75-ounce can of Roland escargots for $5, whereas a 7.75-ounce of huge Roland escargot snails retail for $10. Another alternative, a 28-ounce can of Consul escargot snails retails for $15.
In one StarChefs article, the price of canned snail can be $12.85 for 30 to 40 snails, $24 per pound, with shipping, if bought frozen or $33 per pound if bought fresh.
Also read about the cost of a personal chef, a personal nutritionist, and to eat at Hell's Kitchen.
Fresh snails, while they are extremely difficult to get in the United States, can cost about $1 to $2 per snail.
If you get them in a restaurant, a lot of appetizer meals will consist of 6 to 12 pieces, and the cost will be very much reliant on the restaurant, it's fame, and its location. The price range, usually, can be wide, varying from $12 to more than $50 at a higher-end French place.
Escargot details
Most of the escargot for sale either is available in packs, with or without the shell, or in a can. They typically differ in size, however, there are packs that contain escargots with similar sizes.
Escargot is really high in protein and is around 80 percent water.
Escargot can be bought from farms online, Amazon, and even in your area at your supermarket in the frozen food or canned food area.
What are the additional expenses?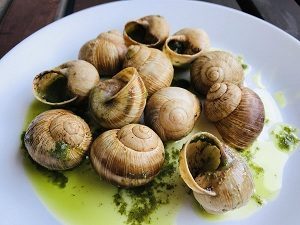 Delivering charges might usually apply when acquired online due to the level of sensitivity of the delivery. Be ready to include another $20 to $30 to your order for overnight shipping.
Like a lot of other dishes, escargot typically goes terrific with other ingredients such as garlic and butter. As an elegant appetizer, it can also go terrific with jello, tuna de tarter, cucumber soap shots, and bitter chocolate toasts. Obviously, these expenses are optional however extremely suggested for those who cook them a lot.
Special cooking tools, again, while optional, are very much recommended. A set of specialized tongs, for instance, can hold the snail, while a two-pronged fork is utilized to take out the meat. There are also plates with imprints to hold each escargot in place. You can get all of the tools you would need for a maximum of $10 to $15.
Tips to remember:
Throughout the cooking, the snails are generally purged and eliminated from the sauce. They are typically combined with either garlic butter or wine, red or white. After they are thoroughly cooked, they will be put back in the shell and served with some spices. A lot of trays at restaurants will only include 6 to 12 pieces.
Escargot in a can generally has a life span of 2 to 4 months and should be kept in a refrigerated place. Imper caviar needs to be consumed within a week when the can is opened.
What does escargot taste like? In most cases, if eaten at a local, common restaurant, it will have a lot of butter on it, developing a buttery-like taste, however, as for taste and texture, it will be very much similar to clams or oysters with a stronger flavor. In essence, imagine an oyster or clam taste and combine it with a great deal of garlic and butter. If you have never actually had clams or oysters in the past, then you should get ready for a rubbery-scallop-esque texture with an extremely buttery taste.
How to prepare escargot
How can I save some money?
Think about acquiring escargot snails that are canned and raw. You should prepare them yourself with any recipe you find online because it will be a lot cheaper this way. However, if you are not into cooking and/or have a busy schedule, then you might desire to think about purchasing a can or a pack of prepared escargots to include in your desired ready-made dish.
https://www.thepricer.org/wp-content/uploads/2020/08/the-cost-of-escargot.jpg
380
610
Alec Pow
https://www.thepricer.org/wp-content/uploads/2023/04/thepricerlogobig.png
Alec Pow
2020-08-24 12:14:10
2020-08-24 12:14:10
The Cost of Escargot