How Much Does a Movie Theater Rental Cost?
There are multiple reasons for renting a movie theater. For example, it allows you to watch your favorite movie and enjoy it with your friends and/or family. Also, having a birthday party, a game night, or even a corporate meeting in a movie theater is a unique experience. Even recently married couples can rent out a movie theater to watch the wedding day movie with their loved ones.
The cost of renting a movie theater depends on the location, the number of people, the type of event that you are attending, and several other factors.
How much does a movie theater rental cost?
The average cost of renting a movie theater for 20 to 60 people is around $120 to $400 per hour. For a larger movie theater that can host up to 500 people, the price will significantly increase and can get up to $2,500 per hour. Also, there are low-cost areas that can be rented for around $150 an hour for a group of a maximum of 20 individuals.
The cost will greatly depend on several factors, such as the movie theater company, your geographical location, the type of event hosted, the size of the theater, and the number of people that will attend. Also, renting the location on weekdays versus renting it during weekends has a great influence on the cost. On the weekends the costs are 30% higher.
Depending on the length of rental prices may also go up. For example, if you are considering renting a movie theater for an entire day, the cost may get between $1,500 and $5,000, depending on the factors mentioned above.
These prices do not include any extra options which might come at extra fees. So before you rent a theater, contact the company and ask for more details.
In the table below, we listed some of the theatre chains in the United States and their average costs:
| Movie Theater | Average Costs per Hour |
| --- | --- |
| AMC Private Movie | $165.00 up to $550.00 for 1 to 60 guests |
| Regal Private Theater | $165.00 up to $330.00 for 1 to 20 guests |
| Cinemark | $385.00 up to $550.00 for 1 to 20 guests |
| Aurora Cineplex | $165.00 up to $275.00 for 1 to 20 guests |
| Bow Tie Cinemas | $330.00 up to $495.00 for a minimum of 30 guests |
| Harkins | Starts from $165.00 for 1 to 20 people |
| The World Theater | Starts from $550.00 for four hours |
Important thing to note! These costs only represent the theater rental fee. There are several other fees that will be charged. While some are mandatory, some are extras. We recommend contacting the company for an accurate quote.
On Reddit.com a member stated that for a five-hour rental for playing his video game, the cost was $350, including popcorn and beverages.
Renting a movie theatre overview
When renting a movie theater or auditorium, a rental fee, a ticket concession stand charge per person and a minimum of guests are mandatory. They can also provide food packs for children and adults, at an extra cost.
You are able to choose which movie you will watch or bring your own video for private screening. Also, many people have started to rent theaters in order to play video games. These requests are possible as long there is no legal policy breach.
You might also like our articles on the cost of popcorn at movie theaters, movie theater birthday parties, or matinee movie tickets.
Usually, movie theaters offer a full package for birthday party rentals. Besides the actual renting and screening, they can provide food packages for each guest. Usually, they offer popcorn, sweets, and soft drinks.
Depending on the type of event, they can offer you different additional features.
What are the extra costs?
There are some additional fees to consider when renting a movie theater.
You may expect to add extra taxes to your overall cost like fees for additional staff, security fees, and cleaning charges.
Your movie selection will definitely influence the cost. Movies that are premiering, will always be charged extra. Also, there may be an extra fee for screening your own video.
Usually, theaters provide food packages with popcorn and soft drinks for an additional fee. However, there are movie theaters that offer the possibility to have catering food. Depending on their options for food, the costs range between $15 to $30 per person.
For corporate events, usually a projector and a microphone is needed. Most movie theaters can provide them for rental. For example, a microphone can cost $30 to rent, while a projector is around $200.
Also, they may provide the option to rent a red carpet for $150. This option may be a great idea for corporate events and wedding ceremonies.
Important things to consider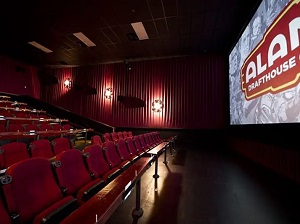 Renting a movie theater on weekdays will definitely be less expensive than on weekends. Weekends are typically fully booked, and as previously said, the costs may double.
Generally, movie theaters have a strict policy when it comes to food. However, there may be some theaters that will allow you to bring food from outside. To ensure that they offer this option, contact the company and ask for more details.
There may be theaters that will screen only licensed movies. In case you want to display your own video, ask the theater if this is allowed.
Usually, there is a rule that requires you to book the theater at least 10 days in advance. Also, most movie theaters require the presence of the guests at least 15 minutes before the set rental time.
How can I save on the cost to rent a movie theater?
As we mentioned above, weekdays are less expensive than weekends. Also, renting in the morning hours will be cheaper than during peak hours. Ask the theater for a rental hour program list to compare the prices.
Local movie theaters are cheaper than most name-brand companies. Usually, they do not provide many services and the screening quality may not be that high, but at least the cost will be lower.
Sometimes, companies do not charge any movie theater rental for filmmakers. However, in exchange, they may want a certain percentage of the box office sales.
Usually, movie theater companies have the rental price listed on their official website but you also can reach out to the manager to ask for more details. Compare the prices from at least three different companies in order to make sure you get the best deal.
Having a larger amount of guests can decrease the cost.
Look for package offers. There are some movie theaters that provide great deals, which also include food.
Renting a movie theater in order to buy individual tickets, may be more advantageous if you plan a party of more than 25 individuals.
https://www.thepricer.org/wp-content/uploads/2023/09/movie-theater-rental-cost.jpg
380
610
Alec Pow
https://www.thepricer.org/wp-content/uploads/2023/04/thepricerlogobig.png
Alec Pow
2023-09-21 08:46:02
2023-09-12 10:55:16
How Much Does a Movie Theater Rental Cost?