How Much Does it Cost to Go To Dubai?
Last Updated on February 7, 2023 | Written by CPA Alec Pow
First Published on June 20, 2014 | Content Reviewed by

CFA Alexander Popivker
Average Dubai Trip Cost
Among the top choices of people all around the world, Dubai still remains one of the best vacations on the planet. Many people keep buying Dubai Vacation Packages, which enable them to visit the city and its main attractions like Dubai Waterfront, Burj Khalifa, and Palm Islands, at affordable prices for all kinds of wallets.
If you're within the society's elite you can expect a vacation with Rolls Royce limousines, butlers and seven-star hotels. If, on the other hand, you're just the average tourist looking for something classy but within normal prices, Dubai will offer services for you too. All it takes is some planning and research before the Dubai trip and you'll find yourself spending the vacation of your life, without being a part of the high society and without the fear of going broke.
You will find below some ways in which you will be able to enjoy a great vacation in Dubai but still within a normal budget. However, to figure out the best deal for you, you will have to do your own research and look for lower and lower prices, then get the best package for you, or pay for travel necessities separately. Do a little comparison between the offered packages, and you'll make the most of this trip's resources and budget. When choosing your travel plans, look online for promotions, coupons, discounts, or special perks that can take the price to lower numbers.
| | |
| --- | --- |
| | Estimated cost |
| Airfare | $1,000 |
| Accommodations | $1,125 |
| Local transportation | $240 |
| Attractions | $400 |
| Food and drink | $360 |
| Random spending | $200 |
| Total | US $3,325 |
Looking For Another Interesting Place To Visit? Then Book A Trip To Hawaii
Cost to travel to Dubai, United Arab Emirates
Among the known airlines that take people to the UAE, there are a few low-cost ones. A few of the international carriers are and will be offering trips to Dubai and Abu Dhabi as a normal service. So tourists will have plenty of possibilities to book affordable flights as a part of their vacation to Dubai. One of the easiest ways to find cheap flights to Dubai is by using the internet. Save money by traveling mid-week. A short search online brought forth a normal price of around $1,100 for a flight from the US to Dubai, but packages with discounts of -$500 when booking flight and hotel at the same time kept popping up during our online search. Also, keep an eye open all year long and be ready for lower prices and greater discounts.
When booking a hotel in Dubai
Depending on your needs and resources, Dubai has a few luxurious and well-known hotels, to suit your desires.
When having a fixed budget for a trip, and looking for cheap hotel costs, try to avoid any luxury or well-known names. You will end up spending too much on accommodation, fees, and other charges if you disregard this tip. Almost all of the elite and very expensive hotels are located close to Dubai Marina, Jumeirah, and Sheikh Zayed Road. One of the most used hotels are owned by Deira or Bur Dubai, both of them having lovely and affordable places in the category of three to four-star hotels, with very affordable accommodation prices. You'll be happy to know that Bur Dubai is situated close to a few shopping centers.
You're Not The Beach Type? Then Go See The Aurora Borealis
For Dining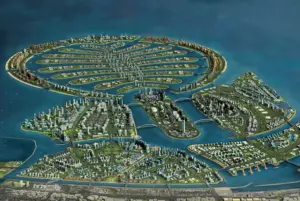 You'll be surprised to find out that you can actually have a royal meal in Dubai for a very cheap price, cheaper than in several other big cities across the world. For as low as 80 cents you can have the local meal, consisting of seasoned meat with vegetables in a pita dressing. For the deluxe version, you'll spend 50 cents more, reaching a whopping $1,30.
Dubai is known for having any international cuisine you can think of. This means that you will also find almost all major international chains from all around the world somewhere in Dubai. For example, one of our website's contributors managed to see Din Tai Fung from Taiwan, Paul from France, Shake Shack from the US, Tim Horton's from Canada, and L'antica Pizzeria da Michele from Italy, all in one day and not too far one from the other.
Although you will be able to find every type of cuisine you might think of, the prices are also 30% more expensive when it comes to international chains than you would pay in any other country around the world. This is why, if you plan to go for known brands, you should be prepared to spend quite a lot on food.
Keeping that in mind, although you will find cheaper alternatives as well, you should budget for daily meals something along these lines:
Breakfast: $12
Lunch: $20
Dinner: $40
This would mean that eating costs around $72 a day, which surely isn't at all cheap. As pointed up above, you can surely eat in Dubai on a budget as long as you eat less and search for cheap places. If you want to try fine dining or alcohol as a way of having fun, you will surely spend considerably more, especially considering that Dubai isn't an alcohol-friendly place. When it comes to tipping, this is surely not a common occurrence in Dubai. Regardless of how much you end up eating, you shouldn't leave more than 10 dirhams, or AED, on the table on top of the actual cost of food.
For activities in Dubai
You will have the beach open at all times, and you will have a great time on one of the most amazing beaches in the world, mostly due to its white crushed seashell shoreline.
The great line of duty-free shops and bargain stores found around Dubai makes this city great for shopping. Also, in the shops called souks, you will find great deals and you will be able to haggle with the salesmen yourself.
Don't miss the opportunity to go on a hot air balloon ride in the afternoon, for a great set of pictures and memories. Desert safari packages are also pretty cheap, as long as you're not going for luxury services.
Visiting Burj Khalifa, the world's tallest building, from the outside is also a great way to snatch a couple of great Instagram pictures for free.
Random spending
Downtown Dubai is very popular for its malls and there is a reason for this. The number of malls in a single city is actually insane. You will have a hard time visiting the city without walking close to a mall or two. This makes it very easy to spend money in Dubai.
This cost guide has been made for people without thousands to waste on mall items, but even so, you should budget at least $200 for random things you might get while in the city. Two of the best malls in Dubai are the Mall of the Emirates, known for its ski Dubai, and Dubai Mall.
Approximate cost of a vacation in Dubai
The price below is the average cost of your trip to Dubai but the total amount you'll spend will depend on you and your possibilities, accommodation, and airline fees.
One person, that pays for Dubai travel and a four-night stay at the Grand Hyatt Dubai will pay somewhere around $1,300.
Depending on the time and date of the flight, the full price of the packages for a seven day trip to Dubai costs between $3,100 to $3,700 for two people, including food and accommodation.
https://www.thepricer.org/wp-content/uploads/2014/06/Dubai-trip-cost.jpg
380
610
Alec Pow
https://www.thepricer.org/wp-content/uploads/2023/04/thepricerlogobig.png
Alec Pow
2014-06-20 18:25:10
2023-02-07 08:19:25
How Much Does it Cost to Go To Dubai?