How Much Does a TV Screen Replacement Cost?
TVs are one of the most popular gadgets in today's homes, and modern televisions are significantly more complex than previous generations.
Having a broken television screen, a black screen, or one that flashes pixels is the worst nightmare of a TV owner. But, in some cases, replacing the television screen will definitely be cheaper than purchasing a brand-new TV.
How much does a TV screen replacement cost?
The cost of replacing a TV screen can go anywhere from $400 up to $1,000, depending on the local labor charges, replacement components, diagnostic, shipment fees, the type of television, and size. Larger and more expensive TVs may cost $4,000 to have the screen replaced.
Based on our research, quite a few people chose to acquire a brand-new television instead of replacing the screen, because the damage value was approximately 50% of the price of a new device.
For example, on Samsung's official website, they have listed different TV models and their screen replacement costs. For 45" to 65"  2021 TV models, the TV repair cost is anywhere from $644 up to $ 1,515.
According to an iFixIt.com member, he was quoted $1,000 for replacing a Samsung TV screen. He stated that $700 was for the parts and $300 was for the labor fee.
Today.com mentioned that LCD flat-screen televisions can last up to 40,000 hours of viewing, which means around 20 years. As time goes by and the TV gets outdated, repairs can get more expensive and it makes more sense to just buy a new TV. This is also the case when the screen discolors or burns out.
Before deciding that replacing the screen is the right course of action, we recommend researching and getting multiple quotes to compare the costs.
What are the extra costs?
Proceeding with a professional diagnosis to ensure that the screen replacement is necessary, will add an extra fee to the final bill. This will probably be somewhere from $50 to $100.
You might also like our articles about the cost of screen replacement for a laptop, Chromebook, or MacBook.
With some LED TV models, you will have to replace other parts besides the screen. This will be an additional fee to consider as well.
Hiring a professional technician to replace the screen, may mean an extra fee of anywhere from $60 up to $125 per hour. Usually, the labor takes between one and three hours.
Important things about this TV repair cost

Before deciding to replace the screen, get a proper diagnosis to ensure this is the right course of action.
On PCMike.com, an article states that usually, professionals may deny replacing your TV screen, because old TV model parts are hard to find. The same article also states that this piece has to be provided by the manufacturer. Small shops may find it hard to look and find the needed replacement parts. Also, they avoid keeping such large and fragile parts in their shops.
Consider reselling the sable parts of the TV, if you choose to get rid of the old TV. If the TV screen repair cost is more expensive than buying a new TV, sell the good parts on platforms such as eBay. From our research, you could get a few hundred dollars from the audio and video parts.
How can I save money?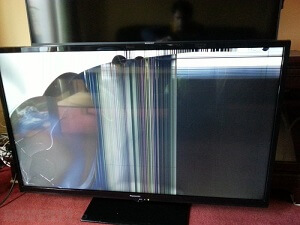 Some screen repairs, due to a manufacturer defect, may be covered by the TV's warranty. Contact your TV manufacturer to ensure that your device is still under warranty coverage and whether they can repair your screen for no additional charges.
Most of the time, professional technicians will advise you to replace your TV screen rather than repair it.  In most cases, repairing it may get to the cost of a new TV. Simply said, repairing a damaged screen is not always economically viable.
To save money, consider repairing the screen yourself. On eBay, there are various parts at affordable costs from well-known companies. Depending on how damaged your screen is, you may be able to resolve the issue on your own. However, there are TVs that are more complex, and this option may not be viable in your case.
From what we researched, on eBay, you can find screen replacements at an affordable cost, somewhere between $150 to $300. Ensure you order the right TV screen model.
There may be cases when the screen does not turn on, because of the control board malfunctioning. This part can cost anywhere from $200 up to $300, which is much cheaper than replacing the TV screen.
On your next purchase, we recommend considering acquiring an extended warranty. An extra coverage for your TV can cost around $250, for the next three to five years. This way, malfunctions, as well as other repairs can be deducted by the manufacturer.
https://www.thepricer.org/wp-content/uploads/2023/09/tv-screen-replacement-cost.jpeg
380
610
Alec Pow
https://www.thepricer.org/wp-content/uploads/2023/04/thepricerlogobig.png
Alec Pow
2023-10-03 10:20:42
2023-09-26 12:22:27
How Much Does a TV Screen Replacement Cost?