Laptop Screen Replacement Cost
Last Updated on September 20, 2021 | Written by CPA Alec Pow
First Published on September 20, 2021 | Content Reviewed by

CFA Alexander Popivker
The laptop is an electronic device that the owners use quite often in various daily technological activities. However, regardless of the frequency of use, malfunctions are very unlikely. Even so, when we run into them, most of the problems are exclusively related to the software part. We rarely have the "opportunity" to break a laptop display and request a laptop display replacement.
It is not excluded to be in the situation where an external component becomes non-functional. Most of the time, this happens with the laptop display. If we go through the unfortunate situation in which the screen breaks, this is one of the most serious problems, the entire activity of the laptop being under the control of the display.
How much does it cost to replace a laptop screen?
Technology is changing, and so are the prices of laptops. The average cost for a brand new laptop screen has been calculated at around $85 to $130, but this doesn't include installation costs. Check out our table below to see how much you would pay for a new laptop screen purchased from the most popular brands.
| Brand | Cost (screen only) |
| --- | --- |
| Apple Laptop Screen | $60 to $240 |
| Acer Laptop Screen | $55 to $95 |
| Compaq Laptop Screen | $45 to $65 |
| Asus Laptop Screen | $45 to $90 |
| HP Laptop Screen | $50 to $95 |
| Dell Laptop Screen | $45 to $130 |
| Samsung Laptop Screen | $55 to $95 |
| Lenovo Laptop Screen | $55 to $90 |
| Toshiba Laptop Screen | $48 to $95 |
| Sony Vaio Laptop Screen | $45 to $95 |
The cost of having an expert install your new laptop screen is around $45 to $135, and this will vary depending on the technician. If you purchase it from them directly instead, they can offer price breaks for their services. In full, laptop screen replacement can cost anywhere from $125 to more than $330. All laptop brands are not created equal when it comes to how their screens work and therefore require different types of repairs. This includes some repairs that are more expensive than others because the laptops are designed differently internally (for example, ultrabooks). However, at Micro Center, you would have to pay only $120 no matter the brand.
On LaptopScreen.com, you can find a wide variety of laptop screens for any type of computer. The prices start at $50 and can go up to $250 without the installation.
It is not hard to replace your screen on the desktop, but it could be expensive. PC World says that you can expect a replacement to cost around $85 if doing it yourself and an hour of total time  (and in some cases more). If hiring someone else for this service, they might charge between $155 and $320.
What are the extra costs?
If you want to repair the screen on your own, there are several tools that can help. You'll need a small magnetic Phillips screwdriver for removing screws from the inside and outside of the device with ease; safety pins will be used later when sticking the back together after taking the parts apart. There are also putty knives that have been specifically designed for prying up the screen bezel from the case. A simple kit costs less than $10 in total, including shipping costs.
You might also like our articles about the cost of laptop hinge repair, pc repair, or Xbox One repair.
Important things to consider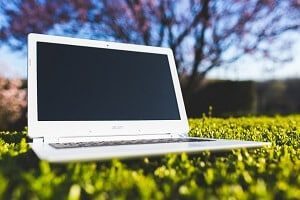 If you want to save some money, consider hooking up an external monitor instead of investing in a new laptop.
The most common mistake people make when their LCD screen breaks is that they don't realize the glass in between has been damaged. The screens are typically made up of two thin layers with a dark liquid crystal material between them, making it appear clear on top but having visible fractures underneath, which cause image distortion as well as black spots.
Before buying a new screen for your laptop, it's important to rule out other possible causes. If an external monitor works when plugged in with no signs of failure and the computer boots up successfully after booting into safe mode, then this means we can safely assume that there is something wrong with the internal display panel on the computer.
Laptop screens can be replaced easily and are often sold on eBay or Amazon. To find a product that matches your needs, search using the model number from your old screen (find this info by looking at its back).
The main reasons why the laptop display breaks are either liquids that got behind the screen and stained the inside of the display, or the cracks caused by hits or sharp objects, or even the age/use.
Symptoms of a laptop with a faulty display
The laptop lights up, the screen is dark, and the brightness is low, or it is not lit.
The display light is red, but after a short time, it lights up normally.
The display shows lines when the screen is moved.
The image looks like a negative, the colors on the laptop screen seem to be inverted.
The display lights up, but vertical or horizontal streaks or dead pixels appear.
The display is visible only if it is in a certain position.
How can I save money?
You should have a chat with your manufacturer to see if you can get your laptop fixed for free under the warranty conditions. This is also possible if you purchased an extended warranty or accidental damage protection plan from another brand or retail, but keep in mind that companies won't cover this expense through standard warranties if it was due to customer-induced damages.
If you're thinking about getting your laptop screen fixed by yourself, don't be afraid. There are many tutorials online to help with installation. Taking pictures while taking it apart will make it easier, and also ensure that all parts go back in their right places.
You may be able to get a new laptop for less than the cost of replacing your screen. Consider comparing prices before replacing the screen. Also, it would be a good idea to sell the old device for the spare components.
https://www.thepricer.org/wp-content/uploads/2021/09/laptop-screen-replacement-cost.jpg
380
610
Alec Pow
https://www.thepricer.org/wp-content/uploads/2023/04/thepricerlogobig.png
Alec Pow
2021-09-20 06:31:04
2021-09-20 06:31:04
Laptop Screen Replacement Cost