How Much Does a Vestavia Country Club Membership Cost?
The Vestavia Country Club was founded in the late 1940s. In the beginning, it was an upscale riding club under the name Vestavia Hills Riding Club. The membership opened in 1948, and from that day on it was one of the most admirable clubs in the Southeast.
The club location is on the top of the mountains Vestavia Hills in Birmingham, Alabama. Providing an exclusive recreational and luxurious environment, that spreads over 340 acres to members of all ages.
With a club membership, you can benefit from various amount of facilities such as sports, the finest dining areas, a children's playground, and others.
How much does a Vestavia Country Club membership cost?
The cost of a Vestavia Country Club membership is between $20,000 and $45,000 per member in initiation fees. Aside from this fee, you should also be prepared to pay monthly dues of somewhere between $700 and $1,000.
As the official website doesn't offer any membership cost-related information, these numbers are estimations based on past and current member's statements and sources found during our online and offline research. If you are interested in applying, we strongly recommend talking directly with the club representatives for more accurate information. Being a high-end club, there is a waiting list, and membership is by invitation only.
Memberships at Vestavia Country Club are of four kinds: Full Golf Membership, Tennis Membership, Social Membership, and one for the younger members, the Junior Membership.
There is no accurate information about how much each fee costs. What we can say is that it depends on the amenities that each one provides. Again, we recommend that you contact the club for more details and costs.
Vestavia Country Club amenities overview
As listed on their website, the Vestavia Country Club offers various amenities to enjoy.
You will find two golf courses inside the Vestavia Golf Club. These are an 18-hole golf course spread over 6,811 yards, with different elevation changes, numerous options to play, and an astonishing view, and a nine-hole Par 3 course, which offers nine striking holes that, as they state, feature MiniVerde Ultra Dwarf Bermuda grass greens. They also provide three separate sets of tees.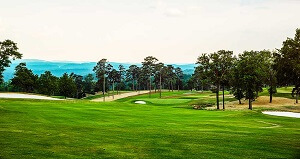 Aside from this, you also have access to 15 tennis courts if you're a tennis fan. The biggest attraction is the Clubhouse utility. Located in the middle of the Vestavia Country Club, members can use it to socialize, watch the action on the court, and enjoy a variety of drinks.
If you're more into relaxing, they provide a lounging area, with a fireplace and 54-inch HD TVs. They also have a Tennis Pro Shop, from which you can get the latest tennis equipment and a 24-hour racket service that you can take advantage of.
The club also has a fitness center with personal trainers, group fitness, nutritionists, and massage therapy professionals. They provide three resort-style pools with a shady area for resting and a poolside bar.
You might also like our articles about the cost of membership at the Stonebridge Ranch Country Club, New Orleans Country Club, or Bethesda Country Club.
Besides the dining areas with breathtaking views, they also have a formal ballroom for large events, such as a wedding, corporate meetings, and others. As well as some smaller areas for more intimate events.
Another very popular amenity you can take advantage of is the Childcare Center. Children of all ages between 4 months and 10 years will be able to enjoy a lot of indoor and outdoor activities while you can relax or enjoy golfing.
Golf course fees and other extra costs
People without golf privileges will have to pay extra fees.
You will surely have to pay extra to buy things from the Tennis Pro Shop.
Other additional costs besides the membership fee, are related to golf lessons, tournaments, clinics, and the use of amenities that are not included in your membership.
Also, having an event at one of their designated areas will surely incur other costs.
Tips to know
Being a high-end, luxurious, and rich club with a tradition of hospitality, they have a strong policy that you need to follow. This includes the dress code, smoking, pace of play, as well as some other rules.
https://www.thepricer.org/wp-content/uploads/2023/08/Vestavia-Country-Club-membership-cost.jpg
380
610
Alec Pow
https://www.thepricer.org/wp-content/uploads/2023/04/thepricerlogobig.png
Alec Pow
2023-08-31 08:40:05
2023-08-26 09:56:16
How Much Does a Vestavia Country Club Membership Cost?