How Much Does a Whopper Cost?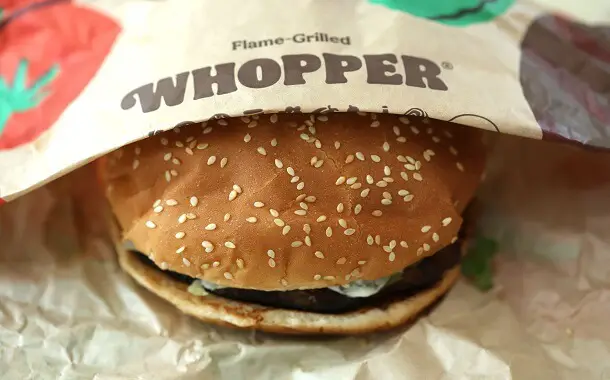 Burger King is a famous fast-food restaurant chain that is a direct competitor of chains like KFC, McDonald's, and other fast-food eateries. They offer a menu that includes a wide variety of tasty food items, but their signature dish is the Whopper burger. But how much would a Whooper from Burger King cost?
Before answering this question, we must take into consideration some things. Firstly, there are different types of Whopper burgers, such as Whopper Jr., the Whopper, Triple Whopper, and Double Whopper. Also, from time to time, there are specials like the Angry Whopper, which is a Whopper with jalapenos.
Whopper overview
The Single Whopper burger contains 630 calories and is made of a Whopper beef patty, a sesame seed bun, tomatoes, ketchup, pickles, mayonnaise, lettuce, and onions. The Whopper is one of the mannish burgers offered by Burger King and this is proved by its nutritional content.
It contains 980 milligrams of sodium, 25 grams of protein, 35 grams of fat, 57 grams of carbs, and 13 grams of sugar. As you can see, this burger is heavy and meaty and is enough for one meal.
How Much is a Whopper from Burger King?
The cost of a Whopper will vary depending on the location you purchase it from, but the average cost is around $3.50. For instance, for a Whopper and fries combo meal, that comes with a small drink and small french fries, you will have to get around $6 out of your pocket.
Double Whooper Cost
If you are not full with a Single Whopper, then a Double Burger would be the choice. This is made of the same ingredients, the main difference being that it includes two Whopper burger patties.
This additional burger patty transforms the Double Whopper into a burger of 830 calories. Also, it has 1040 milligrams of sodium, 42 grams of protein, 50 grams of fat, 57 grams of carbs, and 13 grams of sugar. You shouldn't order anything else for your meal besides this burger, as this should be more than enough.
Expect to pay almost $4.50 for a Double Whopper, that is only around $1 more than the price of a Single Whopper.
Triple Whopper Cost
Yes, we said that the Double Whopper is the maximum amount of food an individual that craves a burger needs, but Burger King offers also a Triple Whooper, which includes three Whopper beef patties.
This whooping, huge burger has 1020 calories and should be enough for an entire day.
The Triple Whooper includes 1090 milligrams of sodium, 58 grams of protein, 64 grams of fat, 57 grams of carbs, and 13 grams of sugar.
Plan on spending around $5.50 for a Triple Whopper from Burger King. This is about $1 more than the Double Whopper.
Whopper Jr.
The opposite of the Triple Whopper is the Whooper Jr., which is even smaller than the Single Whopper.
It has only 340 calories and contains 510 milligrams of sodium, 14 grams of protein, 19 grams of fat, 28 grams of carbs, and 6 grams of sugar. If you want just a small portion of fries or a side salad, then the Whopper Jr. would be a great option.
The Whopper Jr. comes at a reasonable price of around $1.80. For a small cost, you will get a tasty burger, without a lot of fat and calories.
The Whopper vs. the Big Mac
If we were to compare the Whopper from Burger King with the Big Mac offered by McDonald's, then we should start with the price. The Single Whopper costs around $0.50 less than the Big Mac but has 6 grams of fat and 80 calories more.
When talking about the taste of each of these, it highly depends on everyone's tastes. For example, I prefer the Whopper and believe that it is more delicious than the Big Mac. But again, it depends on your own preferences.
Final words
Although the Burger King menu is a rather extensive one, this chain is mainly known for its signature burger the Whopper. This a meaty and flavorful burger, but take into consideration ordering a Single Whopper instead of a Triple or Double Whopper because the last ones have too many calories for a single meal.
https://www.thepricer.org/wp-content/uploads/2023/05/burger-king-whopper-cost.jpg
380
610
Alec Pow
https://www.thepricer.org/wp-content/uploads/2023/04/thepricerlogobig.png
Alec Pow
2023-05-10 08:22:21
2023-05-05 12:48:55
How Much Does a Whopper Cost?