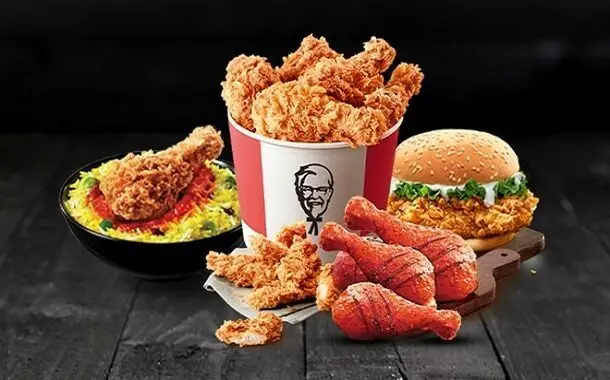 KFC is an abbreviation that comes from Kentucky Fried Chicken, which is one of the most famous fast-food restaurants in the world. KFC restaurants sell chicken, French fries, burgers, cheeseburgers, and the brand is owned by Yum! Brands, Inc. KFC is headquartered in Louisville, Kentucky.
Both locally and internationally, KFC adheres to a number of high-quality standards in terms of products and services available to fans around the world, giving them the best real chicken taste experience.
In the table below you will find the latest KFC menu prices.
Food
Size
Price

KFC Combos Menu

A KFC Combo includes  a Side and a Medium Drink

2 Pc. Chicken – Combo
$6.39
Doublicious Sandwich – Combo
$6.39
Popcorn Nuggets – Combo
$5.79
2 Chicken Littles – Combo
$5.49
Go Large Combo
$1.69

KFC Big Box Meals

Includes Mashed Potatoes with Gravy, Coleslaw, Biscuit & Medium Drink

3 Pc. Chicken Box
$8.49
2 Pc. Chicken & Popcorn Box
$8.49
3 Tenders & Popcorn Box
$8.49

KFC Nashville Hot Tenders

3 Pc. Basket (3 Tenders, Coleslaw & Biscuit)
$5.79
12 Pc. Meal (12 Tenders, Large Mashed Potatoes & Gravy, Large Coleslaw & 4 Biscuits)
$22.99
24 Pc. Tailgate Meal (24 Tenders)
$30.99

KFC Tenders & Popcorn Nuggets

A KFC Combo Includes a Side & Medium Drink

Chicken Tenders
3 Pc.
$4.19
Chicken Tenders
6 Pc.
$7.39
Chicken Tenders
12 Pc.
$13.49
Chicken Tenders – Combo
3 Pc.
$6.29
Popcorn Nuggets
Large
$4.29

KFC Nashville Hot Chicken

1 Pc. Basket (Chicken Breast, Coleslaw & Biscuit)
$5.79
2 Pc. Basket (Drumstick & Thigh, Coleslaw & Biscuit)
$5.79
8 Pc. Meal (8 Pc. Chicken, Large Mashed Potatoes & Gravy, Large Coleslaw & 4 Biscuits)
$22.99

KFC Family Meals

8 Pc. Meal with 2 Large Sides & 4 Biscuits
$22.99
8 Pc. Chicken Only
$15.89
12 Pc. Meal with 3 Large Sides & 6 Biscuits
$30.99
12 Pc. Chicken Only
$21.49
16 Pc. Meal with 4 Large Sides & 8 Biscuits
$37.99
16 Pc. Chicken Only
$25.99
Tenders & Wedges for 2 (6 Pc. Tenders, Large Wedges & 2 Sauces)
$10.49
Tenders Meal (12 Pc. Tenders, 2 Large Sides, 4 Biscuits & 6 Sauces)
$20.99

KFC Kid's Meal

Drumstick, 1 Chicken Little, 1 Tender, or Popcorn Nuggets, and Individual Side, and Applesauce, or Small Drink
$4.29

KFC Value Menu

3 Hot Wings
3 Pc.
$2.39
1 Chicken Little
1 Pc.
$1.69
Go Cup – Popcorn Nuggets & Wedges
$2.99
Go Cup – Chicken Little & Wedges
$2.99
Go Cup – 2 Tenders & Wedges
$2.99
Go Cup – 3 Hot Wings & Wedges
$2.99

KFC Homestyle Sides

Mashed Potatoes
Individual
$2.19
Mashed Potatoes
Large
$3.99
Potato Wedges
Individual
$2.19
Potato Wedges
Large
$3.99
Baked Beans
Individual
$2.19
Baked Beans
Large
$3.99
Cole Slaw
Individual
$2.19
Cole Slaw
Large
$3.99
Sweet Kernel Corn
Individual
$2.19
Sweet Kernel Corn
Large
$3.99
Green Beans
Individual
$2.19
Green Beans
Large
$3.99
Mac & Cheese
Individual
$2.19
Mac & Cheese
Large
$3.99
2 Biscuits
$1.69

Beverages

Soft Drink
Medium
$1.99
Soft Drink
Large
$2.19
Aquafina Water
Bottle
$1.79
Iced Tea
1/2 Gallon
$2.79
Lemonade
Medium
$2.19
Lemonade
1/2 Gallon
$3.69
Strawberry Lemonade
Medium
$2.49
Strawberry Lemonade
1/2 Gallon
$4.29

KFC $20 Family Fill Up

Limited Time

Family Meal – 8 Pc. Chicken, 2 Large Mashed Potatoes, Large Gravy, Large Coleslaw & 4 Biscuits
$19.99

KFC $5 Fill Ups

2 Pc. Drum & Thigh, Mashed Potatoes with Gravy, Biscuit, Medium Drink & Chocolate Chip Cookie
$5.00
3 Pc. Tenders, Mashed Potatoes with Gravy, Biscuit, Medium Drink & Chocolate Chip Cookie
$5.00
Chicken Breast, Mashed Potatoes with Gravy, Biscuit, Medium Drink & Chocolate Chip Cookie
$5.00
Famous Bowl, Medium Drink & Chocolate Chip Cookie
$5.00
Pot Pie, Medium Drink & Chocolate Chip Cookie
$5.00

Desserts

Chocolate Chip Cake
$4.29
Cookies
3 Pc.
$1.49
Cookies
12 Pc.
$4.69
KFC History
The story of KFC begins on September 9, 1890, the day our known and beloved Harland was born in Henryville, Indiana.
Ambition and creative spirit accompanied Colonel Sanders from an early age when he had to fend for himself. The loss of his father at the age of 6 made him responsible, taking care of his siblings while his mother was away at work.
The spirit of adventure pushed him to leave his parental home at the age of 12 and start working on a farm in Greenwood. Over time, he was a soldier in Cuba (for 6 months), a firefighter, a motorman, he managed to study law through correspondence and practiced what he learned in selling insurance.
With this series of diverse experiences, it is no wonder that he would soon lay the foundations of a culinary empire. Over time, he managed to become a master in the preparation of certain traditional dishes, including the tasty fried chicken. His delicious recipe first reaches the public when Harland, at the age of 40, buys a motel in Corbin – Kentucky and starts serving chicken in the on-site restaurant.
You might also like our articles about the cost of items on the menus of Taco Bell, McDonald's, or Wendy's.
For nine years, the Colonel devoted himself to this passion, the recipe consisting of special cooking techniques, along with 11 herbs and spices being modified several times until the final version used today was reached.
Confident in his own recipe and in the quality of the chicken he prepared, Colonel Sanders devoted himself to his own business. He traveled the Americas, visited several restaurants, and cooked the chicken for its owners and employees according to his original recipe. At first, his business involved a verbal agreement with the restaurant owner, who agreed to offer Colonel Sanders 5 cents for each piece of chicken sold.
Soon, chicken lovers everywhere fell in love with the Colonel's secret, and more than 600 restaurants in the United States and Canada sold chicken prepared according to the appetizing recipe. In the same year, he ceded the rights to the recipe to a group of investors that included John Y. Brown Junior, the governor of Kentucky at the time.
The Kentucky Fried Chicken restaurant network soon expanded and grew rapidly due to the new owners' passion for food, well-being, and support. It was listed on the New York Stock Exchange in 1969, and more than 3,500 restaurants worldwide began operating under its license after the acquisition of KFC Corporation by Heublein Inc. for $285 million.
As of today, there are more than 25,000 KFC restaurants in more than 145 countries and territories all over the world.
Our review
Every day, the restaurants are supplied with fresh chicken, provided by local producers. Over 75% of chicken used in restaurants comes from local producers. Calibration of products is important, so they work with several suppliers to ensure the necessary quantities at all times.
Fresh chicken is cooked daily by chefs in each restaurant. Every location has its own chefs, with different responsibilities for each stage: marinating, seasoning with the flour and spice mix, respectively cooking.
The oil used in restaurants meets all quality standards and is passed through an automatic filtration system, in accordance with industry-regulated procedures.
Their original chicken comes in a large variety of options, including the famous "bucket" meal. But besides these, the customers can choose from various burgers, wraps, sides, salads, and desserts.
One of the main benefits of the KFC menu is its affordable prices. You will have to pay only around $5 for one of their combos that includes a main dish, a side, and a medium drink. The price of the family meals would be anywhere between $10 and $35, depending on the number of people.
FAQs
What are the opening hours of KFC?
In general, KFC opens at 10:30 am and closes at 10 pm, but it all depends on the location. It is recommended to check the program of each location on their website before going there.
Who founded KFC?
KFC was founded in 1952 by Colonel Harland Sanders. He was a businessman who turned into a chef and developed the well-known fried chicken recipe.
Does KFC have a $1 menu?
Unfortunately, KFC does not have a dollar menu. This is one of the more expensive fast-food restaurants, and the majority of the items cost at least $5.
What does include the $20 Fill Up at KFC?
In the $20 Fill Up from KFC is included one of the following:
12 pieces of Extra Crispy Chicken Tenders;
8 pieces of Extra Crispy Chicken;
8 pieces of Original Recipe Chicken.
Besides these, the meals come with 2 large mashed potatoes, gravy, a large Coleslaw, and 4 biscuits as well.
Can we still find $5 meals at KFC?
Yes, KFC still has the $5 Fill Up meal on its menu. This includes chicken breast, a drumstick and thigh, pot pie, or the Famous Bowl with a medium drink, biscuit, a chocolate chip cookie, and mashed potatoes.
Why is KFC more expensive than other fast-food restaurants?
There is a high demand for KFC products, plus they also offer healthy alternatives and that is why this restaurant is more expensive. Also, the prices are influenced by the cost of the chicken in the US.
https://www.thepricer.org/wp-content/uploads/2022/02/kfc-menu-prices.jpg
380
610
Alec Pow
https://www.thepricer.org/wp-content/uploads/2023/04/thepricerlogobig.png
Alec Pow
2022-02-03 11:11:58
2022-12-22 18:32:35
KFC Menu Prices