How Much Does AMC Stubs Membership Cost?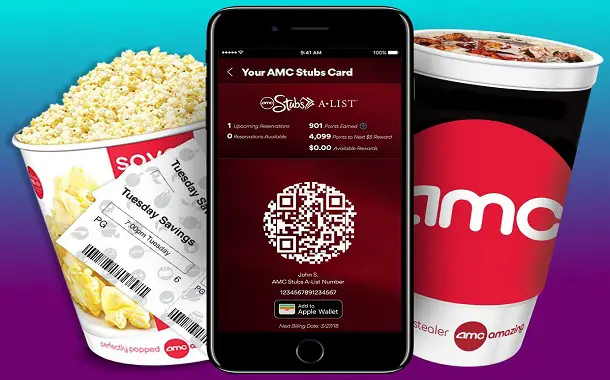 The AMC Stubs is an exclusive membership award offered by the AMC Theatre chains. This is available to all clients and comes with three options. There is the Premiere version, which will have an annual fee, the A*List version, which has a monthly fee, and the Insider version, which is free.
As a member of the AMC Stubs program, you will take advantage of discounted movie tickets, free large popcorn refills, and others.
How Much Does AMC Stubs Membership Cost?
The costs of becoming an AMC Stubs program member will depend on the option you choose as the movie chain offers three different levels.
The AMC Stubs Insider version is free of charge and comes with benefits and perks like free popcorn refill, discount Tuesdays, a loyalty program that offers a $5 reward for every 5,000 points, and waived online ticketing fees for more than four purchased tickets.
How Much Does AMC Stubs Premiere Cost?
The cost of the AMC Stubs Premiere option is $15 per year, but this cost may fluctuate depending on the promotion held at the time of your purchase. Also, if you are lucky enough, you may be able to find an AMC Stubs promo code. The Premiere membership will offer you free size upgrades on popcorn in AMC Theaters.
For the AMC Stubs A-List membership option, you will have to pay anywhere between $20 and $24 per month, depending on the state you live in.
Similar to the initial sign-up fee, the renewal fee will be greatly influenced by the promotion currently going on. But you should be prepared to pay the same annual costs.
AMC Stubs A-List vs. Free vs. Premiere — what's the difference in benefits?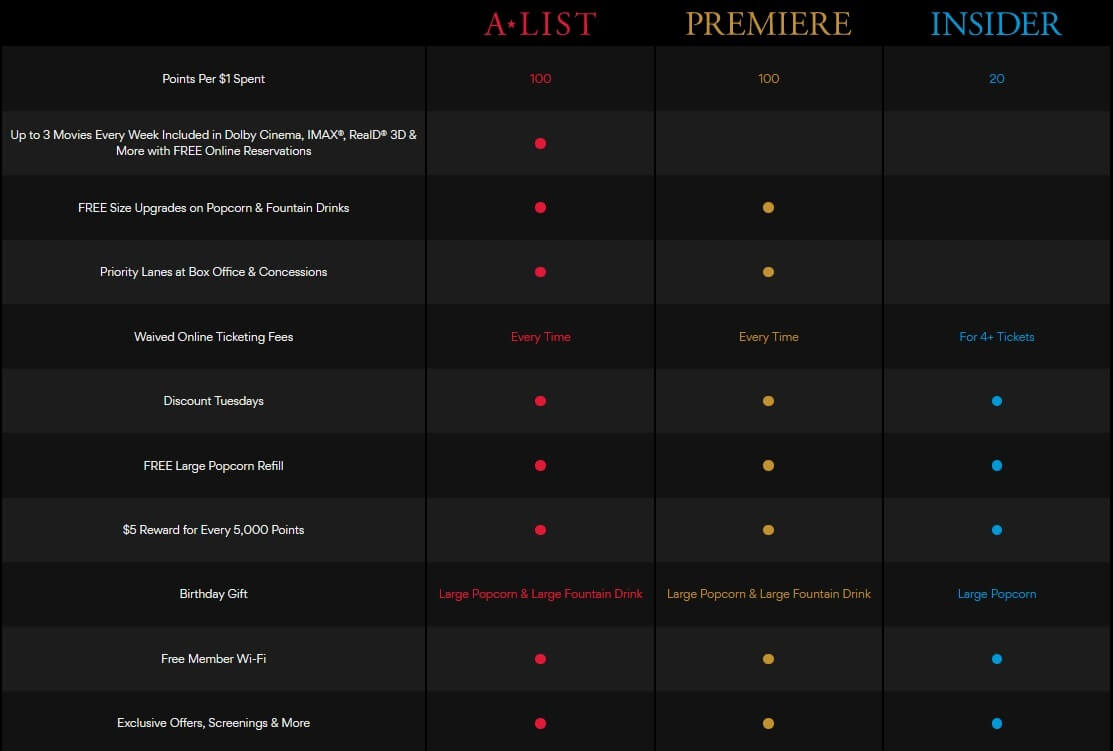 How do I earn points?
In order to earn points at the AMC Theatres, you should show your card/app at the movie theatre kiosk, or you should use your number if you are booking tickets online You should also do this at the local concession stand.
Depending on the type of card, you can earn anywhere between 20 and 100 points for every dollar you spend. You can turn points into rewards in increments of 5,000 at the AMC Theatre locations. You can redeem these rewards for free tickets or concessions, but this changes periodically.
You might also like our articles on the cost of AMC popcorn, matinee movie tickets, or Regal Cinemas tickets and concessions.
You should log into your online account and see how many points you have accumulated and which rewards are available for you. Rewards can not be used toward the acquisition of alcohol, gift cards, membership fees, or retail merchandise.
The points will not expire as long as the account is active. Though, after 270 days the activated rewards do expire.
Are AMC stubs worth it?
You must go to the movies about seven times per year and buy your tickets online to avoid the service fee reaching the break-even point and make the AMC Stubs program worth it. According to the U.S. News, you should go to the movie theatre at least 13 times a year in order to get your second $10 reward.
So, if you go to the movies at least one time per month and go for the free online reservations, it may be worth it. However, you may want to skip this program if you are not a cinephile.
How do AMC Stubs work
If you want to join the AMC Stubs program, you can do it in person by talking to an AMC staff member, via their official website, or via their official mobile app. In order to become a member, you must provide data such as your email address, name, favorite theatre location, and birth date.
The AMC Stubs Insider free version is unlimited, which means that it will stay valid as long as you use it every two years. On the other hand, the Premiere membership will expire on the last day of the month and is valid only for twelve dates from the date of enrollment.
Your membership will be extended for another twelve months when you renew it through the same methods presented above. If you don't want to renew your membership, this will be automatically transformed into a free Insider membership.
When you join the AMC Stubs free program, you will not get a physical card, but a digital card that you can use via the movie theatre app. On the other hand, the Premiere members will receive a card kit in the mail, in general within four to six weeks from the enrollment date.
https://www.thepricer.org/wp-content/uploads/2023/08/amc-stubs-membership-cost.jpg
380
610
Alec Pow
https://www.thepricer.org/wp-content/uploads/2023/04/thepricerlogobig.png
Alec Pow
2023-08-07 06:17:18
2023-08-03 15:36:07
How Much Does AMC Stubs Membership Cost?