How Much Does Car Hail Damage Repair Cost?
No car owner ever wanted to see a hailstorm. The hail damage car repair cost is usually more than someone can handle and there's not really much you could do to prevent this type of damage, outside of keeping the caring garage.
This article should give you a better understanding of the different types of hail damage caused to vehicles, and their respective pricing ranges when you want to have them repaired.
How Much Does Car Hail Damage Repair Cost?
The average cost to repair car hail damage is anywhere between $1,000 and $10,000, depending on several important factors including the car make and model, its year, the amount of hailstone damage, whether the repair is covered by your insurance, as well as where you choose to have this repair done.
You might not think hail damage is a big deal, but it actually is. Never give in to random myths about hail damage and the repair involved, as you can never underestimate the extent of the damage to your car.
Light Hail Damage
This type of damage can cost between $1,000 and $10,000 to have fixed. We're usually talking about light auto hail damage when the vehicle has only small dents on its surface. This type of damage is considered mostly cosmetic damage and usually has no effect on the car's function.
It happens a lot for a car to have more than 100 dents all around its roof and on different panels, even though they will be mostly cosmetic in nature. As dents usually get a lot worse as time passes and the repairs can get as expensive as if you were in an accident, it's always a good idea to repair them as soon as possible.
As for the repair cost, even if the panel is only hit by 10 nickel-sized hail pieces, you should still expect to spend over $1,000, sometimes the bill reaching $4,000 or more.
Aluminum Panel Hail Repair

You should expect to spend between $8,000 and $10,000 for an aluminum panel hair repair, depending on the extent of the damage and the type of car you have.
You should always expect vehicles that are made from aluminum to cost slightly more to fix.
Severe Hail Damage (Example Caused by Golf Ball Hailstones)
When dealing with severe hail damage, like the one caused by hailstones that are the size of golf balls, the dents will be large enough that aside from looking ugly, can even damage the functionality of your car, as they can also crash through the windows and break headlights and taillights.
When this happens, pointless dent repair won't be enough. You will likely require paint repair, windshield replacement, and panel replacement, among others. The dents won't be uniform. They will be of various sizes and in the hundreds, costing over $8,000, and sometimes even over $10,000, to have fixed.
You might also like our articles on the cost of paintless dent repair, car rust repair, or car insurance.
Repainting a panel and partial replacement often adds up to the repair time.
You might need to get a rental car to use while your own is getting repaired for severe hail damage. Check with your insurance and hail repair shop, as you might be able to get a rental car for free.
Factors that affect the average cost of car hail damage repair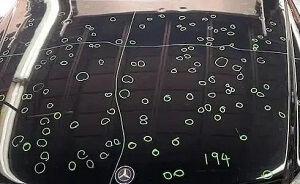 When trying to figure out the cost of automotive hail damage repair, you will have to consider several factors, out of which three are more important, and we'll list them below.
The number of car dents is one of the first things you will have to consider. The size of the dents and whether they are the size of half dollars, quarters, nickels, or dimes, is also very important. The exact location of the dent will also influence the cost of the repair.
When you know all of these, the math is simple. You will be charged a price for the car repair based on the location of the dents x their size x the number of dents.
Here are other important factors that will influence the cost of the repair:
Car Year and Car Model
The car's make and model, as well as its year, will also factor into the cost to repair hail damage. The newer your car, the bigger the chance your insurance will cover repairs. Higher-end cars will not only cost more but will also be more likely to have an aluminum frame, which costs more and is harder to repair.
Also, older models will likely get totaled by hail damage, as the cost of repair will usually be higher than their value unless they are collectibles or considered vintage cars.
Hailstone Damage and Paintless Dent Removal
Not only the number of hail dents but also the size of each dent will be considered when figuring out the extent of the damage. The option you use to repair the dents will be important as well. Paintless dent repair, also called PDR, is usually around $74 to $250 per dent, which is a pretty cost-effective approach to dent removal.
Insurance Coverage
Having car insurance can be the difference between paying a lot of money or just pennies, or in some cases not paying at all when it comes to these repairs. The repair service cost can be covered by your insurance provider in its entirety if you have comprehensive coverage. It also happens often that the repair costs do not align with the insurance claims.
A specialty repair shop can help you more than a regular body shop in these cases, as it can help you file a supplemental claim with the insurance company that will be able to cover all of the dent repair costs.
Some people are worried that their insurance premiums will be going up when filing to get the money for the repair. This won't happen, as a hail storm is considered an act of nature that isn't in your control.
You might have to pay upfront for your deductible, which has to be covered so that the insurance kicks in, but other than that, you will most likely not be billed for anything.
Final words

The price of hail damage car repair is higher than most people expect. You will usually be charged at least $1,000 for the job, although many jobs go over the $10,000 mark. The final cost will depend on factors like the number of dents, their size, the make and model of the car, its year, your geographical location, and where you choose to have the car repaired.
https://www.thepricer.org/wp-content/uploads/2023/09/car-Hail-Damage-Repair-cost.jpg
380
610
Alec Pow
https://www.thepricer.org/wp-content/uploads/2023/04/thepricerlogobig.png
Alec Pow
2023-09-14 08:35:20
2023-09-07 07:29:43
How Much Does Car Hail Damage Repair Cost?