How Much Does Doggy Daycare Cost?
No pet owner ever wants to leave his companion behind several times a week. But there are instances in which you simply can't avoid this, especially when working outside of the home. Although you might be able to leave your dog at home for several hours and still be sure he'll be fine until you return, there are other alternatives out there, to make sure your pup is cared for when you're away.
Different people have different reasons for looking for daytime dog care. Some have dogs that suffer from separation anxiety, while others have an especially long workday coming up or an unpredictable work schedule that doesn't allow them to find other solutions.
Some people have younger puppies that have too much energy to just be hidden in a kennel all day long, while others have senior dogs that need a lot of attention. Or you might just want to prevent your dog from getting destructive or overly bored.
According to an article from the American Kennel Club, digs that need to endure long days, of more than six hours, without appropriate care and exercise, can suffer high amounts of stress.
So, doggy daycare might be the perfect solution for you if you need to leave your dog alone for big amounts of time throughout the day. These places are designed to enable you to drop off your dog in the morning and pick him up on your way home, just as you would do at a daycare for kids.
How Much Does Doggy Daycare Cost?
The average cost of doggy daycare is anywhere between $30 and $280, depending on the location, cost of living fluctuations, and other factors. Price isn't the only important aspect when it comes to doggy daycare locations. You should also consider the daycare's staff, your dog's personality, and so on.
Factors influencing the cost of doggy daycare
The exact doggy daycare location where you take your dog will be the most important factor in influencing the final cost.
You might also like our articles about the cost of dog training, dog training at Petco, or dog rental.
As with any other goods or services, you can expect lower prices in rural areas and small cities, while bigger cities also come with higher prices.
The kind of services you go for will also influence the cost of doggy daycare. The amount of time the dog stays at the daycare will also influence the cost. A half day dog stay will be cheaper than a full day one.
Any additional services you need will add to the price as well.
Different types of doggy daycare
There are multiple types of dog daycare you can choose from. There are in-home doggy daycares and commercial ones. The kind of dog you have, as well as your needs related to the pet, will dictate the type of daycare that works best for you. Each of them comes with its own pros and cons, as well as different price ranges.
In-home doggy daycare
Commercial facilities are a lot different than in-home doggy daycares. In-home places are smaller settings usually run by a maximum of two people who take care of only a handful of dogs.
These places are better for dogs that don't like a lot of socialization, as well as senior dogs that need more attention and a slower pace. These places are also considered the better alternative when you want to make sure there's always someone having eyes on your dog throughout the day, as bigger facilities often lose track of individual dogs in the mix.
The at-home setting offers more cuddles, but it also means less space for the dog to move.
As for their costs, expect to spend between $20 and $40 on in-home doggy daycares, although you'll likely find cheaper, as well as more expensive alternatives, depending on your expectations and the needed features.
Commercial doggy daycare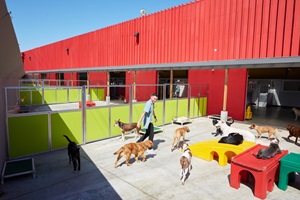 Commercial doggy daycares usually care for many dogs during the day, but they also have enough staff to do this.
Different places offer different features to their daycare clients. It's not uncommon for bigger, more extravagant doggy daycare facilities to have indoor pools and obstacle courses. Simpler facilities should still have an outdoor space or a large room where dogs can play and run.
You should go for a commercial doggy daycare your dog needs a lot of socialization, as there will usually be all kinds of pups of all shapes and sizes ready to meet your pet.
Among the most common services that commercial doggy daycare facilities offer are boarding, grooming, and training.
Commercial doggy daycares can also accommodate you at short notice most of the time, as they have a large staff and are more flexible when it comes to their schedule.
Although commercial doggy day care facilities have all kinds of fancy amenities, the price tag is also set to match. Although they cost $30 to $50 per day on average, there are locations that charge even $100 per day for each dog. You might be able to snatch a discount if you plan to leave your dog for a longer period of time or if you leave multiple dogs at the same time.
Choosing a doggy daycare
You will have to decide on the best place to match your needs and the personality of your dog even if you already know whether you want to take it to an in-home or a commercial doggy daycare facility. You will want to ensure that the dog is with someone you can trust while you're away.
To get a better idea of the place you're taking him to, check online for reviews from past clients before you get in touch with a doggy daycare provider.
Whenever possible, check out the daycare facility or home before you take your dog there. Important things to look out for are a lack of hazards like exposed wires and broken toys, access to water, minimal odors, stable fencing, and cleanliness, according to the AKC.
It's also smart to ask about any emergency procedures they are taught to follow as well as any training the staff working with the dog has been going through. Some people want to get updates about their dogs throughout the day. If you're one of them, make sure you address this issue before shaking hands with a location.
https://www.thepricer.org/wp-content/uploads/2023/10/Doggy-Daycare-cost.jpg
380
610
Alec Pow
https://www.thepricer.org/wp-content/uploads/2023/04/thepricerlogobig.png
Alec Pow
2023-11-06 10:26:31
2023-10-31 06:56:36
How Much Does Doggy Daycare Cost?