How Much Does Granny Nannies Cost?
Granny Nannies is a home care facility that offers services for older adults. Besides the assistance with daily living activities, this company can also offer specialized care for people with strokes, dementia, Alzheimer's, Parkinson's, and other chronic health problems.
The caregivers from Granny Nannies are highly trained and they can provide quick assistance for both long- and short-term needs.
How Much Does Granny Nannies Cost?
The average cost of Granny Nannies services is anywhere between $24 and $25 per hour, but this price would increase for more specialized care. According to the insurance holding company Genworth, the national average hourly rate for home care is $26. So, Granny Nannies is one of the few home care agencies that have prices lower than average.
As a form of payment, Granny Nannies accepts workers' compensation benefits, long-term care insurance, and private pay. Most services provided by Granny Nannies aren't covered by Medicare.
Granny Nannies Overview
The Granny Nannies home care facility was founded in 1990 by Kirsten and Rob Hodgson. Their mission was, and still is to offer effective care to older adults at an affordable cost. Currently, they have around thirty locations across the United States that offer care to adults living both in senior care communities and at home.
Offered services
Granny Nannies provides a large variety of in-home services, like 24-hour home care, personal care, stroke-recovery care, social-isolation care, and specialized care for patients with heart diseases, Parkinson's, and Alzheimer's.
Hospice care
This company can provide compassionate hospice care 24 hours a day. This service includes spiritual and emotional support to increase life quality, but also bereavement support, family support, and symptom management.
Chronic lung disease care
Patients with chronic lung disease can be assisted by Granny's Nannies caregivers. They can help patients to maintain their quality of life by taking them to doctor's appointments, performing light housekeeping, and preparing meals.
24/7 home care
This facility offers home care services 24 hours a day, seven days a week. You will always get the needed support as they rotate three caregivers per day.
Parkinson's home care
Patients with Parkinson's are offered assistance in the comfort of their houses. The caregivers can assist with mobility exercises, food preparation, and supervision.
Served areas
Granny Nannies is a small franchise that offers its services mainly in the Midwest and East Coast areas and has one local office in Arizona. The states where you can find at least one of their locations include Texas, Arizona, Ohio, Florida, Kentucky, Georgia, Michigan, Pennsylvania, and Indiana.
You should contact the Granny Nannies company at the phone number 800-316-2669 to find a location near you.
Advantages and Disadvantages of Granny Nannies Home Care
Advantages
Free home care consultation
If you can't decide yet if home care is for you, Granny Nannies provides a free home care consultation to evaluate your needs and give recommendations.
Hospital sitter care
If a loved one is in hospital and you don't have the time to stay with them 24 hours, Granny Nannies is there for you. They can send a caregiver to the hospital to talk with the nurses and doctors, help a senior avert falls and drive your loved one home from the hospital.
Social-isolation care
You might also like our articles on the cost of adult walkers, wheelchair rental, or the Zeen device.
A Granny Nannies caregiver can keep you entertained and socially stimulate by offering companionship at cooking your favorite meal, playing games, or reading.
Fall-prevention care
Granny Nannies employees won't offer only personal care assistance, but also fall-prevention assistance at your own house. This would include services such as making sure that you take your medications as your doctor prescribed you, supervision, and safety and balance exercises.
24-hour home care
The services offered by Granny Nannies are available 24 hours a day, seven days a week to fit any schedule.
Disadvantages
Limited number of locations
The services offered by the Granny Nannies franchise are available only in nine US states, including Texas, Arizona, Ohio, Florida, Kentucky, Georgia, Michigan, Indiana, and Pennsylvania.
Client experience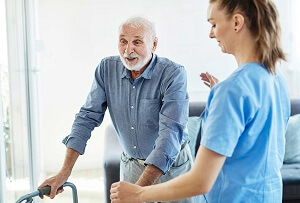 As Granny Nannies is a franchise, each location is independently owned and operated. So, we reached out to some locations to get a general image of the services offered by this company. We found that:
all Granny Nannies caregivers are certified nursing home assistants or certified home health aides;
caregiver needs are evaluated through a free in-home consultation;
the cost of Granny Nannies services is anywhere between $24 and $25 per hour;
besides helping with daily living activities, caregivers can also provide support in transport for appointments and errands;
the minimum caregiver visits must be six hours on weekends and four hours on weekdays.
In the end, we were satisfied with the compassion and professionalism of Granny Nannie's staff. They went over each of our care options and how they could help us, with patience.
Third-party reviews
Most of Granny Nannies' online reviews are positive. The customers were satisfied with the caregivers' professionalism and promptness. Especially, many customers who cared for a loved one with dementia or Alzheimer's said that the support offered by this care provider was very helpful.
FAQs
Does Granny Nannies offer skilled nursing services?
Yes, Granny Nannies provides in-home skilled nursing services for patients with chronic conditions who need assistance.
How much does Granny Nannies home healthcare cost?
Depending on the type of care offered and the location, the cost of Granny Nannies in-home care services would be anywhere between $24 and $25 per hour. The costs may increase for more specialized services.
How can I find Granny Nannies?
You should visit the company's official website in order to find a Granny Nannies location. Also, you can call them at 800-316-2669.
Does Granny Nannies require a minimum commitment?
Yes, Granny Nannie requires either a twenty-hour minimum commitment for daily care or a four-hour minimum commitment per visit.
https://www.thepricer.org/wp-content/uploads/2023/05/granny-nannies-cost.jpg
380
610
Alec Pow
https://www.thepricer.org/wp-content/uploads/2023/04/thepricerlogobig.png
Alec Pow
2023-05-25 08:51:20
2023-05-22 06:40:01
How Much Does Granny Nannies Cost?