How Much Does Gymnastics Cost?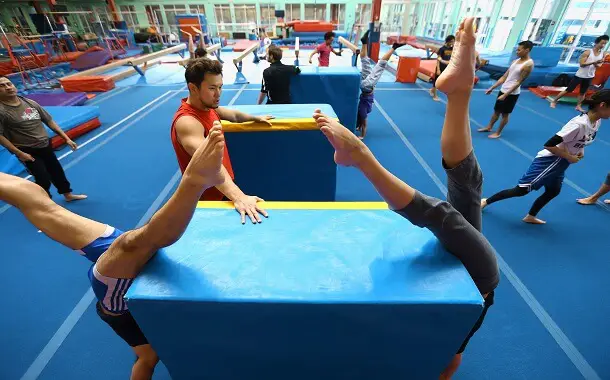 Almost anyone, regardless of their age, can take advantage of different gymnastics classes and programs. Not only adults, but also children as young as 9 months, or in some circumstances even younger, can go for training that ranges from just recreational exercises to competitive training. Artistic gymnastics is the most practiced form of gymnastics.
Artistic gymnastics makes use of all kinds of apparatus including floor, pommel horse, rings, high bar, parallel bars, and vault for men, and floor, beam, uneven bars, and vault for women. There are also other types of gymnastics, including tumbling and rhythmic and trampoline. But how much do gymnastics classes cost?
How Much Do Gymnastics Classes Cost?
Gymnastics classes cost, on average, anywhere between $15 and $50 per class, depending on factors like the type of classes, the instructor you pick, and your geographical location.
Competitive gymnastics classes, for example, cost anywhere between about $250 and $500 per month. This varies based on the number of hours the athlete is training each week and the level of training the athlete needs.
If you're interested in recreational gymnastics classes for a child, then be prepared to spend about $15 to $25 per class. These types of classes would usually meet one time per week. Depending on the program, you will be charged in sessions of 10 to 12 weeks in length or monthly.
If weekly classes aren't enough, then most gyms also offer drop-in play times that are usually priced at around $15 per session.
Other popular types of programs are day camps and summer camps. These are usually offered by gymnastics studios. Expect to spend around $150 or more per week on a summer camp, based on its length.
What should be included
You should be able to use all of the gymnastics apparatuses when participating in traditional gymnastics training.
You should also participate in exercises that improve your grace, balance, coordination, flexibility, and strength, regardless of the type of gymnastics training you pick.
Rhythmic gymnastics should include the use of small equipment. This includes clubs, ropes, ribbons, hoops, and balls. This type of gymnastics is intended for women.
You can find explanations of each gymnastics type on 7ESL.com.
Additional costs
Expect to spend between $30 and $75 on leotards. You might also need other workout gear, including gym shoes, sweatpants, jackets, and workup pants. There are websites that offer apparel for women, men, and children to wear during workouts. For example, websites like Gym Supply offer gymnastic shoes for about $40 to $75.
There are other pieces of training equipment that gymnasts often use, like beginner grips. These help gymnasts hold onto rings and bars. They are usually priced between $10 and $50.
If you're part of a gymnastics team, then you might have to travel for competitions, which means you have to take into account traveling costs. These costs would fluctuate depending on the traveled distance.
Teams also have to pay entry fees in most USA Gymnastics-sanctioned competitions. These fees are usually between $30 and $100 per person. If you want to become a pro, you might also have to enroll in A USA Gymnastics association, which will most likely have an annual registration fee.
You might also like our articles on the cost of ballet classes, Yoga classes, or Pilates classes.
For adjustable horizontal bars, you will usually spend between $270 and $500, while tumbling mats would cost between $75 and $350. If you need balance beams, then be ready to pay around $400 for a competition-size 16-foot beam, or around $80 for a lower-to-the-ground balance beam.
Discounts for gymnastics lessons
Most programs offer some types of discounts for non-class activities. There are some that go as far as offering birthday party discounts.
Depending on the gym you're going to, you might find sibling or multi-class discounts.
A lot of gymnastics programs also offer scholarships to really talented individuals, so always ask for financial assistance if you consider yourself worthy. Clubs that offer scholarships will usually have you complete an application with your financial information, as well as sign related documents.
Most gym franchises that operate across the US offer free introductory classes so you can check out this sport commitment-free.
As class offerings differ from gym to gym but also based on the level and age of your child, here's what to expect for different levels of the sport:
Classes for adults
Classes for adults are made to last about 60 minutes each.
Going to adult gymnastics classes will usually mean that you will also get a general fitness element added as well.
You'll also be able to use multiple apparatus, including trampolines, bars, and rings to build your strength, while you're building new skills that you wanted to try or revisiting a childhood hobby.
Most gyms also offer adult drop-in time for their customers, aside from their class setting. This gives working individuals more flexibility.
Classes for school-age children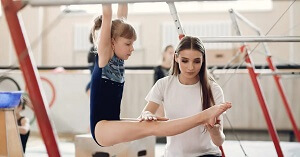 School age children will usually have classes that last for up to 50 minutes. As their ability level increases, this time will slowly rise.
Most school age classes are designed to accept children from the start of kindergarten and continue until the child finishes high school.
The classes designed for school-age children will put more focus on the gymnastics technique and only begin going over skills like pull overs, handstands, or cartwheels. Some classes will also go for higher beams.
Most programs will also go over safe landing techniques so that the children know how to avoid injury in and outside of the gym and even on the playground.
To keep children from moving during the class, these are usually station-based.
Classes for preschooler gymnasts
Most classes for preschoolers last up to 50 minutes. The actual price to enroll in preschool gymnastics classes will differ based on their length. There are programs that only offer 30-minute sessions, and those will cost less.
During these types of classes, expect activities developing gross motor skills like rolling, swinging, running, jumping, and balancing.
Depending on the program, you might also get activities that boost fine motor skills and help with grip strength. One example is gripping a bar so that the child will grip a pencil more easily.
Gymnastics classes for kids are usually very interactive and involve learning through play.
https://www.thepricer.org/wp-content/uploads/2023/08/how-much-does-gymnastics-cost.jpg
380
610
Alec Pow
https://www.thepricer.org/wp-content/uploads/2023/04/thepricerlogobig.png
Alec Pow
2023-09-06 06:59:48
2023-08-30 12:31:02
How Much Does Gymnastics Cost?