Last Updated on August 15, 2020 | Written by CPA Alec Pow
First Published on January 27, 2015 | Content Reviewed by

CFA Alexander Popivker
Yoga is one of the six traditional schools (astika) of Hinduism based on meditation as a path to self-knowledge and liberation. In India, Yoga is seen as a means of perfecting both physically and spiritually. Outside India, Yoga began to be associated primarily with the so-called practice of asana (the positions) included in Hatha Yoga, although it influenced the entire family of Dharma religions and other spiritual practices across the world. A convinced practitioner of Yoga is called a yogi, yogi (male), or Yogini (female).
Yoga, as a combination of exercises and meditation, is practiced for over 5000 years.
The goals of yoga are expressed differently by different traditions. For a normal person, yoga can be a way of self and spiritual growth or cultivation of compassion and introspection. Yoga means absolution from the world, from your senses, body, emotions, mind, and ego in order to reach your God, which involves release from the suffering of the rebirth cycle and the achievement of a state of holiness. For this, yoga requires discipline, spiritual knowledge, and especially devoutness.
The average price for a yoga class starts from $10 and can reach $20.
Some recent studies have shown that practicing yoga improves your life quality, reduces stress, anxiety, insomnia, depression, and back pain. It was also shown that yoga reduces heart rate values and blood pressure and improves your physical condition, strength, and flexibility, as the alternative medicine center relates.
Another popular and contemporary form of yoga offered by many studios is Bikram, the so-called hot yoga, where you do yoga at a temperature up to 105 degrees Fahrenheit or in some cases, even higher.
Typical costs: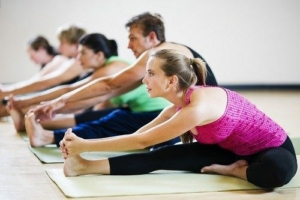 Across the country, single drop-in sessions have an average cost of $12, whether you go to a yoga studio or a fitness center, excepting when you go to an instructor from a metropolitan or coastal area, where it will cost you about $16. Be on the lookout, because many gyms offer clients, unlimited yoga classes, as part of a membership package.
If you buy multiple sessions you could get a decrease in the final price. For example, in Texas, California, North Dakota, and Nebraska you can get a 5 sessions package for $50 to $75 or a 10 sessions package for $90 to $135.
Another type of package is the monthly bundle, for which you could pay around $190 per month and covers up to 30 sessions.
Additional costs:
For your mental and physically comfort you can buy your own mat depending on what color and the thickness level, you want it. You could get cloth and rubber mats from $22 to $80 and special microfiber towels, to absorb perspiration, for about $30.
There are great yoga mats for sale on Amazon.com.
Experts in health have noted that yoga should be considered a complementary therapy and not as a replacement for standard therapies. For example, if you have high blood pressure, yoga can help you reduce it, but you still have to take the prescribed medications for your condition.
However, try practicing yoga without being afraid of the risks, but keep in mind that it is important to go to the beginners' class if you lack experience.
Should average working people attend yoga classes?
Yoga is a practice that won't take too much of your time, will help you relax and relieve stress, while the classes won't affect your budget too much. This makes it a great way to stay in shape and relax after a hard day at the office. If you have an hour to spare, you should try to attend one yoga class. For most people, the first session is enough to make them love this relaxing hobby.
https://www.thepricer.org/wp-content/uploads/2015/01/yoga_as_a_hobby.jpg
380
615
Alec Pow
https://www.thepricer.org/wp-content/uploads/2023/04/thepricerlogobig.png
Alec Pow
2015-01-27 02:00:56
2020-08-15 15:01:45
Yoga Classes Cost