Patients that need corrective treatment for their teeth often ask their orthodontists how much would Invisalign cost. 
The benefits of using this type of braces are totally worth the price, which is just slightly more than any regular pair of braces. Expect to find out the price after the actual consultation, because this is a must before your doctor can figure out the exact costs.
The cost will be influenced by multiple factors, some of them being your geographical location, the number of tooth alignments needed by the patient, and the complexity of movements of the teeth.
The average price in the US for Invisalign braces is anywhere between $2,000 and $8,000.
The American Association of Orthodontists gives an average cost of around $5,000 for every patient on these types of braces. For easier cases, there have been people charged even under $2,000 when they needed under 5 sets of aligners.
Invisalign and Personal Insurance cover
Just like for other orthodontic treatments and medication, most if not all of the insurers will provide cover for the Invisalign braces as a part of their cover.
The rates do vary for each insurer, but the cover will probably be over $500. You should ask your insurer about this, because there are a few that will classify Invisalign as any other cosmetic treatments, like teeth whitening or mole removal.
Want to Get Health Insurance That Covers Invisalign Braces? This is The Price of Health Insurance
If you have the original Medicare or Part B of Medicare you might be partially or even fully covered, although most Medicaid insurance holders won't be eligible for Invisalign insurance cover, this being dependant on the state you live in. To find out the exact figures for your coverage, call your insurer.
About Flexible Spending Accounts
If you work in a company that offers its workers a Flexible Spending Account (FSA) it will enable you and other workers to afford expensive treatments and procedures for most medical issues.
This can be done by sending a portion of your salary to qualified medical expenses. How much you'll actually send to the medical expenses will be your choice. A great thing is that these expenses won't be eligible for payroll taxes. For reimbursement, you have to submit all of the receipts to your FSA provider, as soon as you've finished the medical procedure or treatment.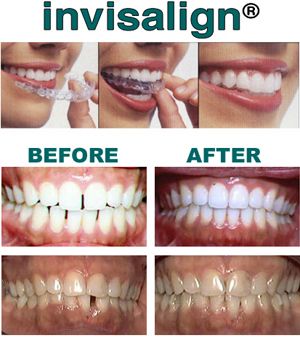 Other Payment Options
The Invisalign treatment can be very expensive, as we've already explained. Talk to your Invisalign provider or your orthodontist, if you find out that your insurance does not cover the costs of the treatment or the cover is simply inadequate and you can't use an employee flexible spending account.
Use the orthodontist's knowledge, as most of them will have an idea of how much you'll have to pay and payment plans offered by local Invisalign providers, although they are not financial consultants so their numbers can be slightly off.
Check Out Another Great Article About Teeth Whitening
If are a qualified patient, need financial aid in covering Invisalign costs and luck is on your side, your doctor will offer you payment plans directly.
Most of the financing options that are offered by Invisalign providers or orthodontists will enable you to make a number of affordable monthly payments that will stretch over a long period of time. This is to make sure that you'll be able to get all of your treatment and pay for it without having to worry about the costs.
In conclusion, Invisalign braces are a great choice, they have an average price of $5,000 and are often covered by insurance plans.
https://www.thepricer.org/wp-content/uploads/2014/06/invisalign.jpg
405
810
Alec Pow
https://www.thepricer.org/wp-content/uploads/2022/01/thePricer.png
Alec Pow
2014-06-16 17:52:31
2020-12-21 09:36:36
Invisalign Cost