How Much Does Invisalign Cost?
Last Updated on February 6, 2023 | Written by CPA Alec Pow
First Published on June 16, 2014 | Content Reviewed by

CFA Alexander Popivker
Patients that need corrective treatment for their teeth often ask their orthodontists how much would Invisalign treatment cost. 
The benefits of using this type of braces are totally worth the price, which is just slightly more than any regular pair of metal braces. Although this in-depth article will give you a general idea of what to expect in terms of the price, you shouldn't take it as a replacement for a real doctor's consultation, where you will get a price based on your individual situation.
What is Invisalign?
Invisalign is known as the original creator of clear aligner orthodontic therapy. It has been designed as a special system that records the digital impression of your teeth with the help of 3D scanning and imaging, using a computer model.  Individual clear aligner trays will be printed to snap right over your teeth as they move gradually to the right position. All you have to do is wear the aligners and change them out when you are told to, and the teeth will move to their correct position. This means that other types of braces won't be needed.
Clear aligners used to cost a lot more than traditional braces when Invisalign was first invented. The good news is that as technology advanced, the average cost of Invisalign stopped going up and came closer to regular orthodontic treatments in terms of price.
Nowadays, it's pretty easy to find quite a few clear aligner brands for sale, but all of them are made after the original Invisalign system. Although the brand might differ, the actual cost of the treatment will be roughly the same as Invisalign, for premium products.
How Much Does Invisalign Cost?
The number of aligners or trays that the clear aligners will need to move your teeth in the right position will influence their final cost. This can differ from one person to another. While an individual might need 30 or more sets of aligner trays, another might just need 12.
With each aligner, the overall cost of your Invisalign treatment will go up, as it will make the production process more complex. Although it does sound complicated, there is a good part to it and that is that digital treatment planning will be able to give you a full virtual preview of the proposed results and your treatment course, which should include the number of aligners you will need, so you know exactly what you're dealing with before you commit.
Average Price for Invisalign Treatment:
Invisalign cost without insurance –$2,000 to $8,000
With Insurance – $1,000 – $5,000 depending on the insurance company and the insurance plan

There are quite a few factors that will influence the final cost, among the most important being your geographical location, the number of tooth alignments needed by the patient, and the complexity of movements of the teeth. We'll go over some of the factors and how they influence the price in another section of this article.
The average price of Invisalign clear aligners in the US is anywhere between $3,000 and $8,000. The American Association of Orthodontists gives an average cost of around $5,000 for every patient using these types of braces. For easier cases, there have been people charged under $2,000, but this will only happen when they need under 5 sets of aligners.
Invisalign and Personal Insurance coverage
Just like other orthodontic treatments and medication, a lot of the insurers will cover Invisalign braces as a part of their plans.
The rates do vary for each insurer, but the coverage will probably be over $1,500. You should ask your insurer about this, because there are a few that will classify Invisalign as just a cosmetic treatment, like teeth whitening or mole removal, excluding it from their plans.
Want to Get Health Insurance That Covers Invisalign Braces? This is The Price of Health Insurance
If you're insured under the original Medicare or Part B of Medicare you might be partially or even fully covered, although most Medicaid insurance holders won't be eligible for Invisalign coverage, this being dependent on the state you live in. To find out the exact figures for your coverage, call your insurer.
Flexible Spending Accounts
If you work in a company that offers its workers a Flexible Spending Account (FSA) or a Health Savings Account it will enable you and other workers to afford expensive treatments and procedures for most medical issues.
This can be done by sending a portion of your salary to qualified medical expenses. How much you'll actually send to the medical expenses will be your choice. A great thing is that these expenses won't be eligible for payroll taxes. For reimbursement, you have to submit all of the receipts to your FSA provider, as soon as you've finished the medical procedure or treatment.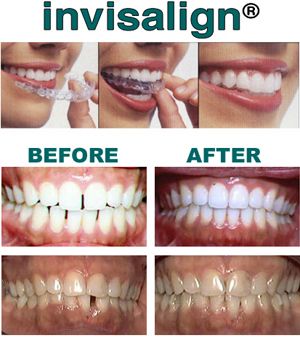 Other Payment Options
The Invisalign treatment can be very expensive, as we've already explained. Talk to your Invisalign provider or your orthodontist, if you find out that your insurance does not cover the costs of the treatment or the coverage is simply inadequate and you can't use an employee flexible spending account.
Use the orthodontist's knowledge, as most of them will have an idea of how much you'll have to pay and payment plans offered by local Invisalign providers, although they are not financial consultants so their numbers can be slightly off.
Check Out Another Great Article About Teeth Whitening
If are a qualified patient, you need financial aid in covering Invisalign costs and luck is on your side, your doctor can offer you payment plans directly.
Most of the financing options that are offered by Invisalign providers or orthodontists will enable you to make a number of affordable monthly payment plans that will stretch over a long period of time. This is to make sure that you'll be able to get all of your treatment and pay for it without having to worry about the costs.
Factors That Affect the Cost of Invisalign Treatment
So what should you usually expect when it comes to the cost of clear aligners once you are ready to start this orthodontic process and go to the dentist or orthodontist for your first visit? It's always better to have a price range in mind so that you don't experience heart palpitations when you get there and get an official number. So here are some factors you should consider, that will surely influence the price:
1. Misalignment Severity
One of the biggest price factors that will influence how much your Invisalign aligners will cost will be the length of the treatment. And as you'd expect, the length of the treatment will be influenced by how many aligners you will need. So, the treatment you get will be more expensive as the number of aligners rises.
For Very Mild and Mild Cases – will cost between $1,200 and $2,000 (needs only about 7 aligner trays)
This is a short-term orthodontic treatment. it will focus on straightening out just the front teeth when there are spacing issues or limited crowding problems. You will only need between 5 and 7 aligners and the average cost will be up to $2,000 in total, with no insurance.
For Mild Cases – usually costs $3,000 to $4,500 (should be done with a maximum of 14 aligner trays)
These costs can go up slightly if you need more time to straighten your smile either due to the overall extent of the crowding or the number of teeth you have.
For Moderate Cases – will cost between $3,500 and $5,000 (for cases when up to 20 aligner trays are needed)
If we're talking about tooth misalignment or a little more crowding, then you'll surely need a few more aligners to get your teeth straightened out. The Invisalign Moderate package comes with unlimited aligners. Depending on the location of the dental office and your treatment plan, you should expect to pay $4,500 if not more for it.
For Severe Cases – will be the most expensive, between $4,500 and $8,000 (it features unlimited aligner trays)
Although this package is no different from the Invisalign Moderate in that it comes with unlimited aligners, what makes Invisalign Compressive more expensive is that it will be used to treat more serious jaw and tooth misalignment. Very few dentists will actually provide this treatment level, so you might have to look around for a more experienced Invisalign provider or specialist. In more severe cases, the cost of the Invisalign Comprehensive treatment can easily reach $8,000.
2. Dentist Type and Location
The cost of dental treatments will be directly influenced by the cost of living in your area. Areas with higher rent costs will also have a high cost of running dental practices and employing qualified staff. Furthermore, it isn't unusual for specialist offices to charge slightly more than general dental practices, although this isn't always the case. The difference in the costs of clear aligners in different areas can be a few hundred dollars.
3. The Patient's Consistency in Home Care
The Invisalign treatment pricing will also be influenced by how well you follow your home care instructions and how well you keep up with wearing your aligners. This especially holds true if you neglect to wear your aligners as the doctor prescribes or change them at the wrong time. Any treatment delays or relapse can add to the final price because extra steps will be needed to correct any resulting damage.
2. Your Treatment Plan
The treatment plan is an itemized list that is made with the help of the specialist, showing all fees involves, the type of aligners used, as well as the treatment timeline. These treatment plans are made individually, based on each patient's needs.
Of course, a person's time needed to fix issues by wearing braces or aligners will differ considerably from another's. This treatment plan should also include any payment plans you are offered by the provider, special offers, cash discounts, insurance benefits, or other perks you might be able to take advantage of.
5. Dental Insurance Coverage
Most insurance policies pay toward either a percentage of the whole orthodontic treatment or a set amount in dollars. As long as your dental insurance includes orthodontic benefits, it will likely include clear aligners and Invisalign. This coverage is most likely a lifetime allowance and won't reset annually.
Invisalign vs Braces
Nowadays, the total cost of clear aligners won't differ too much from the price of traditional orthodontic therapy. The price of convenience will be small, but will surely be worth it, considering that Invisalign enables you to:
Discreetly straighten your teeth
Brush and floss without issues
Remove your aligners at any time
Eat anything you want
You will enjoy better discretion and comfort during the treatment with Invisalign and other clear aligners, as they are smooth and shaped to your specific tooth alignment.
Traditional braces, on the other hand, might make it more difficult to eat or talk, or can even irritate the inside of the mouth.
In conclusion, Invisalign braces cost $5,000 on average. Many Dental insurance plans cover Invisalign treatment.
https://www.thepricer.org/wp-content/uploads/2014/06/invisalign-cost.png
380
610
Alec Pow
https://www.thepricer.org/wp-content/uploads/2023/04/thepricerlogobig.png
Alec Pow
2014-06-16 17:52:31
2023-02-06 13:38:23
How Much Does Invisalign Cost?