How Much Does It Cost to Remove a Load Bearing Wall?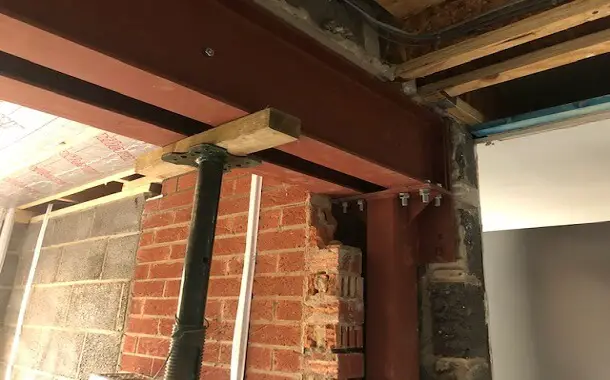 The wall made to rest on the foundation is called a load-bearing wall. This type of wall will usually house plumbing pipes and electrical wires and is very much different than your average interior non-load-bearing wall. There are both exterior walls and interior walls that are considered load-bearing.
Load bearing walls are in most circumstances necessary to uphold the structure of the house, although other types of walls might not be. A lot of people find themselves needing to remove one of these walls while trying to open up a living area or kitchen area. Outer walls of houses are also considered load bearing, but you might want to remove one to install a porch or something similar.
Although you will probably be able to remove some walls pretty easily and without many obstacles, when it comes to removing a load bearing wall, homeowners are advised to proceed with caution. If you remove a wall of this type in the wrong way, you risk causing damage to the entire home, making the outer wall so unstable that it can even collapse.
Among the most important factors influencing the cost of removing a load-bearing wall is the complexity of the job, the contractor you work with, and the size of the wall.
How Much Does It Cost to Remove a Load Bearing Wall?
The cost to remove a load bearing wall is between $1,300 and $3,500 if it belongs to a single-story home. This price can easily increase and even reach $10,000 if you have a home with more than one level.
You will have to add to this cost if, on top of the removal, you will also have to consider rerouting ductwork, electrical, or plumbing. So if you really want to transform your home into an open-concept floor building, then let's see what this will involve and what the costs will be.
You will pay around 10% to 20% more on top of the overall costs for labor if you choose to work with a general contractor. This means that you will likely spend around $350 to $500 per day for the contractor themselves and $150 to $300 a day per laborer needed. These costs will go towards their overhead and final profits.
Costs to Remove a Load-Bearing Wall and Add a Beam
Most people need to remove a load-bearing wall due to one of these reasons:
to appeal to potential buyers
to increase the resale value of your home
to make a room larger
to create an open floor plan
When you replace a load-bearing wall, you might have to install a header beam in its place. This isn't the case when you remove a non-load-bearing wall. For beams made of steel, you will likely pay somewhere between $1,500 and $5,000. The type and size of steel beam you use and the costs associated with the labor will influence the final price you pay for its installation.
There are less expensive options as well. For example, the laminated veneer lumber (LVL) beams. These will only range in price between $60 and $420 each. This price doesn't account for the labor needed for installation.
If you have larger sections, then you will have to talk to your structural engineer about other foundational elements like concrete piers and footings, below the ends of the support beam.
Other popular beam types are:
Laminated lumber beams: You will spend about $430 on a 5.25″ x 13.75″ x 16' Glulam beam
Sawn timber beam: The price of an 8" x 12" x 16' long beam is close to $290
The width and length of the beam, as well as the material it is made from and the costs associated with installation labor, will dictate its price. Although there are decorative beams that can add to the beauty of your room, make sure they offer enough support. It's always a good idea to talk with a pro that knows their way around removing load-bearing walls before you choose the right support beam for the job, as they can provide expert guidance and professional advice.
Factors Influencing the Average Cost of Load-Bearing Wall Removal
Permits
This job isn't one to tread lightly, which is why you will have to adhere to any local building codes and get all of the needed permits so that you can pass inspections. As load-bearing walls will have to support the whole house, the permitting agency will want to make sure that the job won't affect the structural integrity of your home. Building permits for these jobs have an average cost of around $1,350.
You might also like our articles on the cost of pier and beam foundations, steel I beam, or scaffolding rental.
Home Size
The cost of load-bearing wall removal will go up considerably for multi-level homes. For example, if you were to spend just $1,300 to $3,500 for a single-story home, the price can reach $10,000 for a two or three-story home.
Labor
You can try to go for a DIY project if you know you're handy and you have a pretty good grasp of what the job will involve, although most homeowners will choose to work with a contractor. Before you start ripping things off, make sure that the permitting authority allows you to work without a contractor. When hiring a contractor, make sure that they are licensed and have good reviews.
Although you should have no issues installing a header over a new doorway safely if you have minimum experience and the right set of tools, things will get tricky if you need to do anything more than that, which is why you should get in touch with a general contractor, a structural engineer, or a framing carpenter. As a general rule, the large the opening you need to make, the harder the job.
Unforeseen Costs
There are other factors that influence the cost of load-bearing wall removal as well. As with any big project, you can never know what you'll find inside the wall until you start to open it up. Aside from the obvious costs, there are some you will find deep inside the wall. Below, you will find some examples of things that will add to the cost that can be categorized as unforeseen costs:
Moving cooling ducts: $1,200
Retexturing of the adjoining walls or ceiling: $50 (35 square feet)
Wallpaper or paint touch-up: $45
Cinder block or brick removal or demolishing: about $550
Gas line and/or plumbing rerouting: $800–$1,000
Rerouting of electrical wires: about $600
Removal of asbestos or mold: $1,200–$3,500
As you can see, the added expenses you can face can easily add up, which is why, although it might look nice, make sure you really want to start removing a load-bearing wall. And once the wall is demolished, regardless of whether you've done it yourself or hired a local pro, you might also have to patch up adjacent walls, ceiling, or the floor, which will add even more to the final cost.
This is why experienced homeowners will increase the initial budget to account for any remodeling expenses.
Cost to Knock Down a Load-Bearing Wall Yourself
A lot of people find very appealing the idea of tearing down a load-bearing wall so that they can make the room look a lot more airy and light. But this process is far from easy or straightforward. You can't remove the wall without installing a beam that will support the weight of the building, especially in the case of buildings with two or more stories.
Before you can start, you should know your way around carpentry even if you're not a contractor by trade. You will also have to be pretty great with the sledgehammer and saw. Get ready for a lot of time and money invested in removing a wall if you have an older house or one that has plaster and lath walls. On the other hand. regular paneling and drywall are easier.
Even if you choose to start the load bearing wall removal job yourself, you should get in touch with a structural engineer for an inspection before and after the job. This is mainly because local government regulations require, in most places around the US, the approval of a structural engineer for all walls, even those that are non-load bearing. If you aren't sure whether you're dealing with a load bearing wall, then you can talk to a general contractor or carpenter. They have enough experience to give you the right answer.
Although you will save money on labor if you do it yourself, you might run into problems or find that you have to reroute electrical or plumbing while you're halfway through the project. This is why you should get a few numbers of local contractors around you to give you a helping hand in case you need it.
Installing a Support Beam Yourself
When installing a support beam alone, consider the costs of the needed equipment and materials, as well as the price of the beam itself. The material you choose for the beam, as well as its width and length, will dictate its price. Although you will be able to save between $150 and $600 per day on labor, you will still need a set of extra hands and some tools and materials to complete this type of job.
Electrical
When you stumble upon electrical that will have to be rerouted, you should be prepared to pay to hire an electrician. You will probably spend between $50 and $120 for a good electrician, although the total cost will depend on factors like the complexity of the project and travel expenses for the professional. Some electricians have a minimum fee for each trip to the site.
Depending on your location, your permitting authority might or might not allow you to do this work. Although the easiest approach for most homeowners is to just hire a contractor, you can ask whether you will be permitted to take down your own wall with a sledgehammer or not.
Keep in mind that it is very important to adhere to any local building codes and you will most likely have to go through several inspections as well. This is because load-bearing walls are made to support the whole house and any sane permitting agency wouldn't want to know your home's structural integrity is affected.
Plumbing
As in the case of electrical works, the exact costs will depend on the job. You should expect prices between $50 and $220 per hour if you need to hire a plumber to take out the plumbing in the wall or relocate it.
What You'll Need to Get the Job Done
Before you can consider removing a load-bearing wall on your own, you will have to get several important tools that most people don't have just lying around. You'll need to find out how all these tools will affect the budget especially if you need to buy materials and rent a saw, although all of the other tools are pretty reasonably priced.
Most hardware stores around you will give you the possibility to rent most of the tools by the day or even by the hour. A reciprocating saw, for example, might end up costing about $21 per day.
Materials
Dust barrier or sheet plastic will cost around $14 for a 25-foot roll
Galvanized metal straps are about $25. Should come with their own screws, if not, you will have to get them separately.
Galvanized screws or nails cost about $2 per 35-pack
2 x 4-dimensional lumber: $10 (10 foot)
Load-bearing support beam: $320 (not necessary for every project)
Tools and Equipment
Sledgehammer: $50–$60
Tape measure: $15
Reciprocating saw: about $110
Pry bar: $12
Miter saw or circular saw: $220–$350
Laser measurer (optional but handy): $45–$100 
Framing hammer: $35
Safety glasses: $10–$20
Carpenter's pencil: $7 (pack of 10)
6- to 8-foot ladder: $90–$140
https://www.thepricer.org/wp-content/uploads/2023/08/Load-Bearing-Wall-removal-cost.jpg
380
610
Alec Pow
https://www.thepricer.org/wp-content/uploads/2023/04/thepricerlogobig.png
Alec Pow
2023-08-21 06:02:08
2023-08-15 12:05:13
How Much Does It Cost to Remove a Load Bearing Wall?