How Much Does Scaffolding Rental Cost?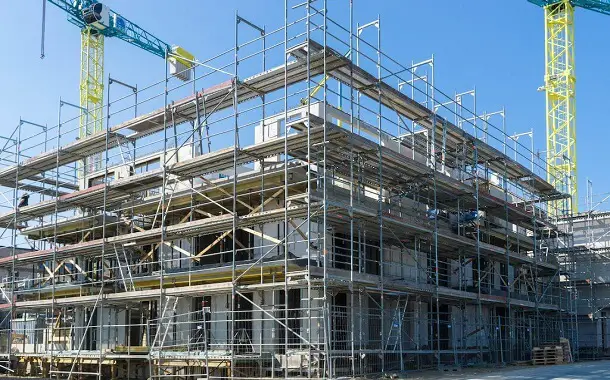 Regardless of the construction you are working on and the level you have reached with the works, you need various pieces of equipment to be able to complete the project.
The most sought-after product of this kind is known as scaffolding. Find out from the lines below how much it costs you and what you need to keep in mind when working with this equipment.
How much does scaffolding rental cost?
If you need to rent scaffolding, you should be prepared to pay around $500 per month or almost $60 for a 24-hour daily rental. Similar to renting any type of tool, the cost to rent a scaffolding will vary and will be affected by factors such as the amount of time you need it, where you rent it from, your geographical location, and the size and type of scaffolding you need.
For instance, the cost of scaffolding rental from Home Depot is around $40 for four hours, which is the minimum amount of rental time, while the cost of renting scaffoldings for a week is around $150. The location will greatly influence the price, but most locations have pretty similar costs.
In the table below you will find the average costs for a complete scaffolding set.
| Duration | Average Rate |
| --- | --- |
| Monthly | $478.50 |
| Per Week | $165.00 |
| Per Day | $55.00 |
| 4 Hours | $38.50 |
Aside from paying the rent for the scaffolding base setup, you may be charged extra for base plates and adjusting screws in case you need to level the scaffold on uneven ground. Also, you may need a caster if you want to move the scaffold with ease.
You will have to pay, on average, another $15+ per rental period for all of these. If you are dealing with an unstable setup, you will need tie-ins to tie the scaffolding to the building and hold it in place. This way you will have the peace of mind that it will not fall apart.
If you don't need to rent the entire scaffolding, but only parts of it, you can take a look at the table below to get an idea of how much you would have to pay.
| Parts | Estimate |
| --- | --- |
| Safety Posts | $2.75 per week (each) |
| Safety Rails | $5.50 per week (each) |
| Extension Side Bracket | $4.40 per week |
| Leg Adjuster | $4.40 per week |
| Caster | $9.90 per week |
| 20-foot Walkboards | $82.50 per week |
| 7-foot Walkboards per piece | $11 per week |
| Stacking Pins | $1.10 per week (each) |
| Cross Brace | $3.30 per week (each) |
| Scaffolding Frame | $7.70 per week |
| 2 Frames, 2 Braces, and 4 Pins | $22 per week |
What's included in the rental fee?
The scaffolding may come in pieces at most rental companies and you will have to assemble it. In general, it is recommended to have another person to help you with this because most scaffolding setups may be pretty bulky.
In contrast to a ladder, with a scaffold, you will get a secure and safe platform with guardrails so you will have the peace of mind that you will not fall while working. But similar to a ladder, you can adjust the height according to your needs.
A standard scaffold setup consists of cross braces and five-foot braces to obtain a seven-foot scaffold. Aside from the baseboards, the main parts will include cross braces and frames that you will need to stack and combine end to end to set the scaffold.
You might also like our articles about the cost of crane rental, steel I-beams, or steel buildings.
The average size is five feet for most jobs, but other sizes are also available depending on your needs and the type of job. The length of the cross brace will determine the distance between the frames. However, the most commonly rented sizes are seven and ten ft.
Scaffolding rental overview
Scaffolding is an auxiliary structure with the help of which you can work at height. Being a product used since antiquity, it has kept its shape, but the materials used to make the scaffolding have been improved. For example, in the past, wood was used.
Currently, the scaffolding is made of metal, fiberglass, or polymers. Depending on the stage of your construction, you have three models you can work with:
indoor scaffolding – you can use it when working inside the building;
metal scaffolding fixed to the facade – you can use it when working on the exterior of the building;
mobile tower scaffolding – is a type of scaffolding that you can use both outside and inside the building.
How to mount a scaffold?
It is best to work with a professional or an experienced team when assembling a scaffold. Being a large construction, you must work carefully and protect yourself. It is important to follow the assembly steps and not ignore any elements.
It is necessary to anchor the scaffolding and mount it in such a way that you have an adequate distance from the wall. Do not forget to mount a ladder and an access platform for each building level.
Important things when you rent or buy scaffolding
The basic elements of the scaffold must be properly transported to the construction site and then assembled from the base to the top in order to cope with the workload for which they were designed. Scaffolds are carefully put together until they have reached the desired peak.
After the metal structure has been built and tested, there are safety inspectors who check and ensure that the metal scaffolding is optimal for use. In most countries, legislation requires a construction expert to be permanently present on site to ensure that safety standards are carefully followed.
When certain parts of a scaffolding are not ready for use, such as during assembly, dismantling or modifications, these parts must be signaled by means of general danger warning signals and must be properly delimited by physical obstacles to prevent access in the dangerous area.
There are many accessories that can be added to metal scaffolding to increase safety. Starting at a certain height from the ground, workers must wear safety belts. These harnesses are designed to support the fitter in the event of a fall. On the list of accessories, there are, among others, nets, foot protection, or pedestrian parapets.
https://www.thepricer.org/wp-content/uploads/2023/06/scaffolding-rental-cost.jpeg
380
610
Alec Pow
https://www.thepricer.org/wp-content/uploads/2023/04/thepricerlogobig.png
Alec Pow
2023-06-21 10:35:57
2023-06-17 09:03:04
How Much Does Scaffolding Rental Cost?