How Much Does it Cost to Scatter Ashes at Sea?
Scattering of ashes at sea, as well as burial at sea, can be a good alternative for the usual funeral for a loved one. This is done by scattering ashes resulting from cremation right over the water, submersing a shroud or casket that contains the body, or even submersing an urn of ashes that is biodegradable. Although not very common in the civilized world, it is actually an ancient tradition. As it gets more and more people interested, it is also being regulated by federal and state laws.
How much does it cost to scatter ashes at sea?
Going for an unattended scattering of ashes, where no mourners will be allowed on the boat and everything is done by a private company, will cost somewhere between $100 and $500 depending on factors like the features you go for and your location. Businesses like Coastal Sunset Memorial which can be found in Southern California offer unattended scatterings for as low as $150, although they will require an additional $50 for the video and $100 for rose petals.
In Hawaii, prices are a little steeper. For example, Hawaii Ash Scatterings has packages for unattended scatterings done from an outrigger canoe, a kayak, or a surfboard for prices between $350 and $500. If you live in Maine, then going to ABurialAtSea.com will enable you to get an unattended scattering with a reading/service performed by the captain himself from a 35-foot yacht for as low as $350.
There are also attended scatterings where you can have mourners on the boat. Attended scatterings will cost somewhere between $250 and $1,500 and will include as many as 12 passengers. Of course, depending on the features you're going for, your location, and the company you're working with, the prices for these services can easily go over $5,000.
A study by SeaServices shows that family service with small groups will average somewhere between $650 and $1,100 nationwide.
Companies like NewEnglandBurialsAtSea can offer private scattering cruises of two to three hours long for 5 to 35 passengers for anywhere between $1,800 and $3,500.
As per California state laws, you can scatter ashes 500 yards from shore. This means that you can have mourners watch from the shore as the vessel goes forth with a scattering of ashes. A simple service like this shouldn't cost more than $200 to $1,000.
You can also get a video of the scattering of ashes from surfboards if you use the services of AshesOnTheSea.com. They will do this off Crystal Pier in San Diego, for around $450. APeacefulBurialAtSea is slightly more expensive, with prices between $700 and $1,000 but they will scatter the ashes from a boat, with mourners watching everything from a shore close to Newport Harbor.
You might also like our articles on the cost of cremation, a mausoleum, or an obituary in the newspaper.
There are also more unique services. EternalReefs for example, can mix the ashes into concrete and make something they call an artificial reef ball.
How Much Do Burials at Sea Cost?
A full-body burial at sea will be considerably more expensive, with prices between $5,000 and $12,000 when done by a private company. These prices are influenced by factors such as the number of passengers, the length of the journey, as well as any additional features you opt for, like flowers, music, food, and whatnot.
You can use the services of NewEnglandBurialAtSea, for example, to get a natural burial shroud worth $800, and a four to six-hour long trip on one of their 65-foot yachts, priced at $8,000 or more.
Any additional costs to consider?
You should consider tipping the boat crew after the trip, as this is the customary thing to do. The tip isn't usually included in the price of the package and it's up to you to decide how much it will actually be.
Keep in mind that for the most part, burial at sea or ash scattering packages won't include moving the body or the ashes to the ship and preparing them for the ceremony, so this should be arranged with the mortuary or the funeral home.
And this service isn't cheap either as mortuaries and funeral homes will usually charge around $1,000 to $2,500 additionally to prepare the body and move it to a mortuary or funeral home closer to the sea. The receiving funeral home might also charge you between $1,000 and $2,500 to receive the body. If you're going for the direct approach and opt for a simple cremation, this will usually cost $1,000 to $2,500.
You will also have to consider preparing and embalming the casketed body if you're going for the burial-at-sea, which is another $400 to $1,200. If you need a casket, you will have to look for a weighed one so that it sinks properly. It should also be drilled and strapped. Expect to spend between $1,200 and $3,300, if not more, for such a casket.
Getting a biodegradable cremation urn that will only float briefly and then sink beneath the sea will cost anywhere between $20 and $500. You can find deep-water urns for example of all shapes and types, with prices between $150 and $400 on AffinityCremation.
What should be included?
As per the Environmental Protection Agency, when going for a full-body burial at sea, you will need to release the shroud or casket at least three miles away from shore, where the water is at least 600 feet deep. When it comes to scattering the ashes, this can be done at least three miles from shore. Of course, the exception is for coastal areas that are under state jurisdiction, where state laws apply.
You will have to report a burial at sea or ash scattering 30 days or less in advance, to your regional office of the EPA. The paperwork required by the EPA will usually be handled by the company you get the burial-at-sea from, as part of a basic service. So make sure you ask about this beforehand.
You can also require the help of the Coast Guard for a video of a basic ceremony if you want to cut costs.
Tips for burials at sea or ash scattering services
When going for an unattended burial at sea, it is very important to ask how soon the service can be performed after they receive the ashes or casketed body. If opting for the attended burial at sea, make sure you talk about everything included in the package and any additional expenses you will be faced with.
You can also get valuable information about ash scattering services and burial-at-sea options from your local memorial society or nonprofit funeral society. Keep in mind that not all entities with society in their names are nonprofit.
Most mortuaries and funeral homes are able to provide services for burial-at-sea arrangements as long as you tell them exactly what you need. You can use the Selected Independent Funeral Homes or the National Funeral Directors Association to find local companies.
How to find discounts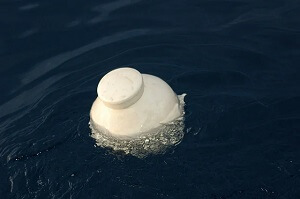 You can get very cheap services if you're using the help of charter fishing boat companies. If you live in San Francisco, for example, you can go to Riptide Sportfishing for an unattended scattering service. It will only cost you about $75. If you want an attended scattering service with up to 20 mourners, then you will pay somewhere between $275 and $350.
The US Navy also offers free burial at sea services for both cremated ashes and casketed bodies of retirees or members of the US military services. They also offer these services for veterans or their dependents. Keep in mind that these services won't allow the participation of any mourners, and there are Navy ports that will only accept the scattering of ashes.
Of course, although the burial will be free, getting the body or ashes prepared and then transporting them to the ship might incur some costs. VeteransFuneralCare for example has packages for Navy burial at sea that start at $1,400 for the cremation of the body and then the preparing of the cremated ashes, and around $4,800 for a full-body burial at sea with the casket included in the price.
Although the U.S. Coast Guard is known to also perform free burials at sea for cremated ash scattering, the details like eligibility will vary considerably from one Coast Guard office to the other. Keep in mind that it will take some time to schedule a Coast Guard ash scattering, as the process will likely take a few weeks to a few months. You can find out more about this by contacting the Coast Goard district office directly.
https://www.thepricer.org/wp-content/uploads/2023/03/Scattering-Ashes-at-Sea-cost.jpg
380
610
Alec Pow
https://www.thepricer.org/wp-content/uploads/2023/04/thepricerlogobig.png
Alec Pow
2023-03-16 09:59:54
2023-03-16 09:59:54
How Much Does it Cost to Scatter Ashes at Sea?